Music, food and drinks are all part of the second annual Taste of Bishops Corner on March 29, 2017 in the heart of Bishops Corner
by Joy Taylor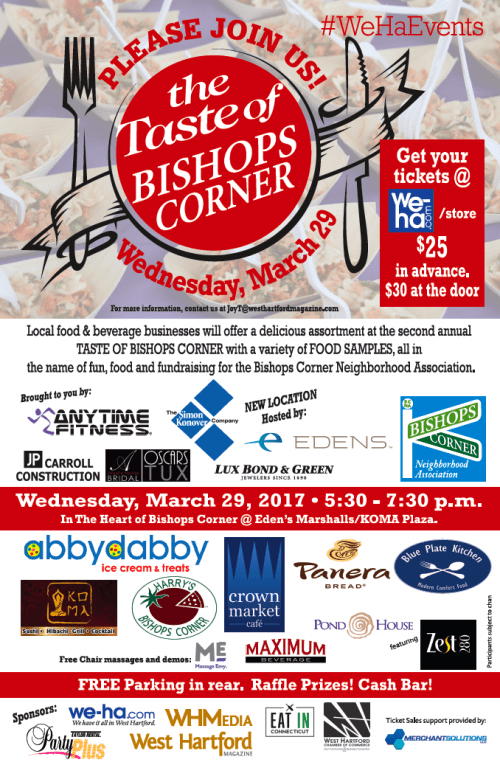 [Updates 3/23/17] You can see from the 'poster' above, the event is getting better and better. Hurry and get your tickets!:
Panera Bread will join us and a special thanks to Maximum Beverage for participating.
[Updates 3/21/17] You get the night off from cooking, and now this:
Massage Envy has confirmed that they will demo specialty services like cranial sacral therapy, reflexology and advanced skincare; as well as offer free chair massages.
[Updates 3/20/17] This event keeps getting better…
Crown Market Café will feature baked goods and Blue Plate Kitchen is coming back (they had an amazing salad last year, see below).
[Updates 3/19/17] Just added to the 'menu' for Taste of Bishops Corner:
Pond House will feature ZEST280
KOMA Japanese Steakhouse –contemporary outpost offering lively hibachi meals, sushi rolls & other Japanese staples.
[Original post] Harry's Bishops Corner and Abby Dabby are the first restaurants to come on board (again) for the second annual Taste of Bishops Corner (TOBC). Check out the video of last year's TOBC  by David Chmielewski of DirectLine Media Productions and you'll see the delicious pizza served by Harry's and an amazing brownie sundae by Abby Dabby … YUM! Can't wait to taste what they bring this year on Wednesday, March 29th!
The event location location will be within the Bishops Corner neighborhood (TBA), and adult tickets are $25 in advance, while kids can get in for $12. Come out and enjoy an evening out with friends and neighbors, Wednesday 29th from 5:30-7:30 p.m.
Watch this column for details, and follow the event page on Facebook, as EAT IN CT adds the names of participating restaurants. "We anticipate about 9 in total," says Jeannette Dardenne, of EAT IN CT and a resident of the Bishops Corner Neighborhood Association.
Special thanks to our Bishops Corner sponsors, Simon Konover Company, Anytime Fitness and Edens.
This year Argelia Novias Dresses, JP Carroll, Lux Bond & Green and Oscars Tux have joined as sponsors of all our #WEHAEVENTS 2017.