Lions Club Pancake and Breakfast Buffet
April 30, 2017 @ 8:00 AM

-

12:00 PM

$5 - $12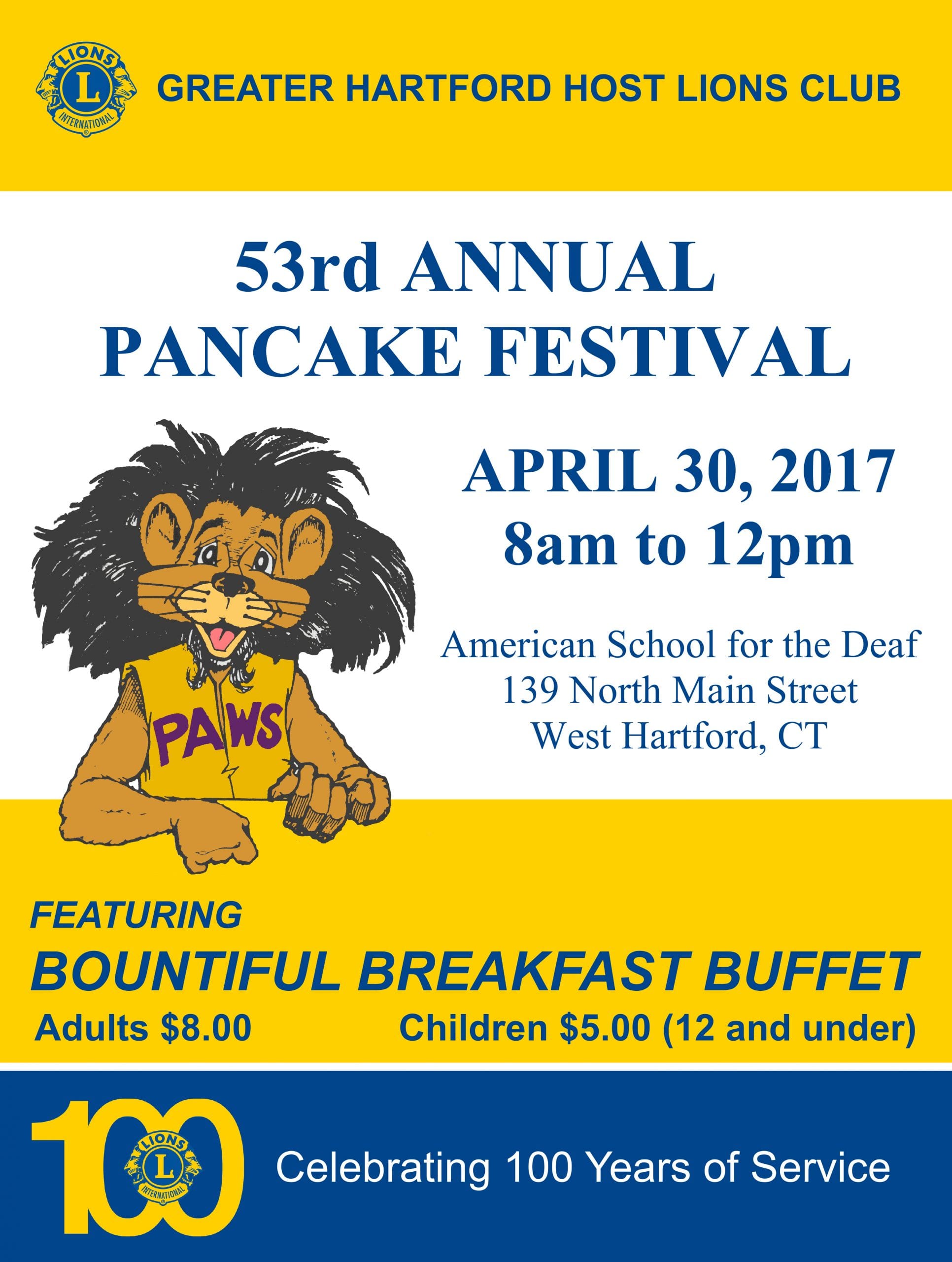 Greater Hartford Host Lions Club To Hold A Breakfast On Sunday, April 30 at the American School for the Deaf
All you can eat breakfast for only $8? Eggs, pancakes, bacon, fruit, juices, coffee, donuts, muffins and sausage will be on the menu when the Greater Hartford Host Lions Club holds its 53rd annual Pancake and Bountiful Breakfast Buffet on Sunday, April 30 from 8am to 12pm at The American School for the Deaf (ASD) at 139 North Main Street in West Hartford. Tickets are available in advance or at the door for $8 for adults and $5 for children 12 years and under.
The proceeds from the Breakfast are used to support community projects aiding the visually and hearing impaired children and adults of the West Hartford and Hartford. Lions assist those in need of glasses, eye exams, hearing aids, smoke detectors, and gives two $2500 scholarships to local graduating high school students who are entering a two or four year college of university. The club also supports such vision organizations as the Low Vision Center, Oak Hill School, and Connecticut Radio Information Service for the Blind (CRIS), American School for the Deaf, CT Lions Eye Research Foundation and The Village for Families and Children.
The Greater Hartford Host Lions will also be collecting used eyeglasses during the breakfast to be sent to people in need in other countries. Last year Lions distributed more than six million glasses in developing nations. Local residents are urged to drop off used glasses, and hearing aids during the morning. There will also be a raffle and your children will enjoy meeting Paws, our Lions Club Mascot.
In 2014 the West Hartford Lions Club, founded in 1946, joined with the Hartford Host Lions Club, founded in 1922, to form the Greater Hartford Host Lions Club. The goal of the club, as in the past, will be "To Serve," but now it will be to an expanded area.
Lions International, who were first formed in 1917, are celebrating 100 years of service this year and are recognized worldwide for their service to people who are blind and visually impaired. This service began when Helen Keller challenged Lions to become "knights of the blind, in the crusade against darkness" during the 1925 Lions Clubs International convention, and the organization has followed that direction in the 91 years since. Lions Clubs International is the largest international service organization in the world with more than 1.4 million members in 46,000 clubs in more than 210 countries and geographical locations.
The Greater Hartford Host Lions Club meets for a dinner meeting at 6:30 pm on the second Tuesday of every month excluding July and August at the American Legion Post 96 in Blue Back Square. For further information about the Lions or to attend a meeting, call Lion Andrew Stern at 860-519-1850 or email him at [email protected]