Maine's Mount Saint Joseph Residence and Rehabilitation Becomes Part of The Mercy Community.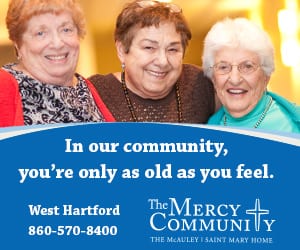 Submitted by Christine Looby
After working under a management contract with Michigan-based Trinity Senior Living Communities (TSLC) since April 2012, Mount Saint Joseph Residence and Rehabilitation in Waterville, ME, has been granted a Certificate of Need by the State of Maine's Department of Health and Human Services and will transfer sponsorship to TSLC effective Friday, July 1, 2016.
Under the terms of agreement, Mount Saint Joseph Residence and Rehabilitation will be governed by The Mercy Community, West Hartford, Connecticut's only Life Plan Community. The Mercy Community is a member of Trinity Senior Living Communities, Livonia, MI, a national health ministry of Trinity Health, Inc., also located in Livonia, MI.
"We are delighted to enter a new chapter of collaboration and care with Mount Saint Joseph Residence & Rehabilitation," said William J. Fiocchetta, president and Chief Executive Officer of The Mercy Community. "We share a passion for the Missions of each of our community's founding sisters, and we will demonstrate that in the way we deliver care."
Mount Saint Joseph was started in 1966 by the Sisters of Saint Joseph of Lyon, who have demonstrated a commitment to excellence in skilled nursing for those in need of long-term care, memory care, behavioral health care, and assisted living services. The Sisters' Mission is consonant with that of The Mercy Community's Sisters of Mercy, who established the Ministry in 1880 as a means of tending to the physical, emotional, and spiritual needs of a group of elderly infirmed men.
Today, The Mercy Community campus includes the skilled nursing facility Saint Mary Home, the independent and assisted living community at The McAuley, an Adult Day Center, and The Frances Warde Towers Apartments:  a residential care home comprising 97 units. The Mercy Community looks forward to enhancing its own legacy and vision by adding the Sisters' of Saint Joseph of Lyon heritage, culture, and standards of care and hospitality.
"Mount St. Joseph has been a very important part of our Story since the mid-60s. With the reality of an ever complex healthcare system and our reality of diminishment in our own numbers, it was clear we needed to let go of the Mount, pass it on to a Catholic Healthcare system which could assure that the tradition and mission and vision lives on into the future. We wanted to assure generativity. We found that with Trinity – we found a kindred spirit. It's been a very favorable relationship with them these past years and we are most grateful. The path chosen: this is a transfer and not a sale. What we receive with the transfer is the assurance that the Mount will move forward well into the future and will continue to respond to the needs of the people of God, specifically tending to the needs of our elders," said Sister Gilla Dube, Provincial of the Sisters of St. Joseph.
"While we look forward to the new opportunities that this transfer of sponsorship will bring, much of what we are known for in the greater Waterville area will remain constant – the clinical practices and reputation that have established us as Waterville's best nursing care facility 16 years in a row according to Market Surveys of America's annual "Best of the Best" awards, our compassionate care, and our top-notch interdisciplinary team of professional caregivers," said Diane Sinclair, Administrator for Mount Saint Joseph Residence and Rehabilitation.
About Mount Saint Joseph Residence and Rehabilitation
Mount Saint Joseph Residence and Rehabilitation (MSJ) has been caring for the people of Waterville and its surroundings since 1966. Sponsored by the Sisters of St. Joseph of Lyon, MSJ takes pride in providing quality care that emphasizes quality of life.
With a mission to foster unity and reconciliation in a spirit of respect and compassion for all, MSJ strives to:
create a caring, stimulating environment that promotes growth and independence;
enhance well-being through nutrition, fitness and activity; and
foster peace and contentment by honoring the unique spirit of each individual and treating everyone with dignity and respect.
Discover more by visiting https://www.mtsj.org/about.htm
About The Mercy Community:
The Mercy Community offers a comprehensive and integrated continuum of senior care and services, including:
SAINT MARY HOME, which provides skilled nursing, short- and long-term rehabilitation, memory, hospice, palliative, post-acute, residential and adult day services.
THE McAULEY, West Hartford's only Life Plan Community, which promotes and fosters an independent lifestyle within a life care setting.  In addition, The McAuley offers an Assisted Living Program for those residents who require more assistance with the tasks of daily living. 
For more information about The Mercy Community, The McAuley, Saint Mary Home, rehabilitation therapy services, or any of our other programs, please visit www.TheMercyCommunity.org.
About Trinity Senior Living Communities
Trinity Senior Living Communities is a non-profit senior living organization headquartered in Livonia, Mich.   Offering independent living apartments, assisted living apartments, memory care, long-term care and short-term rehabilitation, TSLC serves thousands of seniors and their families each year in more than 45 communities across the country. Trinity Senior Living Communities is a National Health Ministry of Trinity Health, the second largest Catholic health system in the country.