'The First Day' is a film and panel discussion about youth substance use & prevention and will take place Monday in West Hartford.
Submitted
"The First Day," a powerful film featuring a former basketball star sharing his story of addiction and connecting with high school students, will be shown in-person at 7 p.m. on Monday, April 25, 2022, at West Hartford Town Hall. Following the film will be a panel discussion with local experts in adolescent substance use and prevention, moderated by a high school student.  This program is hosted by West Hartford Community of Concern and West Hartford Public Schools.
The documentary features Chris Herren, a high school All-American basketball star from Fall River, Massachusetts, who went onto a career in the NBA with the Boston Celtics and the Denver Nuggets. As a teenager, Herren used alcohol and drugs to cope with his insecurities and personal struggles, and addiction ultimately ended his NBA career.
The First Day features Herren talking to high school students across the country, revealing his vulnerability and profound connections with young people who, in turn, have shared their stories of struggles and strength. The day after this event, on April 26, Herren will visit West Hartford to speak in-person to students at Conard and Hall high schools.
"We are so fortunate to have someone like Chris Herren willing to share the powerful lessons of his own struggles with substance abuse with our teens and families. His compelling story really speaks to young people and parents, and leads to the honest conversations we need about making safe, healthy choices in such challenging times," said Dr. Scott Ratchford, a school psychologist who works in the West Hartford Public Schools Office of Equity Advancement/Family Engagement.
Ratchford added, "Our best hope comes from sharing our collective experience and wisdom in conversations like those The First Day screening and Herren's visit help to frame.  To leverage the moment, we're bringing together what we believe are the right voices of young people, parents, and counselors who can help our community to come together to keep our young people healthy and safe. We'd love all parents to join us for the Monday night film and discussion."
Co-hosting the event is Community of Concern, a joint PTO committee of West Hartford's public high schools and middle schools. Founded over 10 years ago to help keep youth alcohol and drug free, Community of Concern raises awareness about a broad range of issues related to youth mental health and wellness.
Panelists include:
Bonnie Musumeci, Clinical Supervisor of SSTRY: Substance Screening, Treatment and Recovery for Youth
Adrienne Smith, Clinician at The Root Center for Advanced Recovery
Maia Fialco, LGBTQ advocate and mental health specialist working with people in recovery
Caitlin Greenbaum, Young adult in recovery
Melane Thomas, WHPS District Supervisor for School Counseling
This in-person screening is free and runs from 7 to 8:30 p.m. at the West Hartford Town Hall Auditorium, 50 South Main St. Doors will open at 6:30 p.m. Parking validation is located in the auditorium. For more information and to RSVP visit: tinyurl.com/TheFirstDay2022.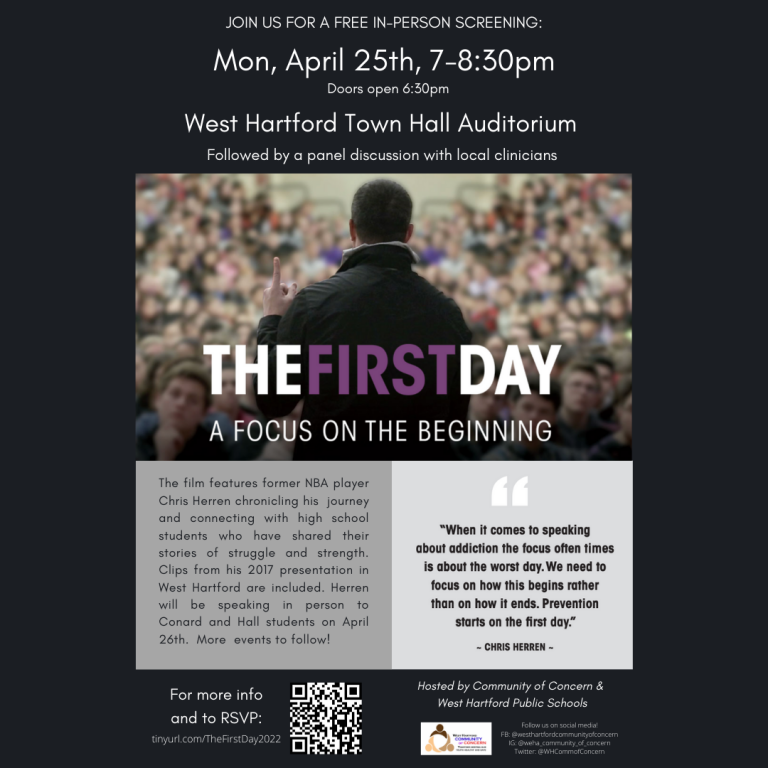 Like what you see here? 
Click here to subscribe to We-Ha's newsletter
 so you'll always be in the know about what's happening in West Hartford! Click the blue button below to become a supporter of We-Ha.com and our efforts to continue producing quality journalism.