The Mandell JCC in West Hartford welcomes the historic exhibition 'Sidonia's Thread – Crafting a Life from Holocaust to High Fashion' from Jan. 2-Feb. 10, with a Jan. 8 opening ceremony.
Submitted
The Mandell Jewish Community Center, 335 Bloomfield Avenue, West Hartford, is pleased to welcome "Sidonia's Thread – Crafting a Life from Holocaust to High Fashion" to the Chase Family Gallery.
The educational display will be open to the public from Jan. 2-Feb. 10, 2023.The exhibition's opening reception will take place on Jan. 8 from 1-2:30 p.m., featuring a talk from Hanna Marcus, Sidonia's daughter and author of the book that inspired the showcase at 1 p.m.
Sidonia's Thread shares the inspirational biography of Holocaust survivor and single mother Sidiona Perlstein. After immigrating to America, Sidonia tapped into the beauty of textiles and fashion to cope with the trauma of her past, ultimately carving out a name for herself in the elite world of high fashion.
This traveling exhibition was curated by Eastern Connecticut State University and will be brought to West Hartford by joint sponsors, The Jewish Historical Society of Greater Hartford, The Mandell Jewish Community Center, and Voices of Hope. Bringing Sidonia's story to life is a display of 35 of her original clothing and designs, as well as an engaging array of audio and video vignettes, illustrations, and an outline of Sidonia's immigration journey.
"We couldn't be more honored to host this beautiful display of Sidonia's accomplishments and welcome her daughter to our space," said Jane Pasternak, gallery director. "We hope the members of our community will find hope and solace in her inspiring story."
To learn more about entrance to the exhibition and the Jan. 8 reception, please visit MandellJCC.org.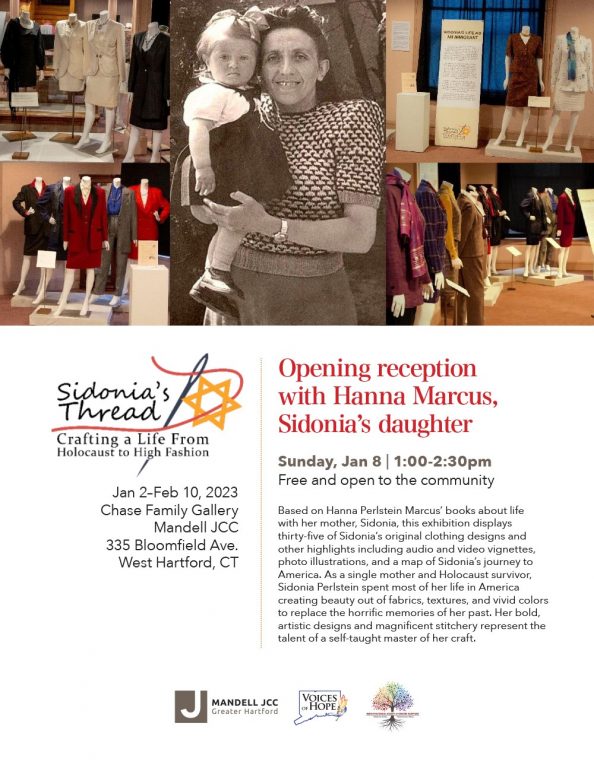 Like what you see here? Click here to subscribe to We-Ha's newsletter so you'll always be in the know about what's happening in West Hartford! Click the blue button below to become a supporter of We-Ha.com and our efforts to continue producing quality journalism.