A workshop will be held on Sept. 21 to solicit feedback and ideas from the community as the Town of West Hartford plans an overall update to elements of the Center infrastructure.
By Ronni Newton
Like any mature community, West Hartford's town center has evolved organically, and as updates and repairs to infrastructure have been made, they've taken place piecemeal – until now.
The West Hartford Center Infrastructure Master Plan is in the process of development, and according to Director of Community Development Duane Martin will take a holistic approach focused on four key elements: the Center's "sense of place," sidewalks, transportation, and parking.
"There's been a lot of utility work," Martin said. Water mains, in some cases dating back to the 1870s, have now been replaced by the Metropolitan District Commission (MDC), and new gas mains and fiber optic cable have also been installed recently in the Center.
"The pavement gets beat up. The sidewalk material is from the 1990s, and the trees are at the tail end of their life," Martin said.
When the pandemic hit and safe reopening of businesses began, outdoor dining became ubiquitous in the Center. Over the past two years LaSalle Road was turned into a one-way street, parking arrangements have been altered multiple times including the transition to back-in angled parking on LaSalle Road, bike lanes have been added, and nearby the North Main Street road diet was implemented.
Repaving of Farmington Avenue and LaSalle Road was already being planned, with funding to be provided through the town's Capital Improvement Program, but Martin – who was town engineer before being promoted to his current position – and others including the mayor and other Town Council members, saw an opportunity.
"It started with milling and paving, and then the pandemic changed things," Martin said.
Funds made available to West Hartford through the American Rescue Plan Act (ARPA) – that can be used for expanded outdoor dining, economic development, and other purposes – meant that a much more comprehensive approach could be taken. And while the plan is called the "West Hartford Center Infrastructure Master Plan," Martin said that the ideas being provided by Stantec, the consultant hired by the town following an RFP process, can and will be applied to other parts of town.
The consultant's budget is just under $400,000, Martin said, and the estimate for the Master Plan implementation is roughly $3.5 million.
"The project itself is a plan," Martin said, and it's not something that will sit on the shelf but rather will be implemented immediately. Representatives of multiple town departments play key roles, and Stantec is also seeking input from the community on the elements of the plan and has initially planned several public workshops for Wednesday, Sept. 21. From 11 a.m.-3 p.m. and 5-7 p.m., representatives will be in the Town Hall auditorium (50 South Main St.). In addition, weather permitting, pop-up workshops will be held at the corner of Farmington Avenue and LaSalle Road, from 11:30 a.m.-1:30 p.m. and 5-7 p.m. Questions or concerns can also be communicated by emailing [email protected].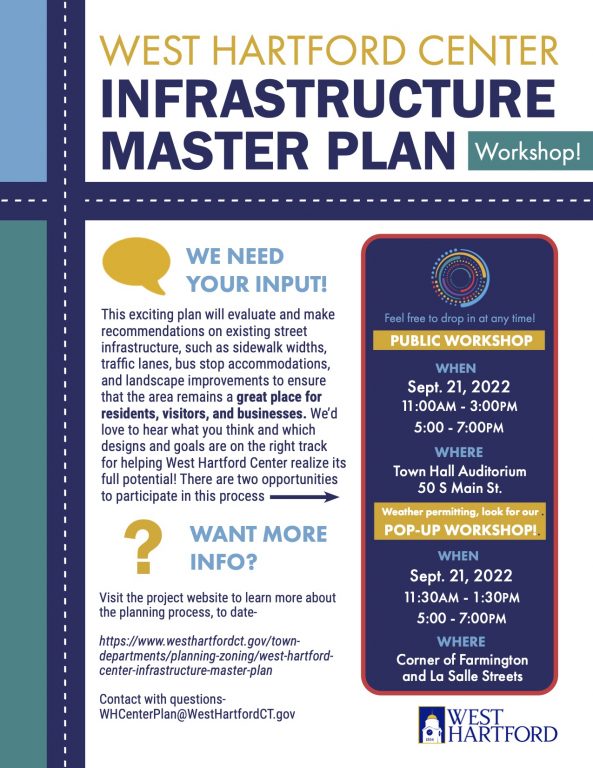 "They want to hear from the public, especially stakeholders," Martin said. Town Council committees, including the Community Planning and Economic Development Committee, which heard a preliminary report on the West Hartford Center Infrastructure Master Plan at its Aug. 17 meeting, will play a key role, as will the Town Plan and Zoning Commission, the Pedestrian and Bicycle Commission, and other organizations.
When implemented, the Master Plan will look to enhance the "sense of place" of the Center through elements such as branding, gateway treatments, and public art. Directories and wayfinding signage will also be part of the plan, but are a separate initiative and project design being managed through Economic Development Coordinator Kristen Gorski, Martin said.
"While it includes the Center, the wayfinding plan will be town wide," Gorski said. "It will include all the business districts and be all-inclusive," she said, and will include developing consistent branding in the signage for restaurant and retail districts, arts and culture, historic sites, parks and hiking trails, religious institutions, and municipal facilities.
"We want to really look at all signage that residents and visitors use to access all facilities – everything you can think of, and applying a best practices perspective for those who are walking, biking, or in a vehicle," said Gorski.
The wayfinding project will also be funded through ARPA, but is a separate RFP. The Town Council is expected to allocate funding when it meets on Sept. 13, Gorski said, and then the contract with a consultant will be executed. That firm communicate closely with Stantec as the projects unfold in tandem.
In addition to Gorski, other town staff involved in key roles in developing and implementing the Master Plan include Town Engineer Greg Summer, Assistant Town Engineer Jim Brennan, Town Planner Todd Dumais, Associate Town Planner Brian Pudlik, Public Works Director John Phillips, and Municipal Parking Manager Brooke Nelson.
As part of the sense of place, secure event barriers (such as retractable bollards) will be considered, as will the possibility of making LaSalle Road pedestrian-only, keeping it one-way but reconsidering the direction of traffic flow, or returning it to a two-way street.
Sidewalk issues will be addressed to ensure safety and ADA accessibility for all types of pedestrians. There are numerous existing alleyways which could be improved and made more appealing for pedestrian use, Martin said, and accommodations for a more permanent expansion of outdoor dining will also be considered as part of the plan. Parklets, replacement street trees that are appropriate for the environment along with new tree pits will also enhance the sidewalks. A design that utilizes rainwater to irrigate the trees is also a goal.
Also falling into the sidewalk category is the exploration of adding some type of public restroom facilities and if so determining the type and location of the facilities.
A comprehensive analysis of parking is also part of the Master Plan – both the supply of on- and off-street parking, the usage of different types of parking, and the fee structure. The back-in angled parking on LaSalle will be reconsidered, as will greater accessibility to the Town Center garage at 29 South Main St., perhaps by opening up the alley between LaSalle Road and South Main.
Increasing parking inventory, while also providing safe and accessible zones for pickup and delivery, as well as ride sharing, is also a goal, Martin said.
The Master Plan will address transportation issues, including the implementation of Complete Streets, connectivity to the Trout Brook Trail, and whether bike lanes should be dedicated or shared lanes. If LaSalle Road remains open to vehicles, traffic calming devices may be installed.
According to Martin, the following are the principles that have been previously developed through input from residents and stakeholders, and will be key considerations in the finalizing of the West Hartford Center Infrastructure Master Plan:
Preserving the existing open feeling and presence of natural light;
Managing traffic and parking to reduce impacts on the surrounding neighborhoods;
Enhancing safety, mobility and convenience for businesses, residents and visitors;
Embracing Complete Streets improvements in the Center and surrounding neighborhoods;
Exploring opportunities to better connect the Center to Blue Back Square;
Ensuring the Center is safe and comfortable to attract and serve all age groups; and
Encouraging the development of additional functional open space.
The scope of the West Hartford Center Infrastructure Master Plan will address the area shown in the base map above, bordered on the north by Brace Road, on the south by Burr Street, on the west by Woodrow Street, and on the east by Trout Brook Drive (north of Memorial Road) and Raymond Road.
The draft schedule provided by Stantec and outlined on a web page that went live on the town's website late last week, indicates various aspects of the planning taking place concurrently – including the current phase of public outreach and engagement as well as analysis of current conditions, parking, and traffic. Concept designs will be provided by late fall and early winter 2022, with preliminary designs completed by February 2023. The schedule anticipates the bid process to follow immediately, and with work commencing by June 2023.
The plan will be complicated to manage, and will have to be implemented in phases, Martin said, and LaSalle Road will likely be first and the goal will be to complete it during the 2023 construction season. The accommodation for outdoor dining next season will need to be considered, Martin said, from a timing as well as accessibility standpoint.
In addition, there are multiple residential and mixed-use developments that will be considered by the Town Council over the next several months which could have an impact not only on traffic and parking, but also on the construction schedule for the Master Plan work.
"I'm excited about the opportunity to reimagine the Center," said Phillips, the Public Works director. "It's time to incorporate what's modern into today's infrastructure."
Phillips said this approach is a long-term vision, and the town needs to be resilient. "And we can't let parking get in the way of progress," he added.
"I think the Center Master Plan, and to be able to work with Stantec, is very exciting," said Gorski. "They are well-positioned to come up with a plan and work with us to move the Center and Blue Back Square into the future. The way people do business now is very different than it was 10, 20, or 30 years ago and this will set us up for success using nationwide best practices."
"This plan is holistic," Martin said. "It's not piecemeal."
Like what you see here? Click here to subscribe to We-Ha's newsletter so you'll always be in the know about what's happening in West Hartford! Click the blue button below to become a supporter of We-Ha.com and our efforts to continue producing quality journalism.