Voters in District 4 will vote at Charter Oak International Academy rather than Elmwood Community Center beginning with the Aug. 11 primary.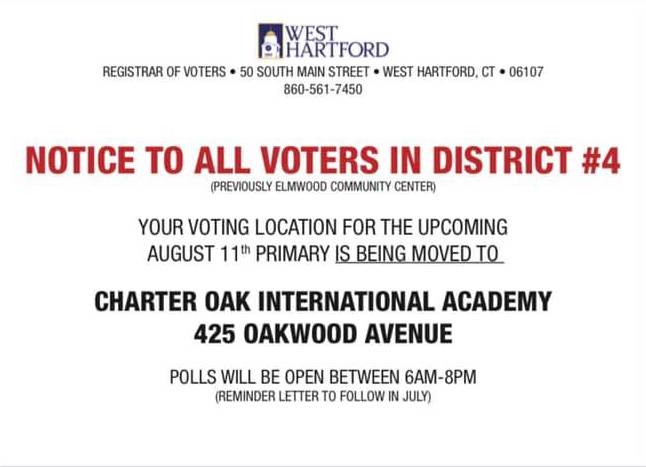 Submitted by the Registrar of Voters Office
If you previously voted at Elmwood Community Center, you will now vote at Charter Oak International Academy.
We have made this location change in order ensure social distancing guidelines can be met. This location change will be in effect for the Aug. 11 primary and for all future elections.
The postcard (see above) is being mailed to all registered voters in District 4 this week. It will be followed up with a mailing and location map in July, and recorded phone call in August.
If you have any questions about this location change, please call the Registrars of Voters office at 860-561-7450.
Like what you see here? Click here to subscribe to We-Ha's newsletter so you'll always be in the know about what's happening in West Hartford! Click the blue button below to become a supporter of We-Ha.com and our efforts to continue producing quality journalism.