West Hartford residents are invited to attend special 'West Hartford Days' at a variety of University of Connecticut athletic events, beginning with UConn Women's Basketball vs. Houston on Jan. 11.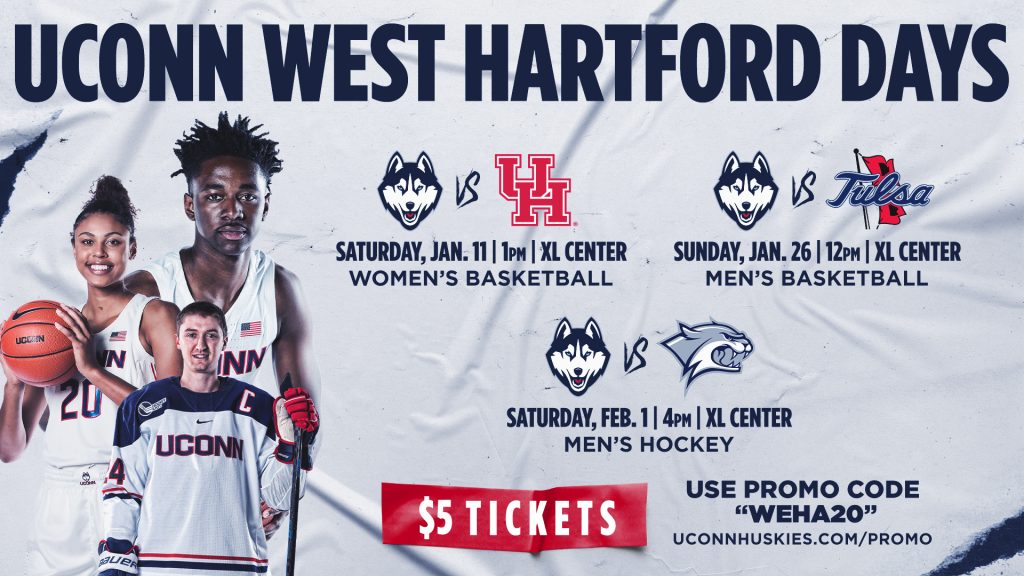 UConn is teaming up with We-Ha.com to offer a special discount for women's basketball, men's basketball, and hockey games at the XL Center in Hartford.
The first West Hartford Day is Saturday, Jan. 11. Join the West Hartford community and root for the Huskies as they face Houston at 1 p.m.
Seats are just $5 (plus conveyance fee), and will be located in Sections 214-217 and 202-205, rows A-L.
Click here to purchase tickets online, and use the promo code WEHA20.
Tickets can also be purchased in advance for UConn Men's Basketball vs. Tulsa, Sunday, Jan. 26 at noon at the XL Center, and for UConn Men's Ice Hockey vs. the University of New Hampshire on Saturday, Feb. 1 at 4 p.m. at the XL Center.
Wear you Huskies gear, or something that says "West Hartford" or "We-Ha," and get ready to show your team and community spirit!
Like what you see here? Click here to subscribe to We-Ha's newsletter so you'll always be in the know about what's happening in West Hartford!