The West Hartford Board of Education had a first reading of the calendar for the 2024-2025 school year on Wednesday night.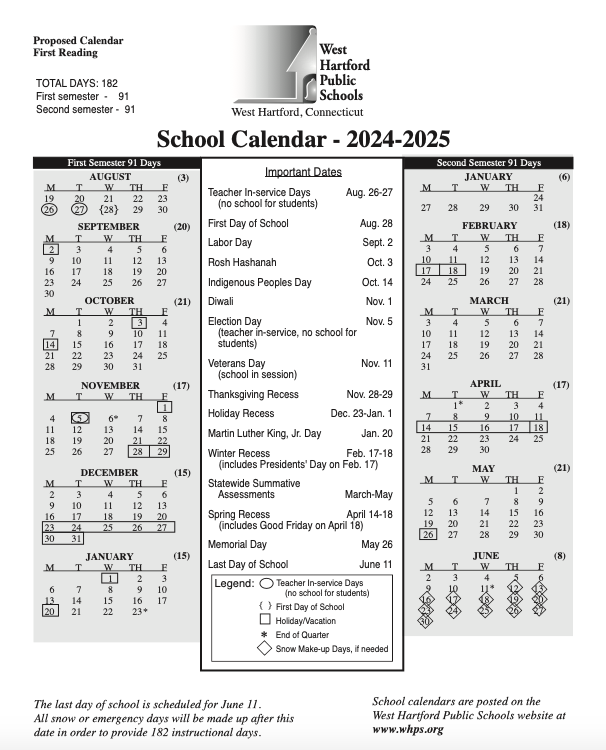 By Ronni Newton
West Hartford Public Schools students will be attending class for the customary 182 days during the 2024-2025 school year, but may for the first time have a day off for Diwali.
The Board of Education typically reviews the school calendar two years in advance, and Wednesday night had a first reading of the 2024-2025 calendar presented by Interim Superintendent Andy Morrow, who said the only major change to the calendar is adding a holiday for Diwali on Nov. 1, 2024.
Diwali, known as a Festival of Lights, is a significant cultural holiday observed in India and other South Asian countries, and is one of the major religious festivals celebrated in Hinduism, Jainism, and Sikhism. In recent years there have been efforts to in Connecticut and elsewhere to add the holiday to public school calendars to allow those who celebrate to spend time with their families without missing academic or other activities, and according to enepalese.com, local schools districts in Avon, Newington, and South Windsor had the day off on Oct. 24, 2022.
Diwali is based on the lunar calendar, and in 2023 will fall on a Sunday so it will not impact the school calendar.
In response to a question from Republican Board member Gayle Harris about the methodology behind the recommendation, Morrow said that guidance regarding holidays comes from the district's curriculum and equity advancement offices. "There is no Board policy or rubric," he said, but the district has traditionally closed schools for major Jewish holidays and is responsive to holidays for other cultures, and the request has been made to add Diwali as a holiday that is formally recognized.
West Hartford Public Schools does not ask families their religion, so there is no reportable data but Morrow said based on the number of primary languages spoken in the district, an estimated 3-4% of families, or 300-350 students, likely celebrate Diwali. West Hartford is also home to the largest Nepalese community in the state, comprising hundreds of families.
Board Chair, Democrat Lorna Thomas-Farquharson, said adding Diwali "does reflect our acknowledgment of the students in our community" and is in line with the district's equity policy. But Republican Ethan Goldman, who said he grew up in a town where he was the only Jewish kid in his class and had to miss school for holidays, suggested there should be rules rather than leaving ambiguous the decision about which holidays should be days off. "I think there should be a threshold," he said.
Harris asked why the district would set a holiday for Diwali and not Three Kings Day or the end of Ramadan. "I'm asking how that decision is made because we could continue to give off days for all kinds of holidays," she said. Harris said that her own children who attended a Jewish school did not have a holiday on Martin Luther King Jr. Day, but used that day for valuable learning about him, and she suggested that might be a good option.
"It's important that our calendar is congruent with what we as a district" decide, Thomas-Farquharson said. While religions in the district aren't tracked, there are data points for languages, and with the large number of Nepali families who live in town, adding this holiday would impact a large number of people. "We want to be intentional of what we're doing and what we're supporting," she said, and in response to a request that the district has received, this is the holiday that is being proposed at this time.
Considering new holidays like Diwali is an indication that these occasions are "now getting recognition and validation that is long overdue," Thomas-Farquharson said.
Morrow noted that making Diwali a holiday is being proposed to give students who celebrate the holiday the chance to spend it with their families.
Asking students to go to school on a religious holiday just so others can learn about them "feels offensive to me," Board Vice Chair Ari Steinberg, who is Jewish, said. Harris, who is also Jewish, said she would not find it offensive if students had school on the Jewish holidays, and reiterated that she thinks it's important to have a metric before adding a holiday to the calendar.
There aren't any Connecticut districts that have school on Christmas, and having the Jewish holidays off is one of the things that Steinberg said she values about West Hartford. "Adding Diwali to the calendar is just another example of how West Hartford values diversity and inclusion … what makes us special and sets us apart."
Steinberg said adding Diwali as a holiday on the district calendar is the right thing to do given the demographics of the town. "I think what this really comes down to … is about having our students be validated, be seen as their authentic self."
Democrat Jason Chang said the Board's policy is to listen, and discuss. "We sense where the community is," he said.
The Board will have a second reading prior to voting on the 2024-2025 calendar, and Harris said while she isn't opposed to adding Diwali, she wants to see a metric used for making these decisions, and Goldman asked that the Board's policy committee consider creating one rather than just making a decision in response to request from someone in the community.
"It's lovely to have holidays off but what happens when people want to have the end of Ramadan off, want to have other holidays off," Harris said. "At some point I think the kids aren't in school very much."
The West Hartford Public Schools district traditionally has students return for the school year on a Wednesday, easing the transition back to the classroom with a shorter day and a three-day week. The proposed calendar discussed Wednesday sets the first day of school as Aug. 28, 2024, and the last day of school – if there are no snow days – would be June 11, 2025.
Other school holidays/vacations proposed for 2024-2025 include Labor Day, Rosh Hashanah, Indigenous Peoples Day, Election Day (no school for students but an in-service day for teachers), Thanksgiving (schools closed for the day after Thanksgiving), holiday recess (includes Christmas and New Years Day), Martin Luther King Jr. Day, winter recess (includes Presidents Day), spring recess (includes Good Friday), and Memorial Day. Yom Kippur is traditionally a school holiday but in 2024 falls on a Saturday.
Like what you see here? Click here to subscribe to We-Ha's newsletter so you'll always be in the know about what's happening in West Hartford! Click the blue button below to become a supporter of We-Ha.com and our efforts to continue producing quality journalism.