The performance will be held at Kingswood Oxford School in West Hartford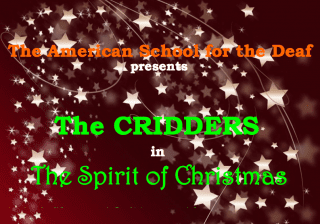 Submitted
This holiday season, we continue our celebration of "community" with what we hope to become an annual performance event.
The Miracle of Christmas will be presented on Dec. 5 and 6, 2015 at the Roberts Theatre, Kingswood Oxford School in West Hartford, CT. Featured performers are The CRIDDERS (Connecticut Registry of Interpreters for the Deaf performing troupe) sign language performing troupe, along with members of the Deaf, interpreting and educational communities of Connecticut.
This joyous production will include sign language, music, mime, and storytelling with a Christmas theme that will entertain the entire family. Bring the children! We hope you can join in and share in the holiday spirit.
See the PDF below for additional information.
The production team of performers and technical specialists volunteer their time and energy to ensure that this event is accessible to all. Part of the proceeds for these performances will go to Student Programs at the American School for the Deaf (ASD) as well as to support the efforts of the Connecticut Retirement Colony (CRC).
See you on Dec. 5 and 6. Happy Holidays!