The number of people hospitalized with COVID-19 declined for the fourth straight day Sunday. 
By Jacqueline Rabe Thomas, CTMirror.org
West Hartford-specific information provided by Ronni Newton, We-Ha.com
The number of people hospitalized with COVID-19 in Connecticut declined for the fourth straight day Sunday, while the number of deaths and new confirmed cases continued to rise.
"When you take a broad look at the data over the last two weeks, we've shown that we can flatten the curve and control the spread of this virus through kinds of social distancing measures that we've implemented – but we are not out of the woods yet," Gov. Ned Lamont said Sunday when releasing the daily infection and death counts.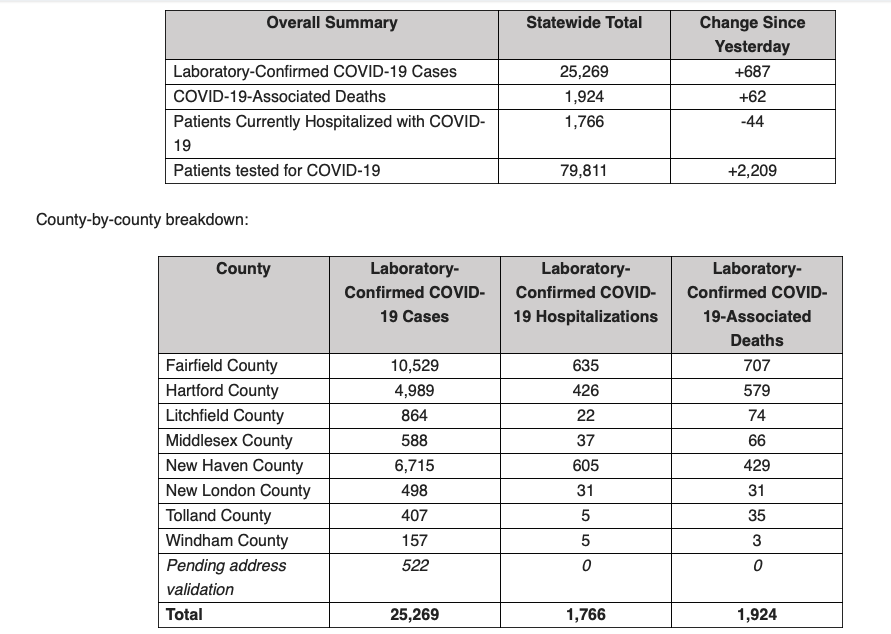 West Hartford had 267 total laboratory-confirmed positive cases of COVID-19 as of Sunday afternoon, an increase of 18 over the previous day. There are 41 COVID-19 associated deaths among West Hartford residents.
Here's what the data show town-by-town.
Infection rates highest in urban centers
The virus may have first appeared in suburban communities in Connecticut, but it is now hitting several cities the hardest.
The statewide infection rate is 71 residents for every 10,000 people.
Stamford has the highest infection rate in the state, with 174 residents testing positive for every 10,000 people.
Infection rates in Norwalk, Danbury and Bridgeport follow.
West Hartford's rate is 42 per 10,000 people.
A searchable map of each town can be found at CTMirror.org.
High death rates in communities where nursing homes hit hard
The number of COVID-releated deaths in nursing homes has been increasing rapidly – doubling between April 14 and 22.
With half of all coronavirus-related deaths in the state being nursing home residents – and two dozen nursing homes where fatalities are in the double digits – several of the towns where those homes are located have the highest death rates in the state.
Windsor – where 34 residents of Kimberly Hall North have died – has the highest death rate in the state.
Statewide, there have been 54 COVID-related deaths for every 100,000 residents in the state. In Windsor, the rate is 233.
West Hartford's rate is 65.
A searchable map of each town can be found at CTMirror.org.
Declining hospitalizations
Lamont focused on the positive in his statement Sunday. With an additional 687 confirmed cases of COVID-19 on Sunday as the state ramps up testing, the number of people hospitalized declined by 44 people since yesterday.
"When it comes [to] creating an action plan on the steps we should take next, our primary objective needs to focus on not causing any harm to the progress we have made so far, otherwise our infection and hospitalization rates will go right back up," Lamont said.
It is not possible to draw any conclusion about whether the reduction in people being hospitalized is happening across the board. The state does not release town-by-town hospitalization data.
Infection data shows an uneven growth in some communities – with some small rural and suburban towns seeing the fastest growth rates.
A searchable map showing rates for each town can be found at CTMirror.org.
In other news…
Lamont took the opportunity during a relatively quiet weekend to make a couple of announcements.
The first was about a state partnership with the Connecticut Business Association to distribute free face masks to essential small businesses that have fewer than 50 employees. Eligible businesses can request up to two free face coverings per employee by filling out the form found here.
Eligible businesses include those defined as essential businesses by the Department of Economic and Community Development. The masks will be distributed in the coming week by the municipality in which the business is located.
"The more proactive measures we can take to prevent the spread of this virus and keep everyone healthy, the sooner we'll be able to reopen operations," Lamont said. "We were able to secure over 4 million masks this week that have replenished our supplies and put us in a position to support small businesses."
The Lamont administration also released guidelines for disposing of unwanted medication at home in lieu of the National Drug Takeback Day events that would have normally taken place this weekend.
Residents should avoid visiting the drug drop boxes, and instead dispose of unwanted medication with the following steps:
Dispose of any unneeded medication at home by running it under hot water, combining it with something undesirable like used coffee grounds or kitty litter, securing it in a container, and disposing of it in the trash. Do not flush medication down the toilet.
Secure any of your expired or unneeded medication in a safe place so that it's ready to go as soon as you're able to visit a drug drop box again.
Reprinted with permission of The Connecticut Mirror. The author can be reached at [email protected].
Like what you see here? Click here to subscribe to We-Ha's newsletter so you'll always be in the know about what's happening in West Hartford! Click the blue button below to become a supporter of We-Ha.com and our efforts to continue producing quality journalism.