In West Hartford Public Schools, nearly 68% of eighth graders and more than three-quarters of juniors met or exceeded grade level expectations.
By Kathleen Megan, CTMirror.org
About half of the Connecticut students who took a new statewide standardized science test last spring scored at grade level or better, but state officials say it is hard to say how good – or not – those scores are.
Because the test is new and the same test is not administered in other states, it is difficult to assess how successful Connecticut students were on the test.
"We really did not have an expectation" on how the students would do, said Ajit Gopalakrishnan, chief performance officer at the State Department of Education. "It's hard to have an expectation when it's a completely brand new set of standard and a completely brand new assessment."
About 115,000 students in three grades took the Next Generation Science Standards test, with 53.6% of the state's fifth graders scoring at grade level or better – the highest average among the grades.
Among eighth graders, 52.2% scored at the proficient or better level, while 47.7% of the 11th graders did so.
District by district and school by school scores were released Wednesday and are available on the department's Edsight website.
In West Hartford, 67.7% of eight graders and 76.7% of 11th graders scored at grade level or above.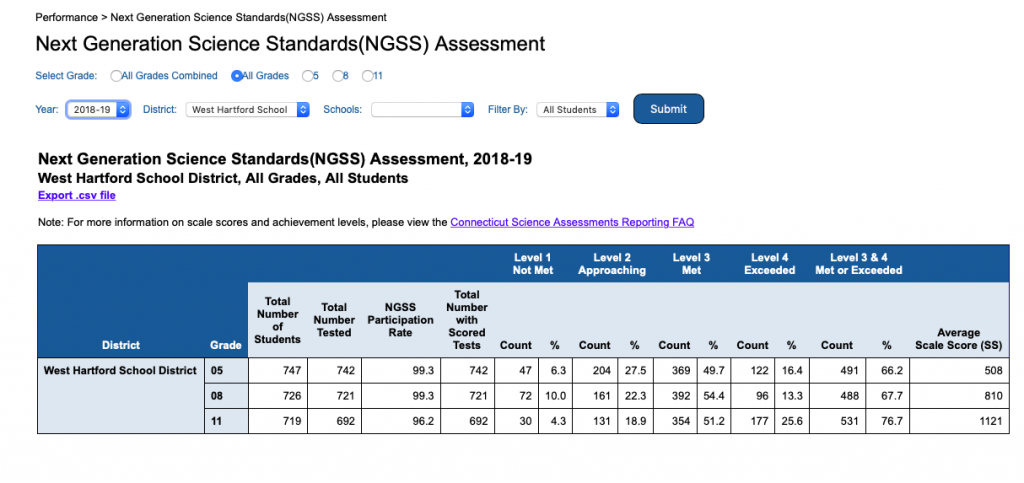 As has been the case with all the state's standardized tests – including the latest Smarter Balanced Assessment Consortium test in English and math – a far greater percentage of students in the wealthier suburban towns scored at the proficient level or better than did students in the state's poor cities.
For instance, only about a quarter of Hartford's fifth, eighth and 11th graders scored at the proficient level or better compared to better than three quarters who did so in each tested grade in Simsbury and Darien.
Gopalakrishnan said the science test is quite different from past standardized science tests. "It's not just about communicating the content," he said. "It really is about getting kids to think and act like scientists."
He said the results are saying "Sure, our kids can do it. They need the instruction obviously. Obviously,  the instruction has to change. You can't teach science the old way. … This is basically saying our kids can do it and we need more of our kids to do it." 
Education Commissioner Miguel Cardona said the Next Generation Science Standards test goes beyond textbook lessons and asks "students to think like scientists. It represents an important shift in how science is taught and learned with a more enriching experience supported by relevant, exciting and hands-on activities. When the material at hand resonates with students it is more likely to inspire and lead to advanced study and the pursuit of increasingly important STEM-related college and career pathways."
Reprinted with permission of The Connecticut Mirror. The author can be reached at [email protected].
Like what you see here? Click here to subscribe to We-Ha's newsletter so you'll always be in the know about what's happening in West Hartford!