The American School for the Deaf, located in West Hartford, will begin a series of special event in April in recognition of its 200th anniversary. 
Submitted
April 15, 2017, marks ASD's 200th year educating deaf and hard of hearing children in America and the birthplace of American Sign Language.
To celebrate this historic milestone, many special events have been scheduled over the next 16 months. As Executive Director Jeff Bravin said, "We see the 200th anniversary of our school as time to recognize the importance of deaf education. ASD has been empowering deaf and hard of hearing children for the past 200 years – nothing has changed – we are only getting stronger in our commitment."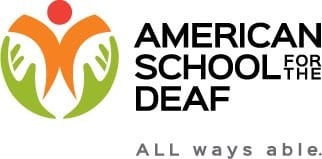 On April 19, 2017, ASD begins its celebration with the annual Founders Day Dedication Ceremony to ASD's founders, Mason Fitch Cogswell, Thomas Hopkins Gallaudet, and Laurent Clerc. That will take place in the afternoon for staff, students, and invited guests.
On Friday, April 21, ASD celebrates its 200th anniversary in grand style with an evening Cabaret which will be held at the CT Convention Center from 6-11 p.m. The theme Cabaret reflects the strong connection ASD has had with French Institute for the Deaf in Paris for two hundred years.
Munich RE/Hartford Steam Boiler Inspection and Insurance Company is the gala's premier sponsor and Greg Barats, president and CEO, is the Cabaret chair. Barats will be joined by Marlee Matlin, Academy Award-Winning Actress, as honorary chair. Governor Dannel P. Malloy, Lt. Governor Nancy Wyman, and West Hartford Mayor Shari G. Cantor will also be in attendance. With an expected attendance of over 600 people, it promises to be a memorable evening. ASD is especially grateful to individuals and corporations in the community who are supporting the event. Proceeds from the Cabaret will benefit student literacy, early childhood intervention, Camp Isola Bella, and historic preservation.
In collaboration with the Connecticut Historical Society, ASD is excited to announce the opening exhibit of Language/Culture/ Communities: 200 Years of Impact by the American School for the Deaf, which will run from April 28-October 21, 2017. This exhibit highlights the school's establishment in the United States; the creation of a new standardized language – American Sign Language – resulting in a deaf community and culture that continues to advance equality.
As a leader in developing educational methods and embracing technology, ASD has impacted personal lives and American culture, and has formed local, national and global connections between deaf, hard of hearing, and hearing communities.
Additional bicentennial events include an Iron Chef Inspired Competition on April 28 which will be held at ASD and live-streamed on Facebook (see Connecticut Magazine's article by MaryEllen Fillo for more information on this competition), a Bike Tour, and a Fun Day Triathlon in August at ASD's Camp Isola Bella in Salisbury, CT, among other 200th Anniversary activities. ASD will also be hosting the American Society for Deaf Children Conference June 25-28 for all families throughout the U.S. who have deaf and hard of hearing children.
For more information on all the events being held during ASD's 200th anniversary year, please visit www.asd200.org.