Important advice for homeowners courtesy of Keating Agency Insurance in West Hartford.
Submitted
Nor'easter … Polar vortex … Bomb cyclone … OH MY!
Today, weather is no longer just a storm. It's an event!
We have seen how the types of weather events we recently experienced can negatively impact your home insurance, however, they don't have to.
There are many proactive measures you can take right now to prevent claims.
Home Insurance Claims or Prevention – It's Your Choice
Connecticut recently saw historic low temperatures. This created havoc throughout the state with dead car batteries, icy roads, and burst water mains.
For homeowners, bone-chilling temperatures raise the possibility of frozen pipes and ice dams, situations that could lead to hefty home insurance claims if steps aren't taken to prevent damage.
So, who pays when an ice dam forms? This quote from one of our Trusted Partners, David S. Stoner & Sons LLC, states the painful truth: "Ice dams are the result of winter storm conditions. Because they are storm related, and not a roof flaw, damage caused by water is not covered by the homebuilder, shingle manufacturer, or roofing company warranty. Remember, roofs are designed to shed water to the ground. The final responsibility remains with the homeowner when re-roofing to weigh the cost of prevention and protection products against the possible cost of damage if an ice dam leak occurs."
Thankfully, one of our top-rated carriers, Main Street America Group, partnered with Insurance Institute for Business & Home Safety (IIBHS) to offer the following advice to avoid damage claims from ice dams.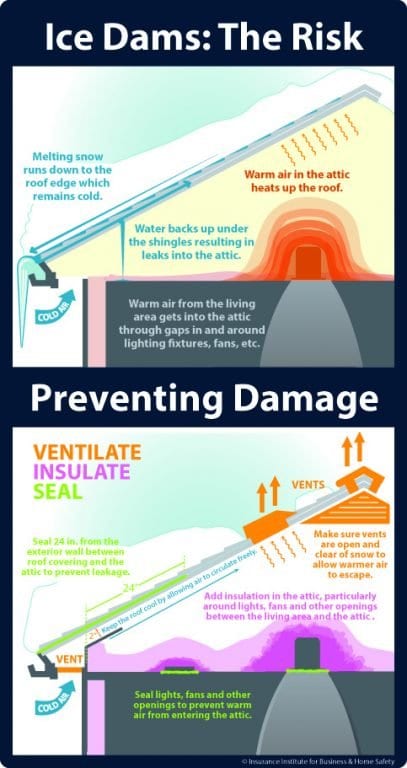 Keep gutters, drains, downspouts, and scuppers clear
Remove heat sources directly under the roof that might cause snow melt
Insulate fixtures in unheated attic spaces
If possible, use heating cables to prevent ice buildup
In addition to cold weather problems at the top of your home, you also have to beware of cold weather problems in your walls and under the floor.
Frozen pipes could lead to another type of soggy home insurance claim when they burst!
The IIBHS provides the recommendations below for preventing frozen pipes:
Insulate any exposed and accessible pipes
Repair any cracks, holes, or openings in exterior walls to keep out the cold
Keep entrances to unheated areas of the house closed
During severe cold, open cabinets where pipes are located to increase air circulation
In sub-freezing temperatures, allow faucets to drip
Although temperatures have moderated somewhat after record-breaking cold, winter is far from over and another arctic blast is possible.
It's a long time before spring truly arrives and we are certain to experience more freezing temperatures before the season is done.
Avoiding a home insurance claim will not only make your life easier but will help you avoid problems obtaining insurance in the future, which is why we feel these tips are very valuable to all homeowners.
If you have a potential claim situation – and each situation is different – we recommend that you call your agent who can help you decide whether to make a claim or not.
 Like what you see here? Click here to subscribe to We-Ha's newsletter so you'll always be in the know about what's happening in West Hartford!