The new school year began for West Hartford Public Schools students on Sept. 1, 2021.
By Ronni Newton
The first day of school is an exciting occasion for everyone – a chance to reconnect with old friends and former teachers and meet new friends and teachers – and for students who were enrolled in the Remote Learning Experience (RLE) during 2020-2021 it also meant a return to the school buildings after an 18-month absence.
Second-grader Aasroshi Joshi was part of RLE last year, and was a bit tentative as she and her father chatted with ESOL teacher Darci Melchor in the lobby of Wolcott Elementary School Wednesday morning, just before students reported to their classrooms. They were greeted there by Principal Scott Dunn, who led them down the hallway and outside, where teachers were stationed in front of the outer doors to classrooms greeting their students and families.
Dunn said all students and their families had been invited to the school over the summer, and many eagerly participated and appreciated a chance to see their child's classroom in advance. Roughly 20% of the town's elementary school students – about 10 per grade at Wolcott – participated in the RLE last year, and other town elementary schools had similar plans to welcome students back to their home schools.
"We felt it was important to welcome our RLE families back home to Wolcott in a special and intimate way, providing them with an opportunity to tour their beloved school, visit their new classroom, and connect them with the adults who support them here," Dunn said. "Some of our young friends had not been at Wolcott for some time, and we thought such an experience would create excitement and connection as we enter our new school year together as a community."
The calls he has also received from those returning from RLE have all conveyed excitement, Dunn said.
While everyone inside the buildings wore masks, they were smiling with their eyes, something Dunn said the students have really learned to do. Other than that, and the rain that preempted some favorite photo opportunities, the first day seemed very normal – full of excitement, energy, and anticipation for the year ahead.
"We've lived through it, we've got lots of protocols," Dunn said. "I think we're all just so excited to be together. … I feel very confident about this year."
One COVID-related change was that instead of the traditional school-wide gazebo ceremony to mark the first day, students and their families met their teachers outdoors in front of their classrooms. "We're lucky that all Wolcott classrooms have outside access," Dunn said. The experience was positive, and more intimate, allowing for personal contact between all teachers with students who arrived at school with their families.
Town meetings – one of the signature activities associated with Wolcott that did not take place last year – will return this fall, but Dunn said not immediately. "We'll start with grade levels at first," he said.
The vast majority of Wolcott students are walkers, but those who did arrive by bus were greeted at the front door by staff members who made sure they found their classrooms. Dunn personally escorted a few students who weren't quite sure where to go.
Aasroshi had not been able to attend the event for returning RLE students, but immediately was made to feel at home by her second grade teacher, Nina Dodge, who introduced her to some classmates. Dodge herself has returned to Wolcott this year after teaching elsewhere for a few years when Wolcott had declining enrollment.
Melchor returned to Wolcott this year after spending the previous school year teaching kindergarten and first grade and English language learners online. "Part of our job is to make sure the kids transition well," she said.
Kindergarten teacher Jen Otano-Vero said she has 17 students this year. "I met most of them yesterday at the meet and greet," she said.
"The kids are all excited," said grade 4 teacher Steve Brouse. "There are five students here in my class who are returning after a long break," he said. He met a few on Tuesday, but was meeting some Wednesday morning for the first time.
This year feels very different than last year, Brouse said. "I think in general the staff is definitely more comfortable," he said. There are also more students in the classroom.
As is the case district-wide, outdoor spaces at Wolcott will be used as much as possible when the weather permits. Lunch on Wednesday was planned for the cafeteria – where classes are seated distanced from each other – due to the rain, but students will eat outside whenever they can, Brouse said.
Superintendent of Schools Tom Moore was at Wolcott – the fourth school he had visited that morning already – when several busloads of students arrived.
"It's going great," he said. "It's exciting to see kids back, smiles on their faces. I think kids forgot what a first day was like."
Moore said one of the most touching things about the first day was seeing the parents. "I see parents with tears in their eyes, at all levels," he said.
At Duffy Elementary School, teachers and staff were brimming with positive energy as they created a "We're Better Together" music video to launch the new school year.
Moore said last week that enrollment in West Hartford Public Schools is on the increase with more than 100 new students than estimated enrolling over the summer. There were roughly 9,300 students enrolled as of Wednesday morning, and that number continues to grow. Dunn said Wolcott has 25 new students.
Shortages of bus drivers have made news headlines throughout Connecticut, but Moore said there were no problems in West Hartford on Wednesday.
"There were no issues with bus drivers. [The town's bus company,] First Student did a great job getting drivers for us," Moore said. There were some delays due to new drivers on routes, and traffic in town, but overall it was smooth, he said.
Flooding rains from the remnants of Hurricane Ida could potentially lead to flooding in West Hartford later on Wednesday and overnight into early Thursday morning. While it may impact the traffic on morning bus routes, Moore said, he doesn't anticipate any major problems.
For more information from an interview with Moore about what to expect this year in West Hartford Public Schools, click here.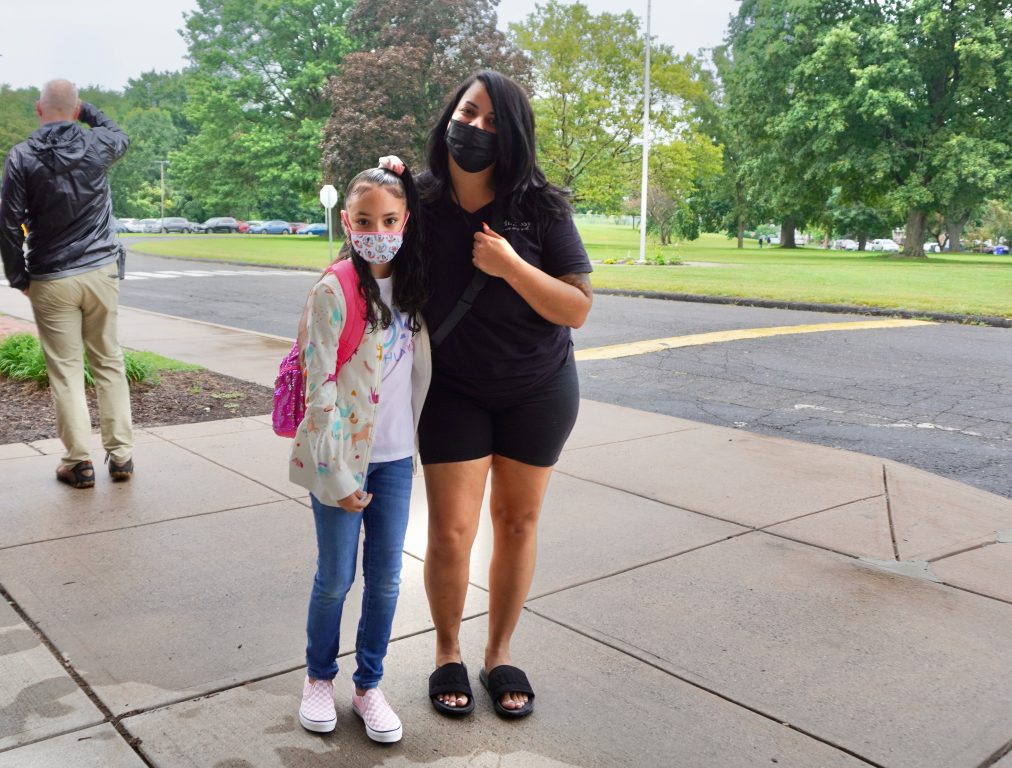 Like what you see here? Click here to subscribe to We-Ha's newsletter so you'll always be in the know about what's happening in West Hartford! Click the blue button below to become a supporter of We-Ha.com and our efforts to continue producing quality journalism.