West Hartford's athletic director said he will provide more details about how the changes will impact the Conard and Hall high school teams.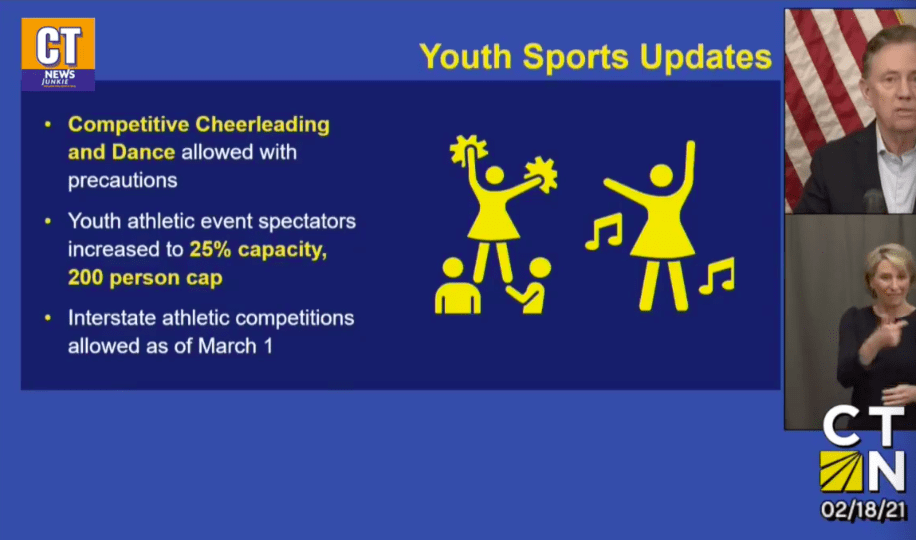 By Hugh McQuaid, CTNewsJunkie.com 
West Hartford-specific information provided by Ronni Newton, We-Ha.com 
With COVID-19 statistics improving, Gov. Ned Lamont announced plans to ease restrictions on youth sports Thursday. Connecticut will allow previously-banned cheerleading and dance and will permit interstate competition as of March 1.
Lamont made the announcement after releasing numbers on the state's virus situation. The state infection rate was slightly above 2% Thursday and the number of people hospitalized with COVID-19 dropped by 16 patients to 568. Twenty people have died from the virus since Wednesday.
On Thursday, the state reported just five additional COVID-19 cases in West Hartford.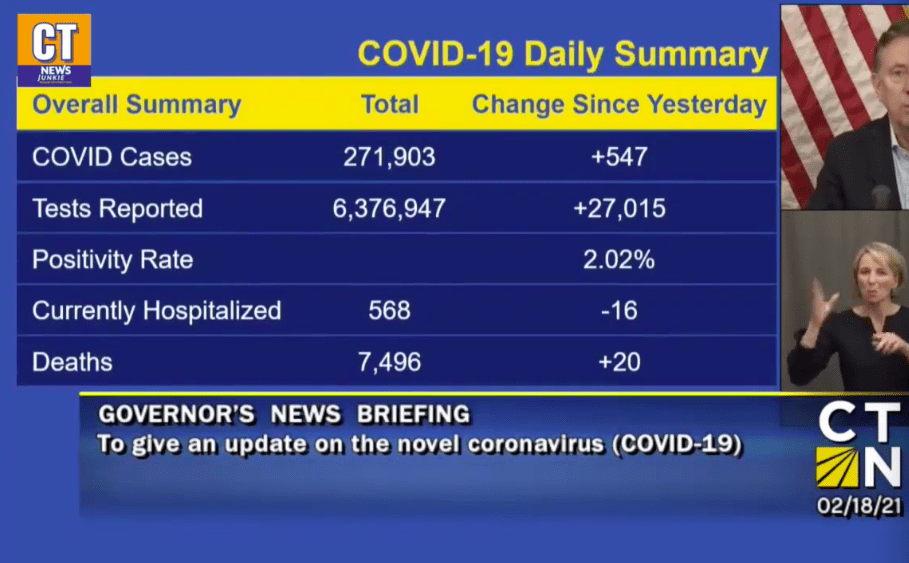 "The numbers are all trending in the right direction and I'm not sugar-coating it. It's good news," Lamont said.
In addition to opening interstate competitions and allowing cheerleading and dance, if participants wear masks, the governor said he planned to increase the number of spectators allowed at youth sporting events. Those events will now have a 200-person cap and a 25% capacity limit.
"Look, I used to love watching my kids play hockey and basketball and I know that's been sort of limited over the last few months. So I think we're going to lift that cap to some degree, still erring on the side of caution," he said.
Lamont said the state's ongoing vaccination effort had contributed to the falling rates of coronavirus cases.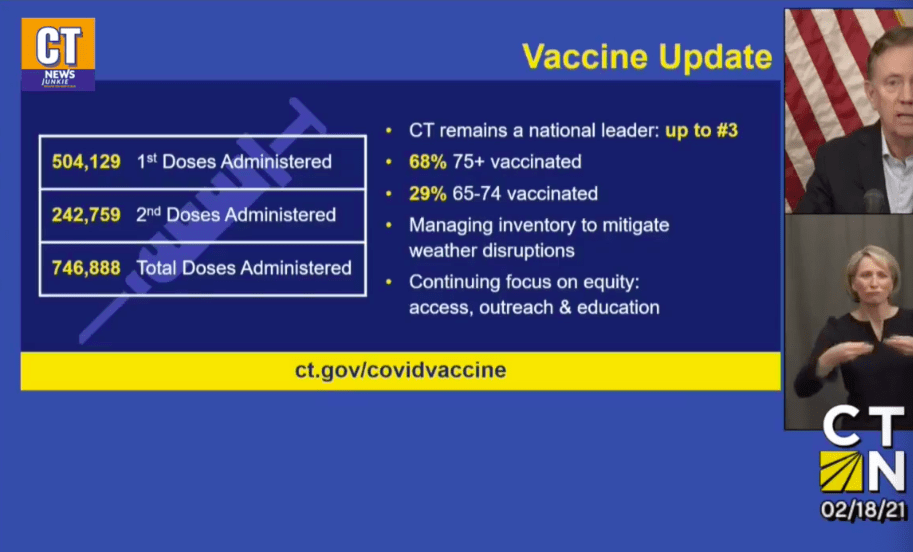 About 14% of people in the state have gotten at least their first dose of the COVID-19 vaccine, Lamont said. As of Thursday, 504,129 had gotten their first shot. Another 242,759 had received their second.
About 68% of residents over 75 years old have been vaccinated and 29% of those between 65 and 74 had gotten at least the first shot.
The governor said he expected to make an announcement regarding vaccinating the next group within Phase 1B next week. That group will contain essential workers and people with pre-existing medical conditions. Lamont said he would announce which pre-existing conditions the state would include in the next phase on Monday.
Republished with permission from CTNewsJunkie.com, all rights reserved.
Like what you see here? Click here to subscribe to We-Ha's newsletter so you'll always be in the know about what's happening in West Hartford! Click the blue button below to become a supporter of We-Ha.com and our efforts to continue producing quality journalism.