The 2023 'Best of West Hartford' awards event is scheduled for July 31, 2023.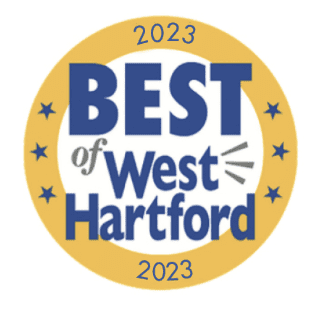 By Ronni Newton
The votes have been tallied in the 9th Annual Best of West Hartford contest, and this year the top vote getters have been revealed in advance – in the pages of the latest issue of West Hartford Magazine.
Complete details regarding the winners and runners-up can be found in the pages of the magazine here, and all will be celebrated at what organizers are calling the largest local B2B networking event of the year, planned for Monday, July 31, from 5:30-8 p.m., at the Mandell JCC.
"We feel comfortable scheduling this fun event that the Greater West Hartford community looks forward to with great anticipation each year," said Tom Hickey, president of 20/20 Media, producers of the 2023 Best of West Hartford event. "We will follow all guidelines, in accordance with the JCC and local COVID protocols for admission. We might even hold the event outdoors … there are so many options at the JCC it's no wonder they WON the 'Best Venue category," he said.
More than 150 finalists were in the running for the title of "Best of …," Hickey said, with the number of votes cast at an all-time high.
Mayor Shari Cantor will welcome guests at the evening celebration, which will also be spotlighted by entertainment from Arthur Murray Dance Studios, and Dennis House from WTNH-8.
Another highlight of the evening will be an auction of the dogs that were part of the 2022 Dog Walk. The dogs were on display in West Hartford Center through the end of October, spent the holidays at Westfarms, and have been resident in various locations in Bloomfield for the past several months.
The nonprofit beneficiaries associated with each dog will receive the proceeds from the auction, and a link to participate in the auction in advance will be posted on 20Media20.com.
Tickets are $40 and include food from Michael's Catering, a drink ticket (cash bar provided by Two Pour Guys for additional drinks). Business tables (for 10 guests) are available for $1,000 and include promotional signage.
Guests are also urged to bring a non-perishable food item which will be donated to the Anya Rosenberg Food Pantry at the JCC.
For further information, or to purchase tickets to the BOWH celebration, click here.
Event sponsors include PeoplesBank, Bartlett Brainard, Arthur Murray Dance Studio, Comcast, Sheehan Hilborn Breen Funeral Home, Bank of America, On the Scene Podcast by NBT Bank, Two Pour Guys, and Michael's Catering. 2020Media is also thankful for the support of its annual business sponsors that helped make BOWH possible, including BIG Y, Duncaster, French Cleaners, Robin Gebrian, GYL Financial, Hodges Landscaping, Hoffman Auto Group, Mandell JCC, Jewish Federation of Greater Hartford, Jewish Federation of Central MA, Lux Bond & Green, Mercy Community Health/McAuley, Modern Tire, Sheehan Hilborn Breen, Store 52, Udolf Properties, Westfield Bank, Modern Tire, Mintz + Hoke, Eagan Donahue Attorneys at Law, APK Charities, Roy Web Design, Shutterbug Photography, CT Property Watch, LastingImage.com, and the West Hartford Chamber of Commerce.
Media Sponsors include the Jewish Ledger, we-ha.com, WeHa Dog Walk, WeHaHa Comedy, and West Hartford Magazine.
Like what you see here? Click here to subscribe to We-Ha's newsletter so you'll always be in the know about what's happening in West Hartford! Click the blue button below to become a supporter of We-Ha.com and our efforts to continue producing quality journalism.