The Blue Back Farmers' Market, which had its inaugural season in 2022, will return to the West Hartford Town Hall parking lot on Sundays beginning June 18, 2023.
By Ronni Newton
The tagline for West Hartford's Blue Back Farmers' Market remains "Come for the food, stay for the fun!" and following a successful first year where visitors did just that, organizers are excited to for the market's 2023 return.
"We were overwhelmed by the outpouring of support for our inaugural year as we attracted crowds of 500 to 700 people from across New England and the entire Tri-State area every weekend," said Mary Collins, who co-founded and organized the Blue Back Farmers' Market with her husband Scott Franklin.
Franklin and Collins said the Blue Back Farmers' Market is intended to be more than just a place to purchase food and crafts, but rather a "'third space' – not home, not work – but rather a space "where people can linger, connect, and belong," and enhance their feeling of being part of the community. This year's market will once again offer a line-up of specialty events and cultural activities to keep people lingering long after they purchase their lettuce or artisan bread or cheese, and coming back weekly.
"This year promises to be even better with our new market manager for vendors – Jess Emonds – and enhanced programs, performers, live demos and interactive displays," Collins said.
More than 25 vendors are lined up to participate in the Blue Back Farmers' Market this year, including Barden Farm, Clatter Ridge, Fat Stone Farm, George Hall Farm, Lion's Tale Farm, Sub Edge Farm, Sweet Acre, Lyric Hill, and other organic and conventional farmers from throughout the state.
West Hartford's central location is an idea spot for Certified Connecticut Grown farmers and other vendors to access customers, Collins said.
In addition, a weekly rotation of specialty vendors will ensure fresh experiences with a range of products including linens to microgreens.
Local bakeries, dessert, and coffee companies will offer a sweet complement to the farmers markets other offerings, and the roster will include Pure Goodness Bakery, Granny's Pie Factory, Hartford Baking Company, and gluten-free Treats by Taylor.
"As both foodies and community supporters, we always seek out and prefer to purchase locally-sourced produce and products – they simply taste better and last longer," said Collins.
Planned  programming for 2023 includes:
Live, acoustic music
Meet the Chef Q&A
Programs on gardening, composting and recycling
Art and weaving demos
Wheel Fun Bicycle event for kids
Dog Days of Summer event in August
The schedule for the first four weeks includes live acoustic music each Sunday, a weaving demonstration, and a demonstration with a local chef. A full calendar of events and links to the Blue Back Farmers' Market social media can be found on the website Visit www.bluebackfarmersmarket.org. The website also provides information about available sponsorship opportunities for businesses and individuals looking to provide further support for the market.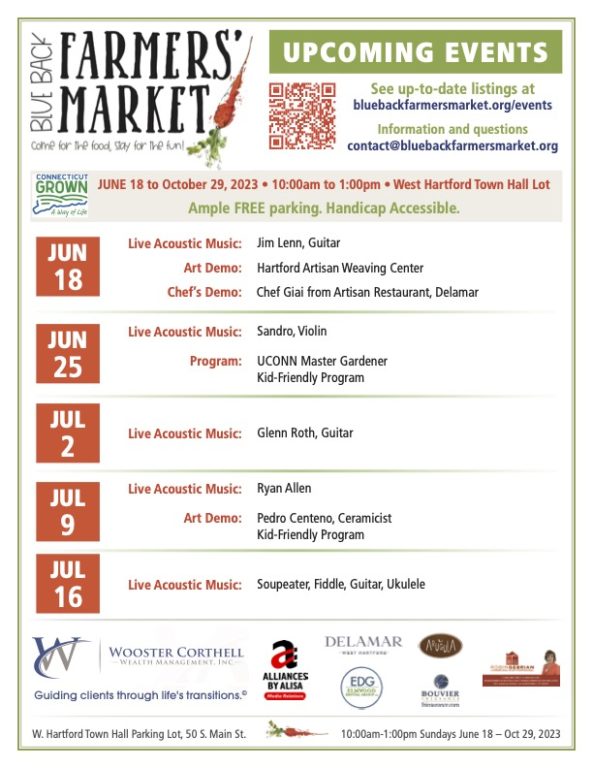 The Blue Back Farmers' Market will be open every Sunday beginning June 18, from 10 a.m. to 1 p.m., in the West Hartford Town Hall parking lot. Access is available from South Main Street or Raymond Road, parking is free, and the space is wheelchair accessible. The last date of the 2023 market is planned for Oct. 29.
"We want to thank our remarkable vendors and the Town of West Hartford for helping us create a seasonal destination for the entire community," Collins said.
Like what you see here? Click here to subscribe to We-Ha's newsletter so you'll always be in the know about what's happening in West Hartford! Click the blue button below to become a supporter of We-Ha.com and our efforts to continue producing quality journalism.