4 1/2 cups all-purpose flour
2 1/4 teaspoons baking powder
1 1/4 teaspoons salt
1 tablespoon cinnamon
1 cup plus 2 tablespoons
(2 1/4 sticks) unsalted butter, softened
2 1/4 cups sugar
6 large eggs
1 tablespoon pure vanilla extract
1 1/4 cups milk
Vanilla Buttercream, either homemade or store-bought
Apple Pie Filling, either store-bought or homemade
Caramel Sauce (available with ice cream toppings)
1. Preheat oven to 350 degrees. Line 2 muffin tins with cupcake liners. Whisk together flour, baking powder, salt, and cinnamon and set aside.
2. With an electric mixer on medium-high speed, beat butter and sugar until pale and fluffy, for about 4 minutes. Mix in the eggs, one at a time, scraping down sides of bowl, until well blended. Mix in vanilla.
3. Add flour mixture in three batches, alternating with milk, beating until combined after each. Divide batter evenly among prepared muffin tins. Bake, rotating tins halfway through, until tops spring back when lightly touched, about 20 minutes. Let cool in tins on wire racks.
4. Once cool, using a small paring knife held at a 45 degree angle cut a small cone from the center of each cupcake.  Remove cake 'cone' and cut _" in slab from the top of each cone.
5. Fill each cupcake with apple pie filling and top with reserved cake circle.
6. Pipe or frost each cupcake with buttercream.
7. Drizzle with caramel sauce.
The Crown Market
2471 Albany Ave.
West Hartford, CT 06117
www.thecrownmarket.com
860.236.1965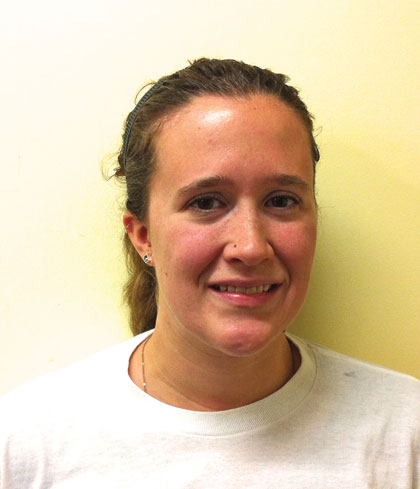 New addition to our seasoned bakery team, Pastry Chef Anita Magistrali joins us from her years of experience in a local CT bakery.  Anita attended The Culinary School of America where she fell in love with baking and pastry arts.  Baking from scratch each day, Anita, along with the Crown Bakery Team strive to provide an old world bakery experience nestled within the confines of a full service market.