This year's FUNd RUNS provide two different formats for participants.
By Ronni Newton
When the Celebrate! West Hartford festival had to be canceled in 2020 due to the COVID-19 pandemic, organizers found a way to keep one of its key elements going in a modified format, and the FUNd RUN was born.
Running and walking were two activities that could still take place, and the inaugural FUNd RUN was a success, raising money for the the Town That Cares Fund and the Leisure Services Scholarship Fund – while giving the community the opportunity to "Run Apart*Give Together" as the tagline states.
Organizers announced the decision in January that the 2021 Celebrate! West Hartford is still not able to take place in its usual format, with the award-winning arts & crafts show, carnival rides, live music, a food court, and business and non-profit exhibitors.
"Unfortunately, because COVID-19 still lingers, the 2021 festival has been canceled for a second year," organizer Linda Geisler said. "However, we will hold several virtual events in June to celebrate our community, including the 5K run and a distance challenge to support local charities. While we provide a competition for runners of all ages and abilities, we also support our community in a meaningful way."
A version of last year's run is back – as the FUNd RUNS – now a dual event that includes a virtual 5K as well as the opportunity to participate in a month-long Distance Challenge.
Both challenges will be held in June, and participants can do either, or both. The 5K can be run anywhere, and anytime between June 4-13. The Distance Challenge lasts from June 1-30, and miles logged any time during those days, in any location, will count.
Suggested overall mileage for the challenge is 136 miles, which is the distance from one corner of Connecticut to the other, passing through West Hartford, of course.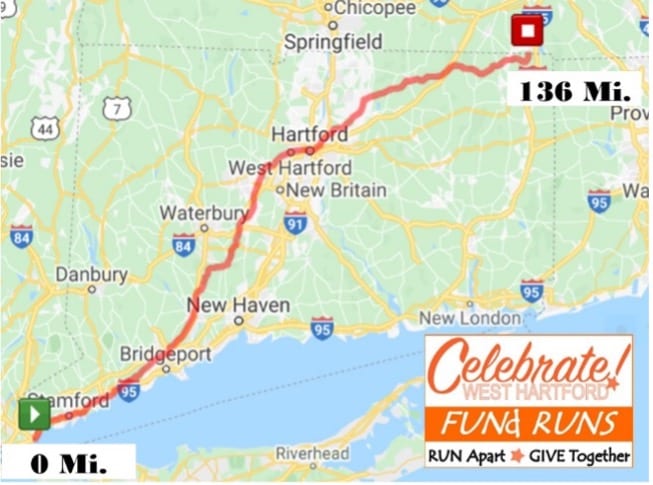 Geisler also provided the following breakdown of miles to provide some guidance for those participating in the Distance Challenge:
MDC Main Loop
3.6 mi
Main St. (N to S in WH)
6
Park to Park (Fern to Eliz to Westmoor)
9
Bike WH Routes
18
WH Perimeter
25
CT Metacomet Trail
62
WH Center to Boston Common
106
WH Center to Central Park NYC
106
GOAL!
CT Border to Border (Through WH Center)
136
WH Streets
205
WH Sidewalks
245
CT Perimeter
328
The entrance fee for each event is $20, and will once again support both the Town That Care Fund – which since the COVID-19 pandemic has been more in demand than ever operating West Hartford's Food Panty and assisting needy residents with energy bills and other services, as well as the Leisure Services Scholarship Fund, which provides children in need with funds to attend summer and vacation camp, life-saving swimming lessons, and other enrichment activities.
A commemorative t-shirt will be given to each participant. As has been the tradition since 2015, the design will be created by a West Hartford Public Schools student.
Those who register for both events will save $5 and will also receive a commemorative water bottle. For those with a competitive spirit, the option will be available to post your stats online through Platt Systems – keeping those Celebrate! West Hartford 5K streaks alive and perhaps inciting a bit of friendly competition based on speed or the number of miles traversed.
"Our hope is to have 2,021 participants run or walk the streets of West Hartford – appropriately distanced, of course – while wearing your shirts and showing your town spirit," Geisler said.
In addition to the FUNd RUNS, plans are being finalized for the arts & crafts show to return this year as a virtual event, providing the opportunity for the community to browse online and support their favorite vendors. Much more information will follow.
Like what you see here? Click here to subscribe to We-Ha's newsletter so you'll always be in the know about what's happening in West Hartford! Click the blue button below to become a supporter of We-Ha.com and our efforts to continue producing quality journalism.