The Celebrate! West Hartford FUNd RUN will take place during the weekend that the town's signature festival was supposed to be held.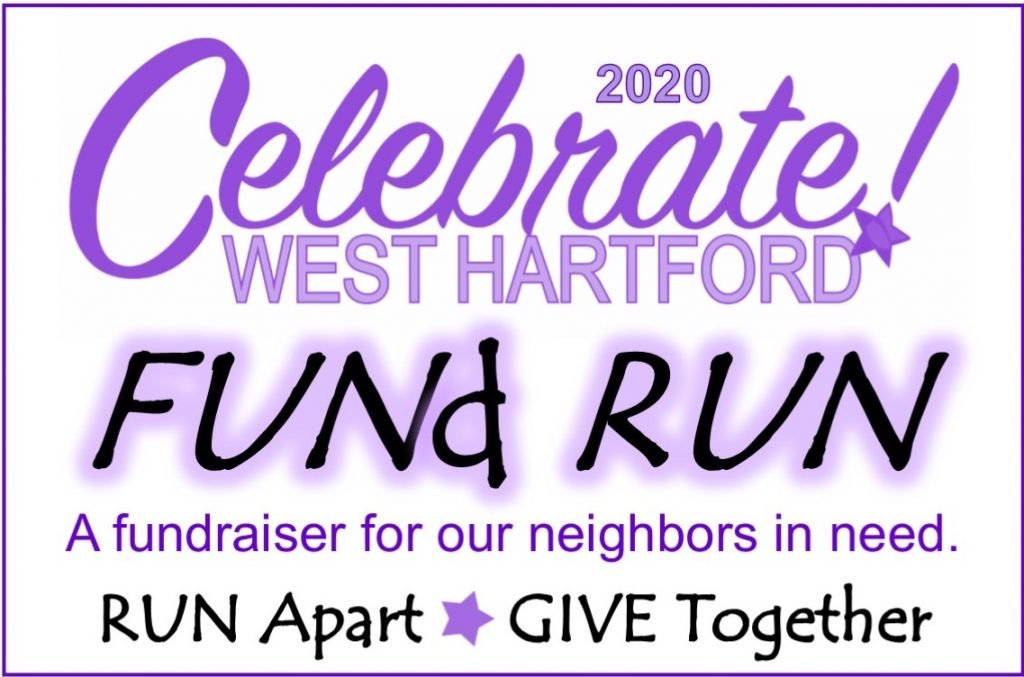 By Ronni Newton
Running and walking weren't canceled when most activities had to be shut down amid the COVID-19 pandemic, and although initially the entire event was canceled for this year, organizers have found a way keep one of the key elements of Celebrate! West Hartford going, although in a modified format.
"We were terribly disappointed to recommend to the mayor and town manager that Celebrate! West Hartford be canceled this year," coordinator Linda Geisler said. "But with the threat posed by COVID-19, it was truly a no-brainer."
This was to have been the 34th anniversary of the town's signature festival and the 33rd annual road race which over the past several years has been expanded to include a kids fun run along with the 5K.
"There is nothing like a beautiful spring weekend with the grounds of Town Hall abuzz with the activity of the craft fair, rides, music and food or the abundance of positive energy generated by runners at the Kids Fun Run and 5K foot race," Geisler said. "Anyone who has been to Celebrate! must surely have felt a great spirit of community. We will sorely miss that this June."
Not only is Celebrate! fun, but it also is a fundraiser, annually contributing anywhere from $8,000-$13,000 to the Town That Cares Fund as well as the Leisure Services Scholarship Fund, both of which support West Hartford residents in need.
The reinvented race – the first-ever Celebrate! West Hartford FUNd RUN – will allow the event's mission to continue. "RUN Apart*GIVE Together" is the race's tagline, signifying that although runners will have to remain physically distant from others, they are still together in giving to the community.
The Celebrate! West Hartford FUNd RUN will be held the weekend of June 5-8, 2020 – the same weekend the festival and race would have been held. Registration is $20, and includes a commemorative t-shirt. Participants (with appropriate physical distancing) can run or walk any distance, anywhere, at any time during the weekend, and then post the stats of their workout online to a centralized list. It's all being done on the honor system – and if you prefer you can just sit on the couch and donate since it's for a good cause – but the goal is also to have 2,020 people registered, running or walking the streets and trails of West Hartford over the course of the weekend.
"Maybe races can't take place, but exercising is not canceled," Geisler said. "In fact, I definitely see more people out walking and running this spring than ever before."
Due to record-high unemployment and other economic conditions, the demand on resources like The Town That Cares Fund and the Leisure Services Scholarship Fund is higher than ever, and unfortunately will stay at unprecedented highs for a while, she said.
The Town That Cares Fund is administered by the town's Social Services Department, and assists residents experiencing a crisis situation who are unable to pay for food, utilities, housing, medical expenses, or other critical needs. The town's food pantry falls under its umbrella. The fund is supported 100% by contributions from individuals, businesses, and community groups.
The Leisure Services Scholarship Fund assists qualified families pay for town programs such as swimming lessons, camps, and other life-enhancing or skill-building programs. The annual Celebrate! West Hartford Road Races provide the majority of the funding for the scholarships.
"I guess it was the blending of these two thoughts that resulted in the 'FUNd RUN: RUN Apart*GIVE Together' concept," Geisler said. "COVID-19 or not, West Hartford-ites like to run, walk, and give. Running apart and giving together seems like a very appropriate way for us to help our neighbors, stay safe, and show that spirit of community which is at the heart of Celebrate!"
In 2015, the Celebrate! West Hartford Road Race steering Committee introduced an additional competition – for high schoolers to create a graphic design for the commemorative t-shirt.
The contest was already underway before schools closed amid the COVID-19 pandemic, and Alex Barnard, a Conard student who submitted his design on March 9, was chosen as the winner.
The town's graphic designer added Celebrate! West Hartord's signature stars, and then, post-COVID, the text had to be changed to reflect the new format. The original design (see below) had already been printed on more than 3,000 postcards that were ready to be sent to past and potential race participants.
"One of the things the committee liked so much in Alex's design is the colorful streamers the runner leaves in his/her wake," Geisler said. Unfortunately the t-shirt can only be one color. Organizers chose purple –  the combination of Conard's red and Hall's blue.
"The '33' in Alex's design references that this is the 33rd running of the Celebrate! West Hartford foot race which began in 1988, a year after the first festival. We really struggled with whether or not to keep that in the design, since technically we are not holding a '5K race,'" Geisler said. "Ultimately, we decided to keep it, because we are still posting results of individuals' runs/walks collectively."
As a prize, Alex was given a $250 gift card to Jerry's Artarama, generously donated by owner Andrew Shoham.
For more information about the event, including the link to register and/or donate, click here. You can also email event director Linda Geisler at [email protected]. More information is also available on the Celebrate! West Hartford Facebook page.
"It may not be our conventional format, but it is our COVID-19 format. It is happening and should be considered as part of our history. Circumstances are never static from run to run or race to race. Maybe it will be part of the new normal," Geisler said.
Like what you see here? Click here to subscribe to We-Ha's newsletter so you'll always be in the know about what's happening in West Hartford! Click the blue button below to become a supporter of We-Ha.com and our efforts to continue producing quality journalism.