The Connecticut Interscholastic Athletic Conference announced Tuesday that all of its winter sports seasons will be postponed until at least Jan. 19, 2021. Winter sports registration dates for Conard and Hall students have been adjusted.
By Ronni Newton
Connecticut Interscholastic Athletic Conference Executive Director Glenn Lungarini announced Tuesday that all winter sports will be paused until Jan. 19, 2021, and said he believes that is a reasonable date for when high school sports should be able to resume.
Competition would be able to begin no sooner than 10 days after the start of practices, Lungarini said during a Zoom press conference with reporters Tuesday afternoon.
The decision to postpone the season was approved Tuesday morning by the CIAC Board of Control, which has been collaborating with the state Department of Public Health, the Office of Gov. Ned Lamont, and the Connecticut State Medical Society's (CSMS) Sports Medicine Committee. According to guidance issued in September the season was set to begin with practices on Nov. 21 and games on Dec. 7, but the CIAC had stated earlier in November that the scheduled start date was going to be delayed due to new guidance from DPH, with the final date left up its Board of Control.
"No late information, nothing that came in last night that was the tipping point of anything," he said regarding the decision.
The governor had also announced on Nov. 5 that no high risk sports (shown in red below), such as 11-on-11 full-contact football, boys lacrosse, and competitive cheer, could take place for the remainder of the 2020 calendar year, and that masks must be worn as a mitigating strategy for medium-risk indoor sports such as girls and boys basketball and ice hockey.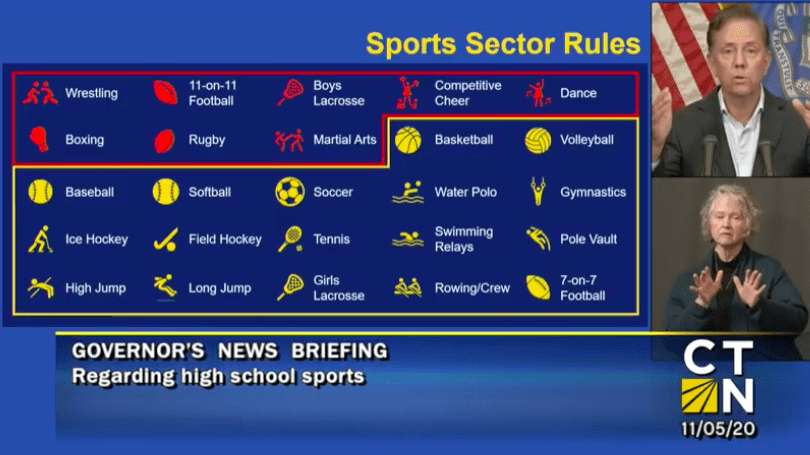 "CIAC Interscholastic athletics are an education-based experience that maintains in-person learning and the health and safety of our school communities as our top priority," the CIAC said in an announcement Tuesday. "Today's action supports our member schools while they continue to manage rising COVID numbers within their communities and experience widespread movements to distance learning."
Many schools that have moved to full distance learning have as of now set Jan. 19, 2021, as their date to return to at least a hybrid model, and Lungarini said that's one of the reasons it was chosen for the winter sports season to begin.
Tuesday's announcement impacts all traditional winter sports, and does not single out any that may be deemed higher risk, like wrestling, or include complicating factors such as the need to hold contests in non-school facilities.
"Right now all winter sports are scheduled to begin on Jan. 19," Lungarini said during Tuesday's press conference.
Mitigating strategies that have been discussed will be revisited after the first of the year, he said, and will be based on guidance from the governor's office and DPH.
Any sports that were not able to play at least 40% of its games in the regularly-scheduled season – which thus far includes only 11-on-11 football – were offered the possibility of competing during a second-semester alternative season beginning in late February and lasting through April 17. Conditioning for spring sports could begin on April 11, with contests beginning April 23 and state tournaments ending June 27.
The impact of delaying winter sports on that alternative season has not yet been finalized. The end date for the winter season has also not been determined, but Lungarini said he felt it was important to announce the start date.
"Over the next couple of weeks we'll look at the calendar for all sports we have left," Lungarini said, and realign the seasons as needed.
Lungarini praised the relationship that the CIAC has established with DPH.
"DPH has been great partners and are open for communication," he said, and that guidance has been in line with the CSMS Sports Medicine Committee and advice from other medical professionals.
Experts anticipate COVID-19 cases to increase over the next several weeks, but Lungarini said he is hopeful that by Jan. 19 those numbers will be decreasing and sports can begin again. While youth and some club sports may be continuing over the next few months, the CIAC must remain committed to fostering an environment where students can remain in the classroom.
Although formal practices may not take place, "out of season conditioning that would normally occur may continue with the caveat that the school administration allows that to continue," Lungarini said.
"We will see if we can support coach conducting low-risk conditioning activities for our athletes," West Hartford Athletic Director Jason Siegal told We-Ha.com Tuesday. Those activities, which would be conducted under the supervision of coaches, cannot be sport-specific, but could include running or lifting weights.
Decisions about conditioning will be made with the input of Superintendent of Schools Tom Moore and Assistant Superintendent for Administration Andy Morrow, in consultation with the West Hartford-Bloomfield Health District, Siegal said. The Health District is the "No. 1 resource for what we do in West Hartford."
Unofficial practices led by team captains will not be permitted.
"The CIAC and West Hartford Public Schools do not condone captains' practices," Siegal said. "It's not a safe situation for the kids."
Siegal sent a letter to Conard and Hall families via email Tuesday, indicating that registration for winter sports has been adjusted and will now be available from Jan. 1-Jan. 18, 2021.
"Right now this is just a delay, not a cancellation. We'll see how it progresses," Siegal said.
"Should CIAC make further adjustments to the winter season, we will adjust accordingly on our end," Siegal wrote in the email. "I encourage all families to continue sending in updated physical forms to the athletic department. You can mail them to the school, or email them to [email protected] or [email protected]. Once we receive them, we will update your child's registration account so you can complete the registration process when it opens."
Lungarini said the fall season exceeded many peoples' expectations.
"In the fall we did have 30,000 athletes complete a full season, and many of our leagues did an outstanding job getting those tournaments in," he said. "Data showed a very, very low impact from at least the fall low- and moderate-risk activities from a COVID standpoint."
Between practices and games statewide, Lungarini said the CIAC estimated that more than 31,000 events took place in the fall, and contact tracing indicated that there were a total of just seven positive COVID-19 cases that appeared tied to CIAC competition or sanctioned practices.
He said the CIAC is committed to the safety of a winter season as well.
"We have that same goal and anticipation," with Jan. 19, 2021 as a reasonable and appropriate date for the season to commence.
The CIAC will continue to evaluate the situation and have conversations with the governor's office and DPH, Lungarini said Tuesday.
Like what you see here? Click here to subscribe to We-Ha's newsletter so you'll always be in the know about what's happening in West Hartford! Click the blue button below to become a supporter of We-Ha.com and our efforts to continue producing quality journalism.