West Hartford's Conard High School spring musical was performed on stage, and is available to all for viewing on demand from April 11 through May 31, 2021.
By Ronni Newton
The show business saying "the show must go on" has turned into reality for Conard High School performing arts students who, despite myriad challenges, have been able to perform "Little Women the Musical" on stage, with a recorded version now available for viewing on demand by the public.
The annual musical is one of the highlights of the spring semester at Conard, and in 2020 the school was able to get in the first weekend of "The Drowsy Chaperone" before COVID-19 forced school buildings to shutter and sent students into remote learning mode that lasted for the rest of the academic year.
"I am thrilled this year that we're doing a show," said Corinne Kravetz, a special education and drama teacher at Conard who is the director of "Little Women."
Everything from the choice of show, to the way rehearsals were conducted, to the location of the pit orchestra (in a separate room), to the actual performance, had to be altered due to COVID-19. The final result, however, is a heart-warming and beautiful production, and a testament to the creativity, talent, and commitment of all who were involved.
The Conard musical is usually chosen about a month after the previous year's show closes, but that was the farthest thing from peoples' minds in the spring of 2020.
Kravetz said that in choosing this year's show long after the 2020-2021 school year had begun, the decision was made to keep the number of students involved much smaller than usual, and therefore only juniors and seniors were able to audition.
There are 18 actors, 18 members of the pit orchestra, and 13 crew members. "We usually put close to 50 kids on the stage," Kravetz said.
They were also able to reuse much of the set from "The Drowsy Chaperone," a definite benefit in a year where fundraising opportunities were much more limited.
There's no chorus, but "Little Women," the saga of the March sisters growing up in Civil War-era America, is still very much a musical. "It's heartwarming … very emotional," Kravetz said.
One of the keys to the success of bringing "Little Women" to life was the ability to have the show filmed. Kravetz said the first person she turned to was Will Fowler, a Conard graduate (class of 2016) who served as the stage manager for many Conard productions and is now an independent filmmaker and owner of Midnight Sky Productions.
Fowler, who earned his undergraduate degree in cinema and photography production at Ithaca College in three years and then earned an MBA in entertainment and media management from the Ithaca College School of Business, has been working primarily in Los Angeles, but because of the pandemic was back on the East Coast and available – and very excited – to take on the job.
Different methods have been used to record performances that the pandemic has forced into virtual mode, with some done like movies, allowing for multiple takes and a wide variety of camera angles. That wasn't the approach Fowler took.
"It's as if we're filming a play, to replicate the theater experience," he said. Using the production of "Hamilton" on Disney Plus as stylistic inspiration, Fowler said the filming was being done with two cameras on three different nights. That translated into six different camera angles that he had to work with in editing the final production.
"Shooting during the pandemic has posed challenges," he said, adding that one extra challenge he hadn't anticipated is that his own family had an exposure and had to quarantine, so he was staying in a nearby hotel.
All the actors wear masks on stage, the entire time.
"Definitely it's been a lesson learning how to act with your face covered," said Stephanie Reuning-Scherer, a senior and veteran star of many Conard musicals, who plays Jo March.
She said she's had to focus more on using her eyebrows for expression, as well as body language.
Vocals are even more critical as well, said Olivia Sokale, who plays Marmee.
Interacting on stage is also different, said Kieran Davis, who plays Laurie. "Early on we could barely be close, so that made it difficult," he said.
Kravetz said the cast and crew became a cohort, which permitted more interaction and allowed them to be closer and even touch.
"We've all taken extra precautions, working with our teachers so this production could be safe and successful," said Reuning-Scherer.
Davis and Sokale said that when possible those precautions extended to members of the cast sitting together, and separate from other students, in class.
Renee Sutherland, now in her fourth year as choreographer for Conard's musicals, said doing this show was definitely different. "It was easier in some ways because it was a smaller dancing crew … but harder because you couldn't get as close." When some of the restrictions lifted, she modified the dances to add more connections.
"It's a beautiful show, so everyone should watch it," Reuning-Scherer said.
"There are just so many heartfelt scenes. It's really about family relationships," said Kravetz, an extremely relevant topic during a year when many families have spent more time than ever together. The role of Jo as a strong female is also timely, she said.
As the cast performed on stage, projected on a screen in the back of the auditorium was Stephanie Wattel, a Conard music teacher who is director of the pit orchestra. She and the orchestra members were down the hall in the band room (spread apart and wearing masks, including special slit masks needed for the wind and brass instruments), taking cues from the auditorium. Action on the stage could be seen on Wattel's computer monitor, as well as on the white board in the front of the room.
Mia Olson, a senior violinist, said not being in the same space as the performers has made things more difficult.
"We just have to follow the monitor," said Alison Pauluk, a senior who plays flute and bassoon.
Thomas Tarutin, a junior who plays the piano, said that having the pit orchestra separated from the action on stage has actually brought them closer together as a unit.
Pauluk said that at the beginning of the year they weren't even permitted to play their instruments in school, but they were hopeful that there could still be a show.
"Last year we had to stop, so we didn't want to get our hopes up too much," said Zoe Morrow, a senior who plays flute and piccolo. "Even with the complications, we're able to make it work."
The show is long, which makes it more taxing, and much of the practice must be done at home, on their own time.
"We are very lucky to have such a strong music program," Olson said.
Each cast, pit, and crew member was given the opportunity to have two guests attend a live performance the week of March 30, when the show was being recorded for the video version. That was actually a week later than planned, due to contact tracing from an exposure in one of the classrooms, which mandated quarantine for some of those involved with the performance.
In addition to Reuning-Scherer as Jo, the other March sisters are played by Sophia Pegolo (Meg), Shelby Deep (Beth), and Elizabeth Thibault (Amy). Other cast members include Emma Gudjonsdottir (Aunt March), Declan Smith (Professor Bhaer), Cameron Hoskins (Mr. John Brooke), Nathan Souza (Mr. Laurence), and Lilly Galinotto (Mrs. Kirk).
A full list of cast, pit orchestra, and crew members can be found below.
Tickets, which are good for 48 hours of viewing after purchase, are available at Showtix4U.com (search for Conard if it doesn't come up automatically) and are $18 for single tickets and $35 for family tickets. The show is available for streaming from April 11 through May 31.
Please email Liz at [email protected] with any questions.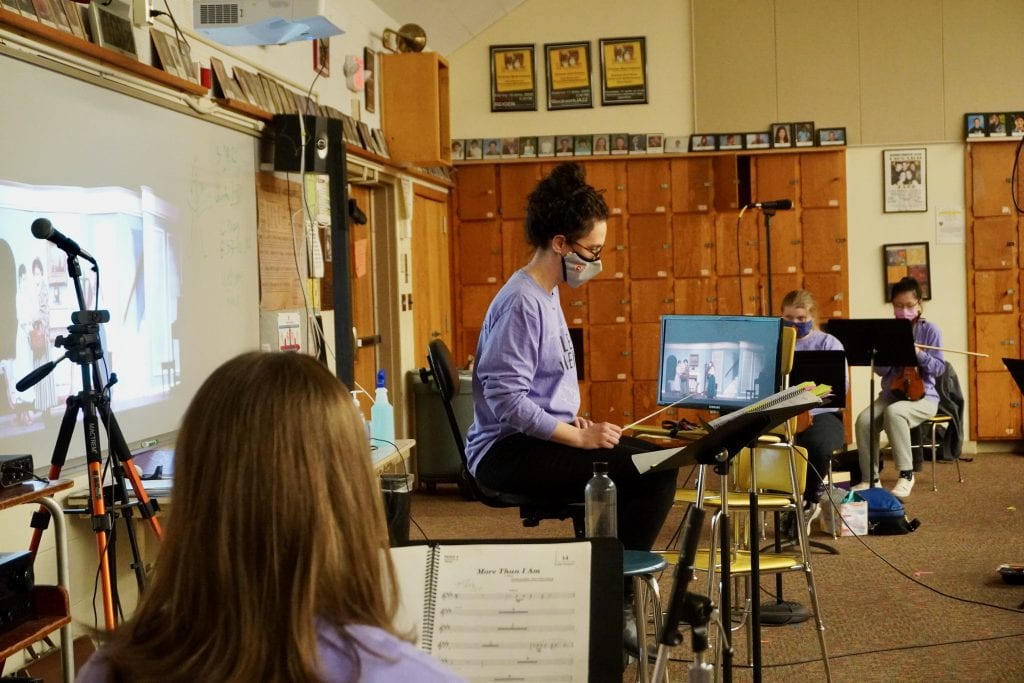 Like what you see here? Click here to subscribe to We-Ha's newsletter so you'll always be in the know about what's happening in West Hartford! Click the blue button below to become a supporter of We-Ha.com and our efforts to continue producing quality journalism.