The public is invited to listen – or dance to – swing music performed by the jazz ensemble and jazz band from West Hartford's Conard High School.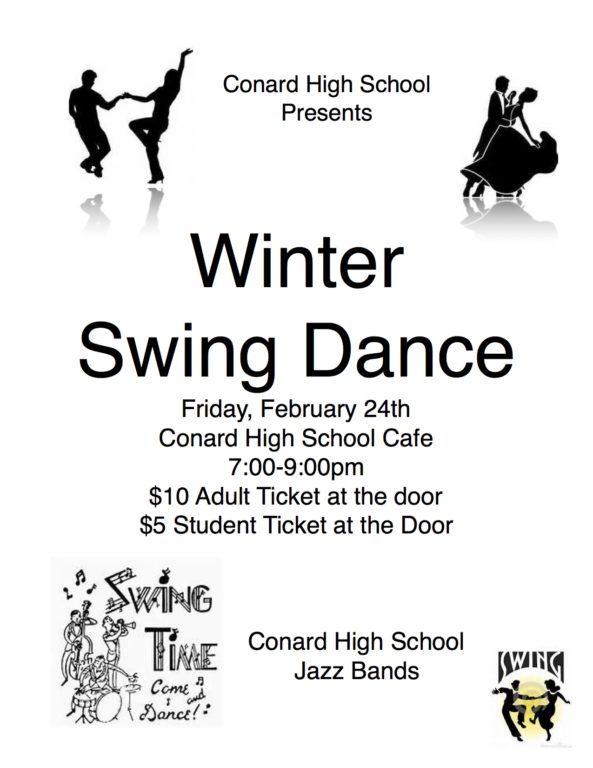 Submitted
The annual Winter Swing Dance, with music provided by the Conard Jazz Ensemble and Concert Jazz Band, will be held on Friday, Feb. 24, 2017.
Put on your dancing shoes and tear up the floor – or just come to listen to some live dance music.
"Big Band" jazz historically was dance music. If students continue to play jazz in college or after college they will most likely find themselves playing Big Band dance music. This annual dance celebrates the vast amount of jazz music written for this idiom, and students have prepared a lot of music to play at the dance.
Those 
jazz
 vibes will naturally make your toes tap – and it everyone needs to hear and feel some great live music on a
Friday
night after a full week of work.
This year the dance will be held in the Conard Cafeteria. The adult ticket price is $10 per ticket and a student ticket is $5. The doors will open at 6:30 p.m. for those who would like to select their table prior to the 7 p.m. downbeat.
Please feel free to come and just sit to enjoy our music – or better yet dust off those dancing shoes so you can dance to the tunes from the 1940s-2000s.
This is a fundraiser for jazz band scholarships and funds will be put toward the instrument transportation costs for Eurotour 2019. The dance will run from 7-9 p.m.
More than 50 students will be participating in the event. Water, coffee, tea, and desserts will be available.