West Hartford's Conard High School held a commencement ceremony on Tuesday, June 15 for 362 members of the Class of 2021.
By Kristina Vakhman. Photos by Ronni Newton
Despite a year of distance learning and staying 6 feet apart, the 2021 graduating class of Conard High School is closer than ever, student Tolu Adeltola said.
"As a class, we have set a new precedent for loving one another at Conard," Adetola, one of two students chosen as commencement speakers told the crowd of graduates and families. "And as our teachers and staff continue to catalyze this sense of community, we have left an example for the classes behind us to follow suit."
Conard's 64th graduation ceremony was a far different picture from last year: closer to "normal," with students relieved to be with their friends and in-person rather than separated in a car parade. 
Student speaker Kayla Yousman said being together was like a breath of fresh air following not only the worst of the coronavirus, but the polarization of issues important to young people – like progress and justice.
"We have been challenged more than ever to advocate for each other in the face of unimaginable injustice and separation," Yousman said, adding that she was immensely proud to have seen fellow students stand up for what they believe in. 
Adetola echoed this sentiment, saying that the class has shown great maturity by navigating high school, the pandemic and various social justice issues like racial inequality all at the same time and sometimes under great pressure.
"We've embraced the complexity of life and it's allowed us to embrace each other. Conard Class of '21, each of you as individuals has a level of character developed above that of any class before us, and I cannot wait to see you all show the world who we are," Adetola said.
Conard faculty could not hide how proud they were of the graduating class either. 
"You are so much more than the class who spent their senior year during the pandemic. I hope it fades into a footnote in your lives," said Assistant Superintendent Dr. Andrew Morrow, who was there not only as a speaker representing the administration, but as the father of a member of the Class of 2021. 
Conard Principal Julio Duarte said in his speech that it was a joy to watch students overcome the pandemic's hurdles to get here. 
"You deserve this special moment probably more than any other class," Duarte told students. "All of you embraced the challenge, as formidable as it was, and continued to propel forward."
Social studies teacher and football coach Jason Lussier, chosen as the faculty speaker, urged the students to "find the courage to be yourself," starting with finding their areas of interest and then following their efforts.
"… our journey together towards discovering and developing the best versions of ourselves, and ultimately finding fulfillment in our lives has just begun. Be courageous Class of 2021," Lussier said.
Class President Chloe Scrimgeour said that now that she and her peers beat the tumultuous COVID-19 semesters by graduating, she's confident they all can achieve anything, whether it be in college or the workplace.
"Instead of focusing on what this year wasn't, let's focus on what it was," Scrimgeour said. "We made the most of the opportunities we were given and learned to adapt to all of the obstacles thrown our way."
Deb Polun, chair of the Board of Education, also addressed the students. She said she hoped their years with West Hartford Public Schools have nurtured and fostered their inspirations to make the world a better place through action."Now, as you bring forward your activities from throughout your lives, combined with the lessons you've learned in school for the past 13 years – and these lessons of persistence, of independence and togetherness, of compassion and empathy – I think I speak for all of the adults here today that we are not just confident in your future, but excited to see what changes you bring to improve your own community of people and the broader communities as well."
A complete list of graduates follows the photographs below.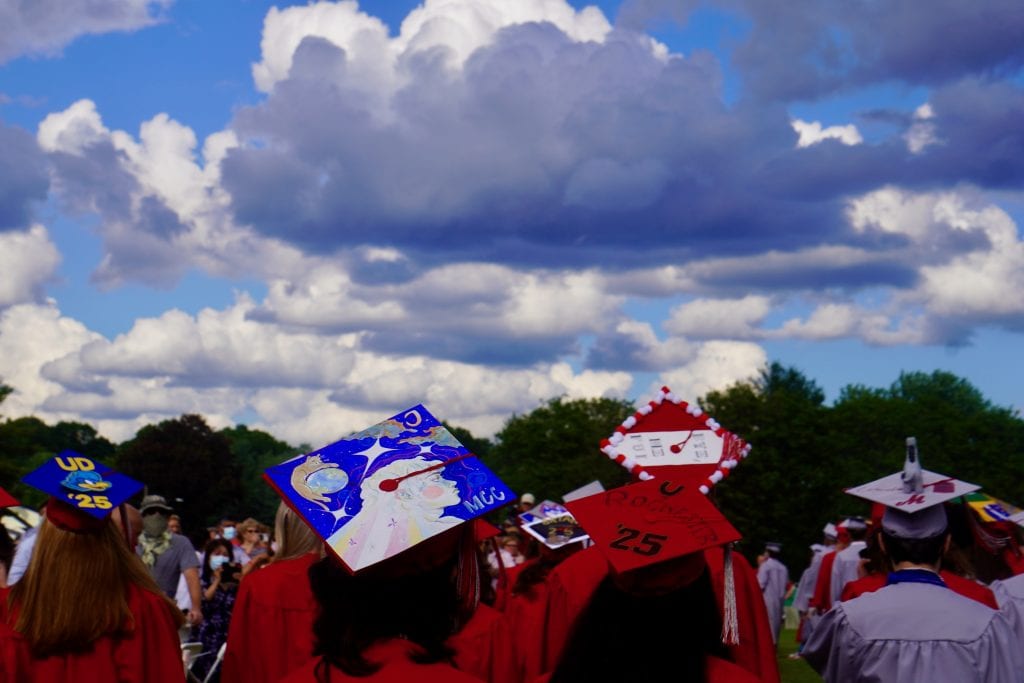 Conard High School — Class of 2021
Christopher Amir Adams
Marisa Rose Adams
Toluwanimi Victor Adetola
Jose M Agosto
Alistair David Alejos
Brianna Yailinn Alexander
Emma Louise Alford
Jaden William Alicea
Madeline Altman
Jasea Thubie Amchok
Richard Aponte
Grace Mary Araya
Elizabeth Susan Arcand
Madeline Elsie Arcand
Joshua Jeremiah Ardon
Charles Thurman Arnold
Molly Elizabeth Aubrey
Marlena Michele Bailey
Isabella Maria Balta
Eden Rose Barnard
Kaustubh Basnet
Dominic Kelly Bavaro
Isiah Gabriel Bell
Mai Benita
Exavier Antonio Benitez
Chase Noah Ben-Kiki
Ajahcee Lynn Ann Bent
Sean James Bernard
Aaron Michael Borla
Alexander Joseph Bottass
Elijah Emiliano Brites
Damon Andrew Broege
Garrett Conway Brown
Peter Kenneth Brown
Shavaughne Brown
Griffin Charles Bruce
Lucy Elizabeth Buccilli
Emre Mert Budak
Matthew Francis Burnett
Sarah Kathleen Burnett
Isabelle Jane Burnett-Herkes
Conner Michael Burns
Rachael Louise Burtness
Purit Butsapak
Gabriel James Cadete
John Josef Calcaterra
Anastasia Lynn Caldwell
Clayton N Campbell
Alexander Thomas Caneiro
Erika Emilia Cangro
Cassidy Elizabeth Cannon
David John Cantarella
Mercedes Hong Cao
Mary Katherine Capone
Sophie Capps-Hawkins
Angela Elena Carabello
Jackson Thomas Carbone
Jacob Michael Thomas Caron
Jonathan S Casiano Jr
Nathaniel Walter Cavo
Mason Douglas Chabot
Courtney J Chamberland
Talitha A Channer
Daniel Chavez Jr
Eileen Chen
Jerry Chen
Yuchien Chen
Jordan David Chery
Mara Anne Cicchetti
Christina Mary Coburn
Emmett Christian Coco
Benjamin Marcel Cohen-Tyler
Devonte Tyler Cole
Terrell Lamarr Collins
Aliza Isabella Colon
Destiny Lizzette Colon
Camille Kate Corrado
Benjamin Zev Covici
Austin Davis Crossley
Ashley Lynn Cugno
Ysadora  Da Silva Arcenego
Michael Carl D'Andrea
Malik Khalil Daniels-Montes
Maeve D'Arcy
Kieran Henry Davis
Francisco Xavi De Matto
Alexandra Leigh de'Ath
Aliznelys DeJesus
Natalie Anne DeLaCruz
Elijah Evan DelCastillo
Sybella Elizabeth DeMeo
Akshay Deodat
Nina Elizabeth DeVries
John Do
Michael Van Doan
Trisha Doru
Bridget Ellen Drummey
Ingrid Marie Dynowski
Nicolas Garza Eckett
Ruth Averyl Eddy
Avery Marie Edelman
Alice Jeanne Evelein
Arianna Zena Fandozzi
Jacob Edward Farrell
Azaiyah Monae Felder
Talia A Feliciano
Jonathan Charles Ferrucci
Randy Figueroa-Acevedo
Noah Evan Fill
Colum Patrick Flaherty
Rebeccah Fleischmann
Maura Doyle Fletcher
Baron Marcus Francis
Franseca Lael Francis
Jaden Michael Fuller
Giuliana Gagliardi
Bianca Azoria Gaiter
Luis Alfonso Galarza
Lillian Dorothy Gallinoto
Annie Catherine Garach
Madison Monique Garrett
James Ryan Gaston
Namar Chance Gaynor
Oluwatobi Joshua Gbadebo
Katrina Anne Genca
Antwan Patrick Gibson
Elaina Loren Gold
Richard Shrestha Gomes
Veronica Ivelisse Gonzalez Miranda
Evan Maxwell Gordon
Mollie Naughton Gorman
Aaron Wynn Gruber
Alexandra Marie Guerrero
Claudia Isabella Gugliotti
Emma Marie Gullen
Jenish Gurung
Ariana Gutierrez
Samuel Thomas Hamel
Benjamin Martin Hardesty
Samuel Mason Hardesty
Gabriel Hartford Martinez
Colette Caroline Haverty
Maguire Kryszpin Hawkesby-Mullins
Patrick Alan Hemingway
Brenden Hill
Michael Alan Hill
Thai Tam Nhu Hoang
Matthew Israel Hook
Ariana Paola Huapaya-Rios
Elaina Marie Huber
Alexandra Rachel Hudson
Abigail June Hughes
Evan David Ittleson
Hanif Antonio Jackson Jr
Alex Charles Jakubowski
Madeline Grace Jakubowski
Angel Jose Jaquez-Rivera
Ava Elizabeth Johnson
Minu Maria Kallukalam Mathews
David James Kandel
Jayanth Karuturi
Eleanor Elizabeth Khan
Julia Louise Kiernan
Alan Harper Kim
Ella Frances Kimberly
Nina Kate Kluskiewicz
Harrison Montelle Knight
Miguel Alberto Knight
Alexander Nicholas Konopka
Charles Joseph Daniel Krajc
Emma Grace Kramer
Chandni Meenakshi Krishnaprasad
Baden J Krisst
Charles Stephen Kristofak
Declan Thomas Kutscher
Scott Donald LaBranch
Ryan Michael Lafferty
Elizabeth Grace LaMarco
Maxwell Evan Langweil
Spencer R Langweil
Benjamin David Larkin
Mason Anthony LaSala
Jason Sen Lau
Lexus Sabalboro Laureta
Sandy H Le
Vi  Khang Le
Sencerie Ontionette Grace Leaphart
Barbara Ann Leonard
Margaret Elizabeth Leonard
George Leonard IV
Noah Mason Lerner
Madeleine Julia Levesque
Sydney Mae Liatti
Mwila Lingashi
Joseph Anthony Lorenzo
Cassie J Lowe-Choa-Lee
Jack Evans Lubin
Kaylie Luna
Eloise Amelia Bronte MacKinnon
Skylin Sherin Macy
Emma Rose Main
Jazmine Marie Maldonado
Laylah Salise Maldonado
Caragh Ann Maloney
Therese Amihan Maloney
Nathan Alexander Maloy
Bailey Manning-Ingala
Hunter William Marotto
Michael Anthony Marques
Alyssa Dior Martinez
Angel Maria Mathew
Ethan Felix Mathieu
Stephanie Matos
Shealyn L McCann
Preston Jay McCarthy
Aidan Robert McDonald
Owen Paul McGoldrick
Diana Margaret McGovern
Rose Tiernan McGowan
Owen Patrick McGrath
Kellsie Anne McKeown
Jessica Leann McNally
James Devine McPhee
Olivia Rose Mello
Chad David Merrifield
Maggie Mieczkowski
Weronika Milewicz
Alisha Farah Mohamed
Audrey Jean Mongillo
Luis Angel Morales Vargas
Ethan Phillip Morren
Kiefer Steven Morrow
Zoe Yachu Morrow
Brynn Irene Murphy
Tejal Nair
Notreve Antonia Nelson
Brandon L Nguyen
Bryan D Nguyen
Catherine Anh-Thi Nguyen
Mai Phuc Huynh Nguyen
Phillip Nguyen
Vivian Myhan Nguyen
Christina Ni
Ian James Nicastro
Alicia Catherine Nicholson-Gauvin
Taylor Marie Nicholson-Gauvin
Gianna Elizabeth Niman
Jessica Oliveira Nogueira
Chloe Eve Nollet
Maya Noman
Ronan Thomas O'Brien
Ryan James O'Connell
Connor Jay Olechna
Gregory Thomas Olechna
Mia Giovanna Olson
Ethan Thomas Orentas
Grace Erin O'Rourke
Isaiah Hector Padilla
Savannah Jessie Paolitto
Kayla Joyce Paparazzo
Bilaxan Paudel
Alison Katherine Pauluk
Savannah Jane Peak
Kaelyn Shahira Pelaez
Grace Kathryn Phalon
Alexander Anh Quoc Pham
Angela Thu Pham
Mark V Pham
Juliet M Pia
Francia  Plascencia Espinosa De Los Monteros
Avery Lynn Pollicita
Emily Przestrzelski
Lindy Yenlinh Quach
Carolyn Faith Quinn
Julia Elizabeth Racz
Phoebe Clare Reardon
Romy De-lin Reichenberger
Andrew Jordan Reicher
Wyatt Dawson Reid
Tyler Gordon Remigino
Stephanie Anne Reuning-Scherer
Izabella Virginia Ricciardi
Justin Kamil Rivas
Alize Unique Rivera
Gabriel Andre Rivera
Jonathan A Rivera
Josiah Dorian Rivers
Arianna Haleigh Roach
Benjamin Seung Min Roach
Lindsay Anne Robinson
Mia Teresa Robinson
Rafael Tiago Rodrigues
Elise Margaret Roen
Yvonne Marie Rogach
Victor Manuel Rojas Pimentel
Ryan Jacob Roller
Melissa Kathryn Romberg
Jett Bond Rosner
Evan Philip Roy
Maya Emily Sadowski
Amanda Erin Sagers
Ceszar Manuel Santos
Jude Armand Sargent
Ariana Sarwar
Matthew Gabriel Schatz
Samantha Faith Scillia
Chloe Christine Scrimgeour
Brianna Elizabeth Segar
Zujeily Ashlian Serrano
Justice Nyles Seymour
Aidan Joseph Shaffer
Allison Grace Shane
Hallie Elizabeth Shea
William Henry Tucker Shea
Emma Spencer Sibson
Rowan James Sierra
Samyrielis Nocole Sierra
Deborah Ferreira Silva
Cooper Dylan Silver
Joshua David Nishimu Sirman
Evan Michael Smart
Gabriella Ann Sohn
Olivia Grace Sokale
Nathan Gregory Souza
Kiley Faith Spillane
Chloe E Starr
Jamie Thanh Sterling
Eric Alois Stiber
Liam Doyle Switzer
Yusey Benjamin Tanaka
Ella Eliz Tekce
Kaitlee Julie Tellez
Eduardo Terrero
Aman Thapa
Avery Louise Theriault
Catherine Maeve Thiery
John Gregory Thomas
Damian Zion Tai Thompson
Mario Dut Mario Tong
Steve Thomas Torres
Christopher Dinh Tran
Thanh Truc Tran
Jordyn Frances Trent
Charles Donald Trunik
Nicholas James Urso
Russell Ritter Van Der Hulst
Luis Vargas
Ariana Gabriela Vasquez
Dalton Veiga
Lea Mercedes Velasquez
Halle Rose Marie Weissman
Alexa Ryan Wells
Dazzanay Ethesia Williams
Nora Cawley Willson
Chengfang Wu
Annabella Jazlynn Yacoub
Luke Anthony Yanosy
Rushil Kumar Yerrabelli
Kayla Sanders Yousman
Gabriella Veronika Zhalov
Kaiwen Zhang
Like what you see here? Click here to subscribe to We-Ha's newsletterso you'll always be in the know about what's happening in West Hartford! Click the blue button below to become a supporter of We-Ha.com and our efforts to continue producing quality journalism.