The Connecticut Ballet held the annual 'Ballet Under the Stars' event Saturday in Elizabeth Park in West Hartford.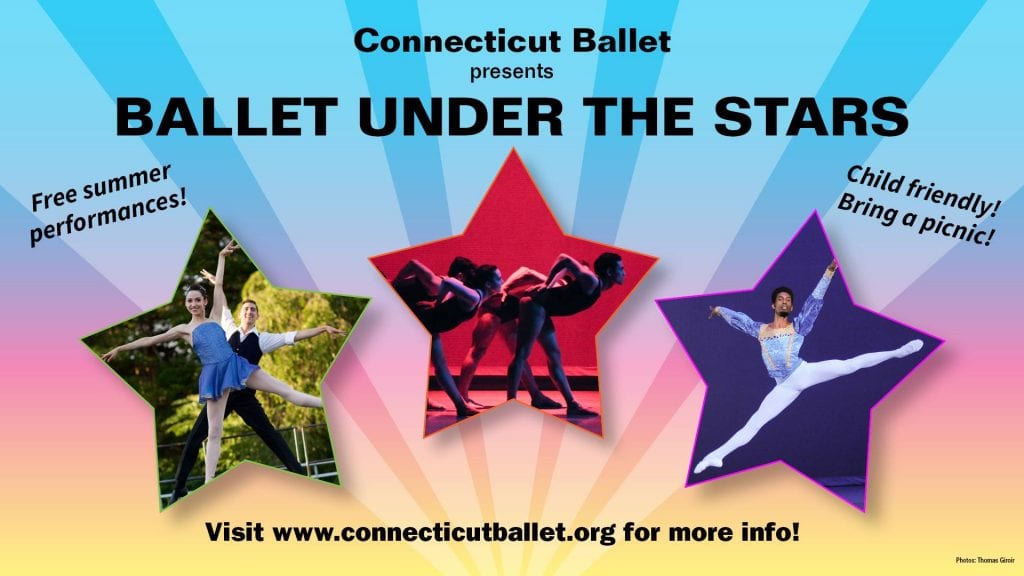 By Ryley McGinnis
It may not have gotten dark enough to see any stars, but the dancers of the Connecticut Ballet definitely delivered on the ballet part of their annual Ballet Under the Stars event in Elizabeth Park on Saturday evening.
The annual event is a memorial performance honoring former Connecticut Ballet board member Marjorie Wilder, who was very involved in the state of Connecticut and the Town of West Hartford. She passed away in 2013, and since then her husband, Michael S. Wilder, carried on her love of the Connecticut Ballet with the tribute.
People of all ages gathered to watch the ballet, which featured separate acts with very different styles. Some were very modern, others more classical, and some were even choreographed by the dancers themselves such as the piece called "The Kiss."
Some in the audience said they looked forward to this variety, like MaryAnn Smith and her mother, Dorothy Smith. They decided to attend the ballet because they heard about it on the news, said MaryAnn Smith, and because she also heard about it from her sister, Catherine Thomas. "They said on the news that there will be more modern pieces and I'm really looking forward to that part," said MaryAnn Smith.
Dorothy Smith echoed the same idea, "I'm interested to see the modern twists," she said. "We like the ballet but we don't go often, and this is something new on a beautiful night. We are happy to be here," said MaryAnn Smith.
This performance is only part of a bigger summer tour by the Connecticut Ballet. The next show will be held at the Levitt Pavilion for Performing Arts in Westport, and the last will be held at Middlesex Community College.
Like what you see here? Click here to subscribe to We-Ha's newsletter so you'll always be in the know about what's happening in West Hartford!