This marks the 16th time in 17 days that hospitalizations from the virus have declined in Connecticut.
By Keith M. Phaneuf, CTMirror.org
West Hartford-specific information provided by Ronni Newton, We-Ha.com
Hospitalizations from the coronavirus continued to decline in the state, Gov. Ned Lamont reported Saturday, but another 58 residents died from infection.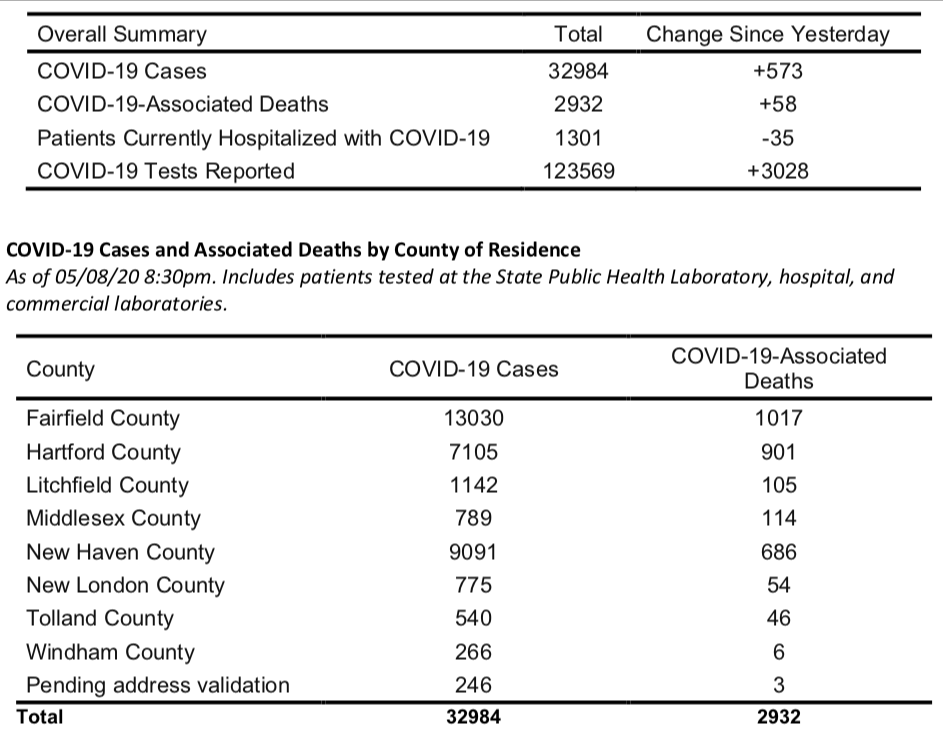 The administration also issued 800 computer tablets to Connecticut nursing homes this weekend to facilitate virtual visits in time for Mother's Day.
According to the governor's mid-afternoon report Saturday, hospitalizations due to COVID-19 had declined by 35 during the 24-hour period ending 8:30 p.m. on Friday. 
This marks the 16th time in 17 days that hospitalizations from the virus have declined in Connecticut. The outlier was reported on May 5, when hospitalizations increased by 36.
The administration also reported Saturday that, with the 58 new deaths, a total of 2,932 residents have died from the coronavirus. State health officials also reported 573 new positive tests for COVID-19, bringing the total since the pandemic began to 32,984 confirmed cases.
West Hartford's reported cases increased to 366 according to data released Saturday by the state. There were four more cases in data released Friday and nine more on Saturday. Over the past two days there have been three more fatalities reported among West Hartford residents for a total of 69 deaths.
The federal guidelines for states involving reopening of businesses and other services urges a "downward trajectory of documented cases within a 14-day period" or a downward trend of positive tests as a percentage of total tests within two weeks.
Lamont, who is aiming for a gradual reopening in Connecticut starting May 20, published more than 45 pages of written guidance late Friday for stores, hair salons, offices and other businesses. He has not said if he would defer a May 20 reopening if the state fails to meet CDC guidelines.
Facilitating virtual nursing home visits
The governor issued a new executive order Saturday directing nursing homes — which largely are prohibited from allowing visitors during the public health crisis — to facilitate "alternative means of communications" when practical between residents and their family members.
To complement the governor's order and accommodate these virtual visits, the Department of Public Health spent $300,000 to supply the state's 213 nursing homes with iPads, said spokesman Av Harris. The computer equipment was purchased using funds collected from civil penalties imposed over the years on nursing homes, he said.
The state's two largest nursing home associations said the governor's order mirrors their own efforts to help residents stay in touch, safely, with their loved ones.
"Our nursing homes have recognized from the beginning the importance of these integral family communications," Matthew V. Barrett, president of the Connecticut Association of Health Care Facilities, and Mag Morelli, president of LeadingAge Connecticut, wrote in a joint statement. "Nursing homes understand that residents and families are struggling during this time of no in-person visitation and they have been creatively providing alternative means of communication."
Reprinted with permission of The Connecticut Mirror. The author can be reached at [email protected].
Like what you see here? Click here to subscribe to We-Ha's newsletter so you'll always be in the know about what's happening in West Hartford! Click the blue button below to become a supporter of We-Ha.com and our efforts to continue producing quality journalism.