El Santo Tequila & Mezcal brings the flavors of Mexico City to West Hartford Center.
By Ronni Newton
A fresh and creative approach to the flavors of Mexico City in a cosmopolitan atmosphere defines West Hartford's newest Mexican restaurant, El Santo, which is open just in time for Cinco de Mayo.
Located at 970 Farmington Ave. in West Hartford Center, the spacious former Cosi space has been completely transformed with warm wood accents, a full bar, and a striking mural by Ben Keller – which will likely be popping up in many Instgram photos –  that is a nod to the restaurant's namesake, Mexican luchadores El Santo, a masked professional wrestler (and an actor) whose legendary career lasted more than five decades.
The menu is the inspiration of accomplished chef Xiomara Zamudio, who co-owns the restaurant along with her husband, Daniel Chavez, as well as Luis Araujo, Yessenia Masias, Lilian Salinas, and Alejandro Polanco.
Starters and small bites includes the artfully-served (with flavor as bold as the presentation) "Hanging Quesadillatas" – chorizo and potato corn quesadillatas hanging from a mini clothesline accompanied by mango salsa. There are also full-size quesadilla, nachos libres, fresh guacamole, and pescadillas perfect for sharing ($5-$16).
Tacos – three or four to a serving – ($20-24) include the luchadores with a choice of meat that includes, campechanos, birria, rib eye, Baja fish, and tacos Gobernador (blue corn tortillas with grilled shrimp, queso chihuahua, alfalfa sprouts, and onions).
A variety of meat and seafood entrees ($17-$30) also highlight the menu, and include chicken flautas, enchiladas verdes, and a rib eye and octopus casserole. Mexican burgers include Angus beef, pineapple, guacamole, lettuce, tomatoes, and onions, and are served with home fries and chihuahua queso.
Seafood options include a striking ceviche sampler tower or the El Santo Ceviche (fish, shrimp, octopus, calamari, cucumber, red onion, cilantro, jalopenos, avocado, with citrus and olive oil sauce), ocean tostadas, and a grilled butterfly cut pescado zarandeado seasoned with Mexican spices, and grilled guajillo peppers.
A variety of salads includes the Oaxaca Mezcal (arugula, caramelized almonds, mandarin oranges, red onion, goat cheese, and sesame seeds with honey mezcal dressing) and a Casear salad ($11-$12) with the option of adding chicken, steak, shrimp, scallops, or octopus.
The full bar features a variety of creative tequila and mezcal cocktails, including margaritas, infusions, and mescalitas. Wines by the glass, draft and bottled beers, and mocktails are also features, along with Mexican juices.
Including the bar and a dining area in the rear, which will be available for private parties, El Santo seats 76 inside, plus there is seating on the front patio and along the alley on the side of the building.
El Santo is located in at 970 Farmington Ave. in West Hartford Center. The restaurant will eventually open at 11 a.m. and include lunch service, but will start off with dinner only. On Cinco de Mayo (May 5), and on Mother's Day (May 8), there will be live mariachis to accompany the margaritas and meals.
For more information about El Santo, follow on Facebook or Instagram (@elsantoct), or visit the website, call 242-262-6758, or email [email protected].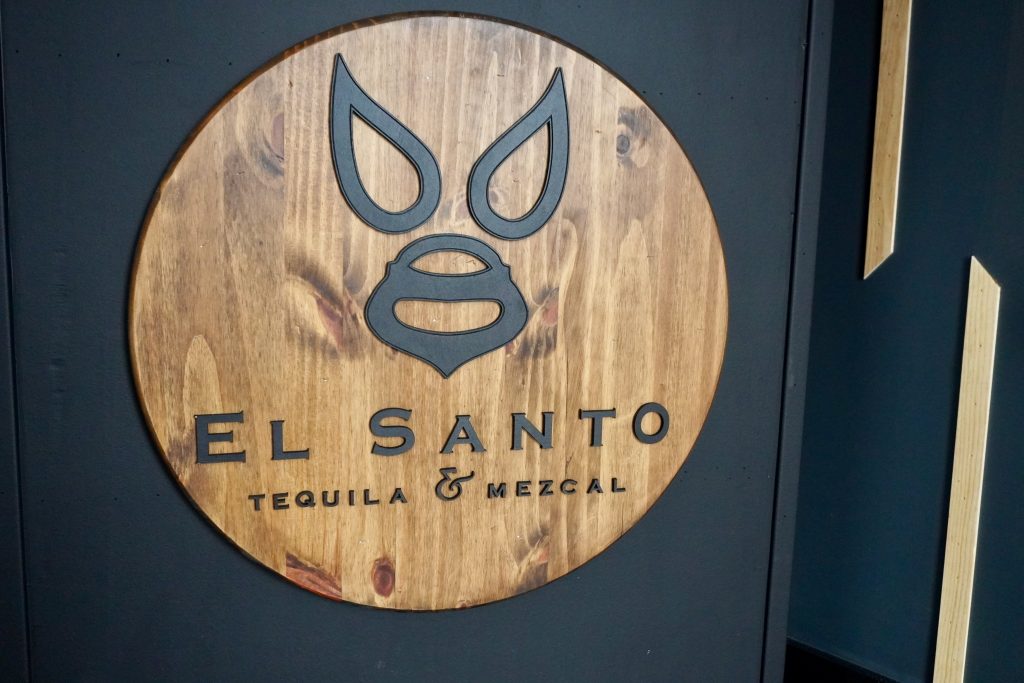 Like what you see here? Click here to subscribe to We-Ha's newsletter so you'll always be in the know about what's happening in West Hartford! Click the blue button below to become a supporter of We-Ha.com and our efforts to continue producing quality journalism.