Eversource has provided a list of streets in West Hartford where trees will be trimmed during 2022.
By Ronni Newton
Eversource has made a commitment to an annual vegetation management program, and has provided the Town of West Hartford with a list of streets where they plan to conduct work this year, ranging from maintenance tree-trimming and pruning, to more extensive tree trimming, to removal of trees that are decayed, insect-infested or otherwise damaged or structurally week  and pose a danger to power lines.
According to Eversource, 30% of outages in West Hartford during 2021 were "tree-related," and impacted 3,213 customers throughout the year.
Planned and scheduled vegetation management of 2022 will include work on the electric transmission rights-of-way (ROW) in West Hartford indicated on the map below. Side pruning, and selective removal of hazardous trees will take place along the ROW or just beyond the edge of the area, and will be reviewed in advance by the town, officials said.
In addition, all tree removal that extends beyond the limits of the ROW easement will be discussed with the property owners in advance of the work. Eversource is hopeful that property owners will permit the work to take place, since damage from tree limbs, or entire trees, falling across power lines is the leading source of outages.
The list of streets where the work is planned during 2022 has been provided by Eversource, and indicates the applicable circuits.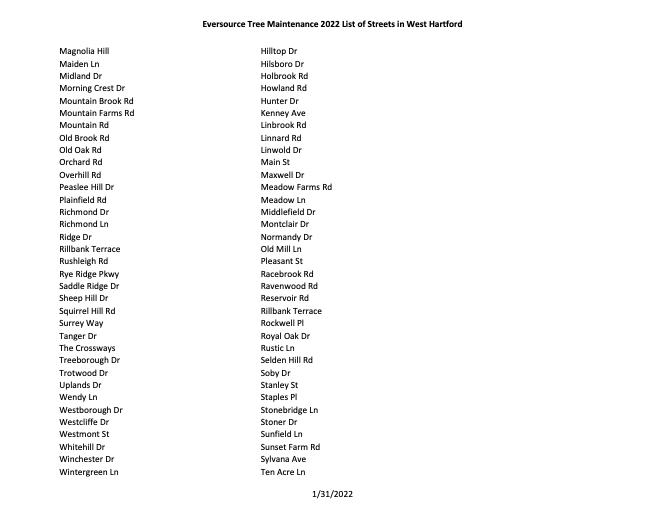 Eversource has provided some charts indicating the difference between Scheduled Maintenance Trimming (SMT), Enhanced Tree Trimming (ETT), and Maintenance Enhanced Tree Trimming (METT).
A list of Frequently Asked Questions (FAQs) can also be found here.
Like what you see here? Click here to subscribe to We-Ha's newsletter so you'll always be in the know about what's happening in West Hartford! Click the blue button below to become a supporter of We-Ha.com and our efforts to continue producing quality journalism.