A screening of 'Chasing Coral' and other activities for people of all ages will highlight Ocean Night on Friday, June 7, at West Hartford's Hall High School.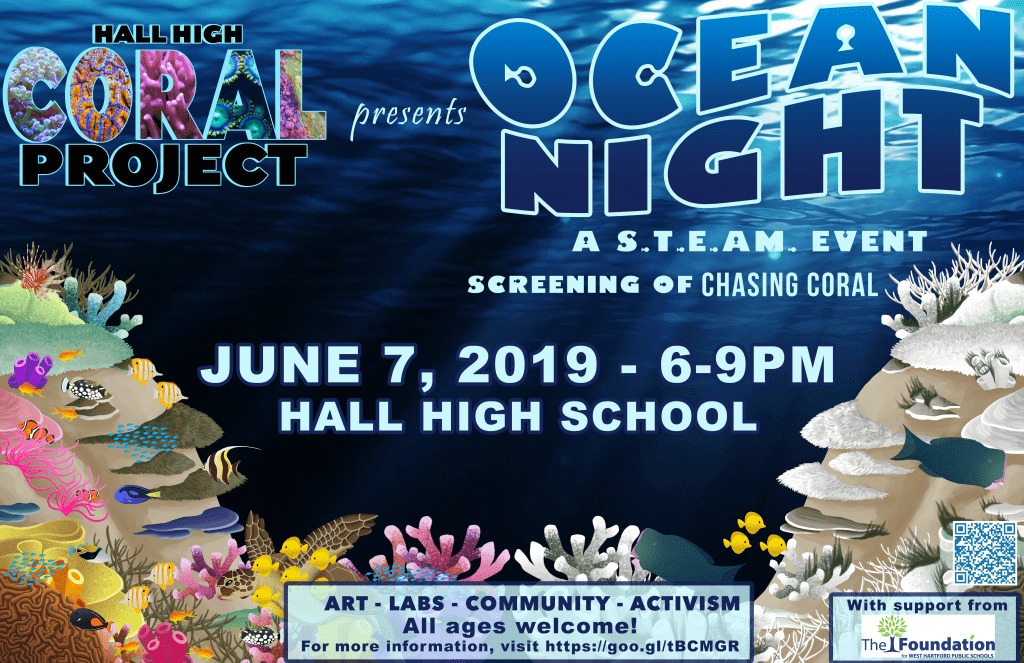 By Ronni Newton
Marine science teacher Anthony Wasley has been growing corals in his classroom at West Hartford's Hall High School for years, and on Friday, June 7, from 6-9 p.m., the community is invited to learn more about corals and the bleaching that is significantly damaging ecosystems, and participate in a variety of activities designed to educate and entertain people of all ages.
Wasley, who was a West Hartford Teacher of the Year finalist in 2017, teaches marine science to juniors and seniors and earth science to freshmen at Hall. This year he also launched the Coral Project Club in order to encourage and allow more students to become aware of the plight of corals, and involved in research into ways to effect change.
Wasley's marine science students have been growing and harvesting corals in classroom aquariums for the past several years, but the impetus for Ocean Night came after the classes watched the documentary "Chasing Coral," which focuses on solving the mystery and discovering the cause of the devastating bleaching of coral. The film was shot over a three-year period, based on more than 500 hours of footage taken in 30 countries, and highlights the death since 2016 of about one-third of the corals in the Great Barrier Reef.
"The students said, 'We should do a screening,'" Wasley said. "From there, it ballooned."
The multi-faceted Ocean Night event will include a screening of "Chasing Coral" in the auditorium, and will also include activities like an experiment with CO2,temperature, and pH, and a gallery of coral-themed art created by students from the town's elementary schools.
Wasley said he reached out to the elementary schools in November, and has been collecting art to display. In addition, the National Art Honors Society at Hall will showcase their 8×4-foot coral reef mural at the event.
There will be a virtual reality experience in room E119, where participants can don a pair of goggles and feel as if they are in the ocean, amidst the coral and fish.
There will also be a photo booth, where visitors can have their photo taken in a "coral reef."
"We're using the night to raise money for coral propagation," Wasley said. There will be a raffle with 20 items, including gift cards from local businesses, an aquarium, coral-related art, and two private SAT tutoring packages value at $875 each. There will also be a merchandise sale of t-shirts that feature what Wasley said is a "powerful image" –  student-created art of a live coral reef on the front and a bleached and dead reef on the back, and water bottles with the Coral Project logo.
Baked goods and pizza will also be sold.
Experts will be on hand to speak about coral aquaculture and there will be examples of coral to be viewed under a microscope, Wasley said.
Ocean Night is truly a "STEAM" event, Wasley said, incorporating the science, technology, engineering, art, and math disciplines. The "math" involvement come from AP statistics students who will be providing statistical information about coral reefs and climate change.
Wasley said there are 50 students in his marine science classes, and roughly another 30 in the Coral Project Club, who have also gotten involved in the care of the fish and the corals that grows in the 150-gallon, four-aquarium system in his classroom. The fundraising portion of Ocean Night will help fund the student-run creation of a "coral bank," a project which will begin next year when he moves into new classroom space and sets up a new 300-gallon "full blown coral tank system."
Hall's new science labs will open for the 2019-20 school year, and as other science classrooms move into the new space, Wasley will be moving his classroom into room B225  in the existing school building. His new classroom space will accommodate installation of the new system – which will be 12 feet long and will be placed in a window so that it is visible to others.
A key reason for expanding and improving the system is to grow coral. "We want to create a coral bank," he said.
Wasley hopes that proceeds from the event will be able to augment a grant he has received from the Foundation for West Hartford Public Schools to fund experiments on how to make coral more heat-resistant. Eventually he and his students would like to be able to ship coral raised at Hall to the Caribbean to help replenish the reefs, where 80-90 percent of the coral has been lost since the 1980s, he said.
"It's kind of a 10-year plan. You have to look ahead," he said.
The new system will allow for up to 1,000 species of coral to be grown in the aquariums at Hall, a significant increase from the 70 species that are currently being grown. Worldwide, he said, there are more than 40,000 species of coral. The new system will also include dozens of fish, sea urchins, and other reef life.
As it expands, students will continue to be hands-on with the Coral Project, Wasley said. At this point in the year, he rarely needs to touch the aquariums with all of the feeding and other care done by the students. The students know, he said, "If you don't do your job the fish die, and the corals die."
Corals "have done the same dance for millions of years," Wasley said. They are animals which he likened to "upside down jellyfish," and have a symbiotic relationship with a plant, the algae that forms the "skin" of the corals. "When the water gets too hot the algae dissolves. It essentially leaves [the corals] without their 'sunscreen,'" he said, which is how they get bleached and die.
Wasley has long had a personal interest in corals, and said that he and his wife have done dives at the Great Barrier Reef – including in one of the areas that was show in "Chasing Coral." Wasley and his wife visited two years before the documentary was filmed, he said, and the change due to bleaching has been significant, with a third to half of the coral lost since 2016.
"The goal of Ocean Night is to spread awareness of coral reef bleaching caused by climate change, which is leading to the collapse of entire ecosystems in our oceans," Wasley's blog states. "We want to educate the community on what corals bring to the world: coastline protection, economics of tourism and commercial fishing, biodiversity, and, of course, beauty. Coral reefs provide a foundation and home to 25 percent of the fish in the ocean despite covering only 1 percent of the ocean. Although West Hartford is far away from these amazing ecosystems, we are all connected to these coral reefs. Saving our coral reefs from destruction due to anthropogenic climate change cannot only be the responsibility of scientists and those who live near these ecosystems. Change must come from all of us."
Like what you see here? Click here to subscribe to We-Ha's newsletter so you'll always be in the know about what's happening in West Hartford!