By popular demand, we rounded up your TOP 8 things to do in We-Ha for the month of August, and here they are!
The following performers will be playing at the Stage at Blue Back Square throughout August:
– Thursday, Aug. 1, 7 p.m.: Charles Paul – folk/acoustic
– Saturday, Aug. 3, 7 p.m.: Stealhead – rock/R&B
– Thursday, Aug. 9, 6:30-9:30 p.m.: Hammersmith – classic rock
– Saturday, Aug. 10, 7-9 p.m.: Fever – funk/jazz
– Thursday, Aug. 15, 6:30-8:30 p.m.: School Daze Band – rock, Motown, R&B, funk and pop
– Saturday, Aug. 17, 7-9 p.m.: Hafton Tiger – pop/pop rock
– Friday, Aug.t 23, 6-8 p.m.: The Guinea Pigs – folk rock
– Saturday, Aug. 24, 7 p.m.: The Randall Kane Quartet – jazz instrumental
Friday, Aug. 9, 2019 at 7:30 p.m.
Funk night is back at New Park Brewing on Aug. 9 with special guests, OTS (On The Spot) Trio! OTS is a funk-fueled psychedelic organ trio that delves into the realms of Afrobeat and Rock n Roll.

Sunday, Aug. 11, 2019 at 7-9 p.m.
What happens when you put a bunch of playwrights, directors, and actors in a room and tell them in 24 hours they must write a script and put on a show? The answer lies in the final performance, to which you are cordially invited! Local playwrights will write one-act scripts overnight, directors and actors will rehearse all day, concluding with costumed and staged performances in the evening.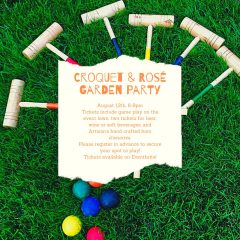 Monday, Aug. 12, 2019 at 6-8 p.m.
Join Artisan West Hartford in partnership with Hill-Stead Museum's Impressionists Council for a Croquet & Rosé Garden Party on the Artisan event lawn! New to croquet? Impressionists Council members will be joining us for tips, tricks, and a little fun as you sip on a glass of Artisan's Rosé!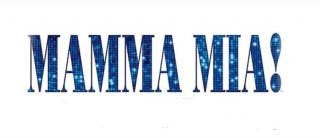 Sunday, Aug. 18, 2019 at 6-8 p.m.
West Hartford Community Theater will perform scenes from its upcoming show, "Mamma Mia" at Webster Walk at Blue Back Square on Sunday, Aug. 18 at 6 p.m.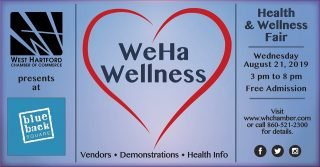 Wednesday, Aug. 21, 2019 at 3-8 p.m.
Bringing many different Health & Wellness Vendors to the same space. The West Hartford Chamber of Commerce in conjunction with Blue Back Square is putting on a wonderful FREE event allowing folks to come down and see what the local area has to offer in the wellness sphere.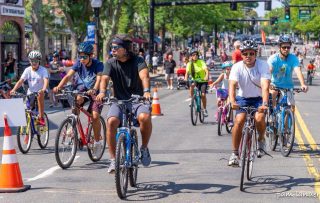 Sunday, Aug. 25, 2019 at 9 a.m.-1 p.m.
Free open streets event for all ages! A square block of West Hartford center will be closed to cars and open to people on bikes, scooters, rollerblades, and feet. Fourth Annual Center Streets will have live music by The Score and Righteous Continental. Restaurant and retail specials, games, sponsor tents, and more. Like a block party on wheels!
Friday, Aug. 30, 2019 at 6-9:30 p.m.
Get your Labor Day Weekend started off, PROPERLY, with LOADS OF LAUGHS!!!!
Starring Fig the Comedian…
A Saavy veteran in the game, who has been active for over 30 years, performing at countless venues, both nationally and internationally. He has been seen on HBO, MTV, Comedy Central, and Showtime. He has worked with comedians such as, Doug E Doug, Flex, Tracey Morgan, Capone, and the late Monteria Ivey! You dont want to miss him. He's FANTASTIC.
Like what you see here? Click here to subscribe to We-Ha's newsletter so you'll always be in the know about what's happening in West Hartford!