On Friday, the Children's Museum in West Hartford hosted its first butterfly release of the summer, a chance for visitors to have a hands-on learning experience with the butterflies.
By Lauren Cohen
The weather was absolutely perfect on Friday for the Children's Museum's first butterfly release of the summer.
The sunny, high-70s-degree day was not only ideal for visiting the museum and its flower-filled butterfly sanctuary, but also perfect for the new butterflies, that were overnighted from Florida in a cooler, to be able to warm up quickly and show off their wings.
The festivities began with one of the Children's Museum's butterfly experts informing visitors about what kinds of butterflies the Museum is home to in the summer. On Friday they released Pink Ladies and Red Admirals.
Three other species – Swallowtails, Monarchs, and Cabbage Whites – are also included in their summer repertoire. All five species are native to this area.  
The butterfly expert gave a quick crash-course on butterflies 101, and then had children help him out in demonstrating how to release the butterflies from the little envelopes in which they were safely tucked away. Envelopes were then passed around for everyone to try.
Kids squealed with delight and watched with bewilderment as butterflies climbed out of the envelopes, shaky from their journey, and slowly perched on their hands, arms, and even heads! Laughter and excitement filled the sweet, flowery air.
Joe DeFeo, the senior development director of the Museum, explained that all of the plants you see in the butterfly house are "butterfly food," meaning that the garden is a pollinator garden. Not only do butterflies feast off of these plants, but so do other insects, like bees.
Most of the plant species filling the meshed-in structure are native to the Connecticut area, which makes it easy to replicate the garden at home, which many visitors are inspired to do.
"Pollination is a key issue," said DeFeo, and he thinks it's so important to teach children – and their parents – about butterflies and their role in the environment from a young age.
The Children's Museum has been doing butterfly releases for six years now, and they happen every Friday in June and every Tuesday and Friday in July and August. Since Friday's release was the first, the sanctuary still seemed a bit empty, but DeFeo assured that in a few weeks they will have a full, self-sustainable butterfly house as a result of more butterflies being released each week in addition to the cycle of egg-laying that occurs naturally.
Connecticut radio station 102.9 The WHALE had perfect timing – covering the event Friday as a part of their City of the Week campaign. Additionally, the butterfly releases are sponsored by iHeart Media, and donations are always welcome. 
DeFeo said that "probably his favorite part" of this program is "seeing people realize they can have an interactive experience" with the butterflies. A parent came up to him soon after that, exclaiming that it was such a great event, and that he hadn't realized he and his child would be able to actually touch the butterflies. This proved DeFeo's point exactly, and he remarked that it's so great that visitors of the museum can "have that experience now."
All of the museum's staff would agree with the sentiment that seeing kids meet and learn about the butterflies first-hand is something that is "absolutely beautiful and can actually be an asset to the environment" in terms of pollination, as DeFeo had said.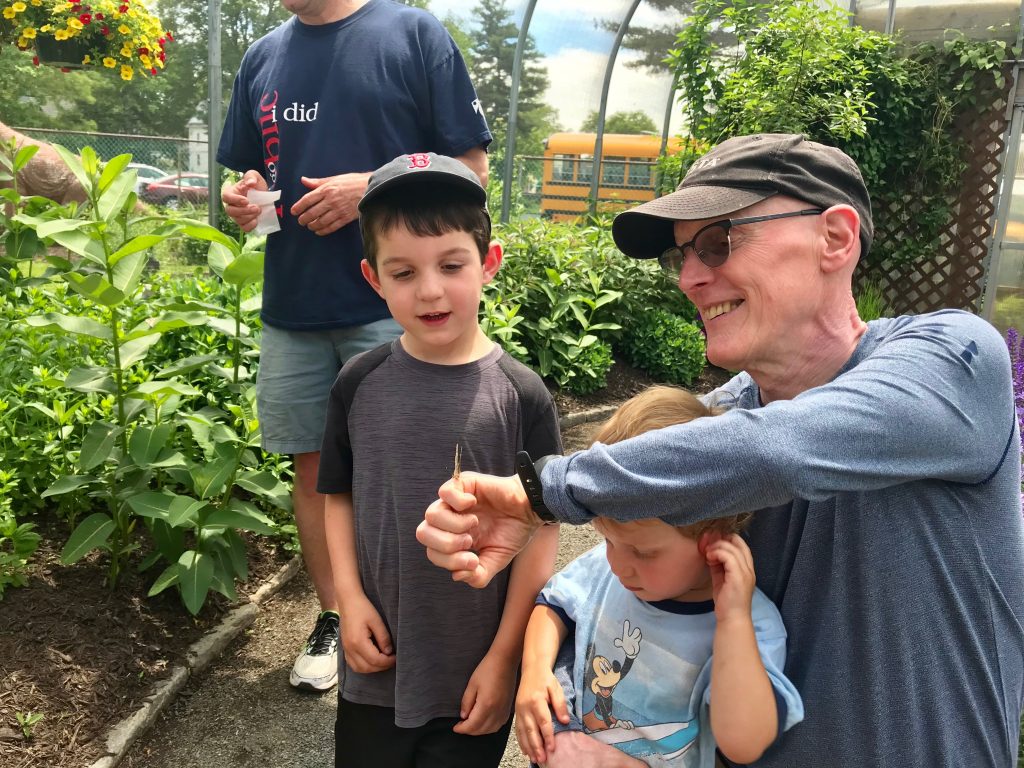 Photo by Lauren Cohen
Like what you see here? Click here to subscribe to We-Ha's newsletter so you'll always be in the know about what's happening in West Hartford!