First Church West Hartford, located at 12 South Main Street, will hold the family-friendly event on June 14.
Submitted 
In Honor of Pride Month, here is something totally different for everyone in the family!
On Tuesday, June 14, at 6 p.m. the John P. Webster Library and First Church West Hartford welcome the fabulous and fun Rory Roux Heart for "Drag Queen Story Time."
Rory reads picture books for families, and the young at heart. Drag Queen Story Time gives kids glamorous, positive, and unabashedly queer role models, and all are welcome to attend. "In spaces like this, kids are able to see people who defy rigid gender restrictions and imagine a world where people can present as they wish, where dress up is real," Rory Roux Heart said.
First Church, West Hartford is an Open and Affirming congregation of the United Church of Christ. Free parking located at 12 South Main Street. Enter parking lot from Farmington Avenue.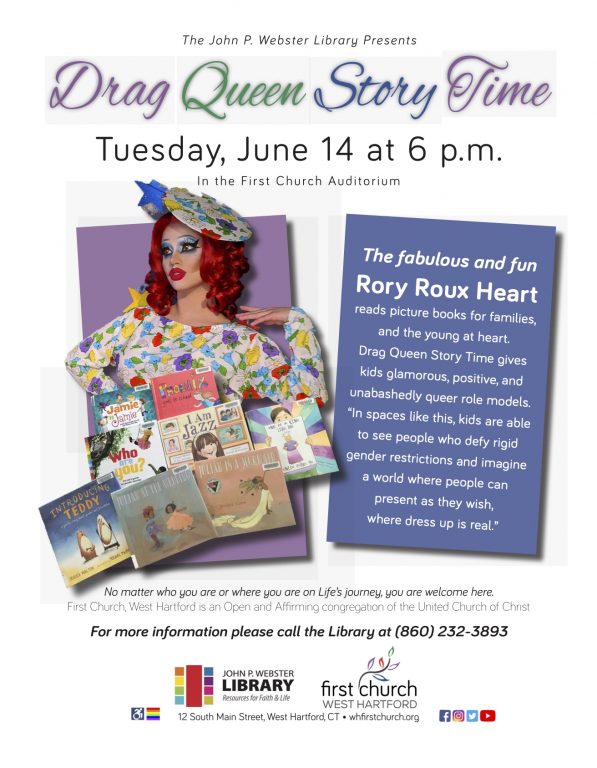 Like what you see here? Click here to subscribe to We-Ha's newsletter so you'll always be in the know about what's happening in West Hartford! Click the blue button below to become a supporter of We-Ha.com and our efforts to continue producing quality journalism.