New concert series is sponsored by First Church on Tuesday nights, this August. Editor's Note: Concerts will move inside the church, in the event of rain.
By Joy Taylor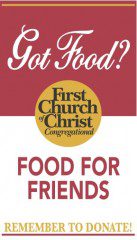 "The Sun is Shining" concert series is coming to the heart of West Hartford. Attendees are invited to bring chairs, and a picnic if you choose, to the lawn outside of First Church of Christ Congregational, at 12 South Main Street, West Hartford this August on Tuesday nights.  Concerts are from 5:00 to 7:00 and all ages are welcome. The performances are free, but non perishable donations will be accepted for the West Hartford Food Bank.
West End Blend, a 14 piece Afro-Funk/Soul/Hip-Hop/Dance/ Jam Collective based out of West Hartford is performing 8/5 and 8/12. Founded by drummer Sam Horan and guitarist Jesse Combs in 2012, West End Blend was voted "Best New Band"  at the 2014 CT Music Awards, and they were featured on NPR's "Where We Live" radio show and will release a 3-song debut EP in September 2014. Members include: Tangsauce- Vocals, Erica Bryan- Vocals, Sam Horan-Drums, Alex Heaton- Percussion, Andrew Cusanelli- Percussion, Tom Sullivan- Bass, Paulie Philippone- Keys, Jesse Combs-Guitar, Mike Dipanfilo- Guitar, John Mundy-Trombone, Mike Bufando- Trumpet, Mike Oehmen – Tenor Sax, and Vicky Medieros – Bari Sax. 
Elm City Sound, (Founded in New Haven in 2014), is a six-piece ska/reggae band featuring local musicians and music teachers from across the state. Elm City Sound plays covers of well-known ska and reggae tunes, as well as songs from a variety of other genres (pop/jazz/rock) in a reggae vibe. You won't know what's coming next, but you'll want to dance to it! The band is made up of: Christopher Vece-Trumpet, Kara Cook-Tenor Sax, Michael Boncimino-Trombone, Greg Wilfrid-Guitar, David Uhl-Bass, and Marty Wirt-Drums. They will perform on 8/19 and 8/26.