'Hot Buzz about Books' will give book lovers an exclusive review of soon-to-be nightstand favorites from Roxanne Coady of RJ Julia Booksellers.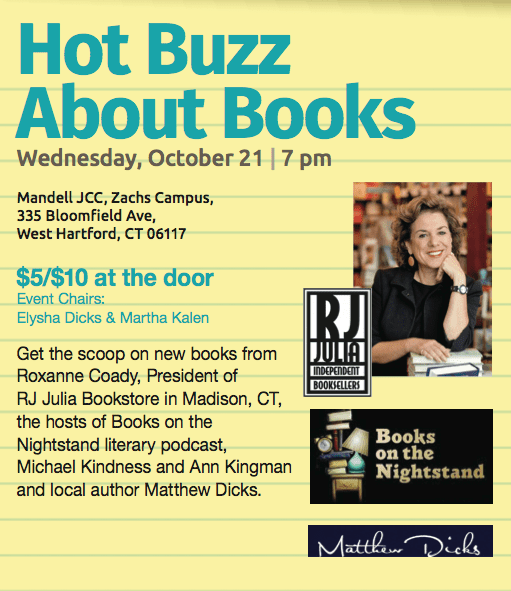 Submitted by Larah Winn, Mandell JCC
Book fans will get the exclusive on new books at "Hot Buzz About Books," on Wednesday, Oct. 21, 2015 at 7 p.m. at the Mandell JCC, Zachs campus, 335 Bloomfield Ave., West Hartford, CT. Hot Buzz About Books kicks-off the 2015-2016 Mandell JCC Jewish Book Festival.
Roxanne Coady, President and Founder of RJ Julia Booksellers in Madison, CT., returns to the Mandell JCC to give the inside scoop on her favorite new books at Hot Buzz About Books. This event will feature the host of "Books on the Nightstand" literary podcast, Ann Kingman, Michael Kindness and Matthew Dicks, local author, storyteller, book lover and former West Hartford Teacher of the Year. Attendees can also can also partake in a community book swap by bringing their already-read books to trade with others as well as get an early start on holiday shopping with the RJ Julia pop-up shop.
Tickets are $5 per person in advance or $10 at the door. For more information about this event, the Mandell JCC Jewish Book Festival and tickets, contact Jill Ziplow, 860-231-6339, [email protected]. To purchase tickets contact the Mandell JCC Box Office, 860-231-6316 or email [email protected].
The 2015-2016 Mandell JCC Book Festival is funded by the Jewish Federation of Greater Hartford and the Jewish Community Foundation of Greater Hartford, and sponsored by Mandell JCC Partners: Saint Francis Care, LAZ Parking, Farmington Bank, Brown Brothers Harriman, Simsbury Bank, Max Restaurant Group, Kimberly Boutique, Group Insurance Associates, Premier Limo, Blo Blow Dry Bar, Waterford Hotel Group, Hartford Car and Driver, Chabad House with the support of The Jewish Book Council, RJ Julia Independent Book Sellers, The Greater Hartford Arts Council, The Jewish Ledger, Mandell JCC Pillars Society and Pacesetters (as of 10/1/15).