West Hartford's Conard High School will present 'The Addams Family' as this spring's musical.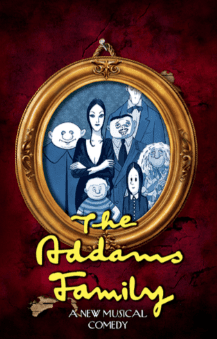 Submitted
Conard High School is at it again and rehearsals are in full swing for this year's delightful production of The Addams Family.
Join the cast and crew at 6:30 p.m. on Friday, Feb. 19, in the Conard High School auditorium, for a sneak preview of select musical numbers from the show. Then enjoy sprinkles on your ice cream at 7 p.m. in the Conard High School Café!
The cast of The Addams Family includes: Gomez- Gerson Echevarria; Morticia- Grace Downes; Wednesday- Zoe Schaefer; Pugsley- Maddie Gallinoto; Grandma- Lila Goldstein; Fester- Jake Yearsley; Lurch -George Murray; Mal- Owen Painter; Alice- Emma Damokosh; and Lucas- Miles Brown, as well as a talented "ancester ensemble."
Come on out and support the rich tradition of Conard's musical theater program that began in 1959. Tickets for this fundraiser are $5 at the door.
Performances of The Addams Family run March 11-19.
Tickets for the musical are $15 and will be available for purchase beginning Feb. 22, 2016, at www.ConardHighSchoolMusical.com.
Questions? Please contact us at [email protected]
LIKE us on Facebook: Conard High School Musical Productions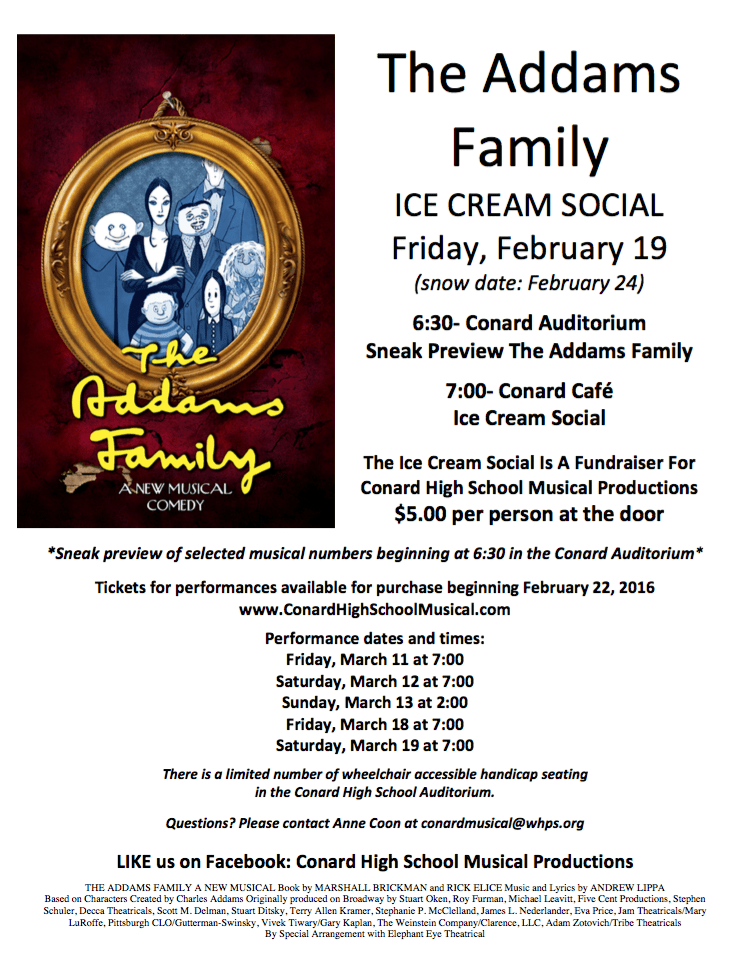 THE ADDAMS FAMILY A NEW MUSICAL Book by MARSHALL BRICKMAN and RICK ELICE
Music and Lyrics by ANDREW LIPPA
Based on Characters Created by Charles Addams Originally produced on Broadway by Stuart Oken, Roy Furman, Michael Leavitt, Five Cent Productions, Stephen Schuler, Decca Theatricals, Scott M. Delman, Stuart Ditsky, Terry Allen Kramer, Stephanie P. McClelland, James L. Nederlander, Eva Price, Jam Theatricals/Mary LuRoffe, Pittsburgh CLO/Gutterman-Swinsky, Vivek Tiwary/Gary Kaplan, The Weinstein Company/Clarence, LLC, Adam Zotovich/Tribe Theatricals

By Special Arrangement with Elephant Eye Theatrical