Join Great By 8 and Growing Great Schools for "Growing a Great Community," an afternoon of enrichment and fun for parents, children, and providers.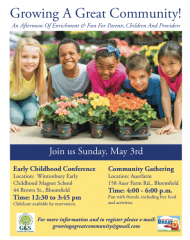 Submitted
A free early childhood conference for parents and childcare providers entitled "Growing a Great Community" will be offered on Sunday, May 3, from 12:30- 3:45 p.m. at Wintonbury Early Childhood Magnet School in Bloomfield. A free community gathering with food, animals, activities, and hayrides will follow from 4-6 p.m. at Auerfarm in Bloomfield.
The Early Childhood Conference will feature a keynote address by Shauna Tominey, Ph.D. of Yale Center for Emotional Intelligence, and break-out sessions with local educators on a variety of topics including: encouraging language development, incorporating mindfulness practice into your life and that of your child, positive ways to integrate technology at home, nutrition, and promoting gross and fine motor skills. Childcare will be available by reservation.
The Community Gathering at Auerfarm will include food, hayrides, and opportunities to visit the animals and get your hands dirty in the garden. Families are invited to attend the Community Gathering, even if unable to attend the conference.
These events are made possible with the generous support of West Hartford Public Schools, Wintonbury Early Childhood Magnet School, Auerfarm, The Bridge Family Center and Hartford Foundation for Public Giving.
To register, please e-mail [email protected] by April 30th.
For more information, please contact Andrea Thomas at [email protected].
Great By 8 is a community collaborative focused on improving access to high quality services in the areas of early childhood education and health. Growing Great Schools inspires communities to create a culture of wellness by connecting food, health and the environment.
Wintonbury Early Childhood Magnet School is located at 44 Brown Street, Bloomfield.
Auerfarm is located at 158 Auer Farm Road, Bloomfield.