Growing Great Schools, Inc. has transformed and as 'root2RISE' will provide more meaningful, empowering, and culturally relevant outdoor learning experiences.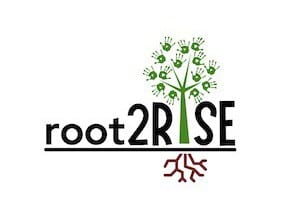 By Ronni Newton
Growing Great Schools – which formed nearly 10 years ago as an initiative to encourage healthier eating among West Hartford students and supported efforts like school-based gardens and farmers markets as well as changes to lunch menus – has refocused and expanded its mission to include accessible, inclusive, and meaningful outdoor experiences for all children in the community through the lens of equity.
In late April, the organization announced a change in name to "roots2RISE," and at the same time launched a "school garden learning initiative" in support of West Hartford Public Schools.
"If 2020 has taught us anything, it is that being outdoors is a necessary part of our physical and mental well-being, root2RISE Co-Director Nakia Alexander said. "But as a person of color, it's hard to see yourself in the outdoor community when you don't physically see others who look like you."
Outdoor education has not historically been accessible to all children and families, but roots2RISE believes "all children deserve to feel a sense of belonging to the land."
Alexander noted that last year, "about 80% of national parks visitors, volunteers and staff were white so it's not uncommon for people of color to not feel welcome or safe in those spaces. root2RISE is excited to bring attention to the importance of creating welcoming outdoor spaces at school and in the community."
On its website, roots2RISE states: "The root2RISE project was founded on the fundamental belief that all children deserve to feel a sense of belonging to the land."
Kim Hughes, a long-time West Hartford Public Schools volunteer and leader of Grass Roots West Hartford, which promotes healthy, safe, and pesticide-free land care, is also co-director of roots2RISE. She is confident this approach to outdoor learning will have a meaningful impact on not only West Hartford Public Schools children but also the rest of the community.
"I have been working with children for over five years on all topics around sustainability and conservation – gardens, recycling, composting, waste audits, etc. –  but this is the first time, with Nakia's knowledge and expertise, I feel we have put our finger on the key ingredient, the connection to the land," Hughes said.
The organization's new belief statement is: "root2RISE is committed to promoting equity and access to the outdoors and we are dedicated to creating inclusive outdoor spaces, building awareness and uplifting diverse voices in outdoor learning."
Alexander noted that it's important to understand that outdoor learning experiences are not the same for everyone, and as a fundamental part of its mission roots2RISE will look to understand and overcome existing barriers.
"Many of these programs lack sufficient funds, volunteers, and accessibility for all students and root2RISE is dedicated to addressing these barriers by helping West Hartford school garden coordinators to create an inclusive, sustainable program that continues to thrive even after families move on. Students become scientists, artists, journalists and explorers engaged in hands-on, place-based discovery of the diversity of the habitats in which we all live and the complete history of the land," roots2RISE said in a news release announcing the transformation of the organization.
One of the primary elements of the Growing Great Schools mission was support of school-based gardens and farmers markets. While these activities afforded meaningful experiential learning opportunities for students, there was not a focus on equity – which roots2RISE considers as part of its core mission, along with anti-racism, stewardship, and community – as they encourage access to outdoor learning experiences.
The roots2RISE school garden learning initiative will provide support to ensure that the school-based efforts are not solely dependent on a core group of volunteers and funding from a single school.
Alexander said roots2RISE will be working with the West Hartford Public Schools Office of Equity Advancement over the next several months to roll out their program in the schools and to "develop multicultural  learning gardens at schools and ensuring equitable access to outdoor experiences for all students."
For more information about roots2RISE, visit their website or follow the organization on Facebook.
Like what you see here? Click here to subscribe to We-Ha's newsletter so you'll always be in the know about what's happening in West Hartford! Click the blue button below to become a supporter of We-Ha.com and our efforts to continue producing quality journalism.