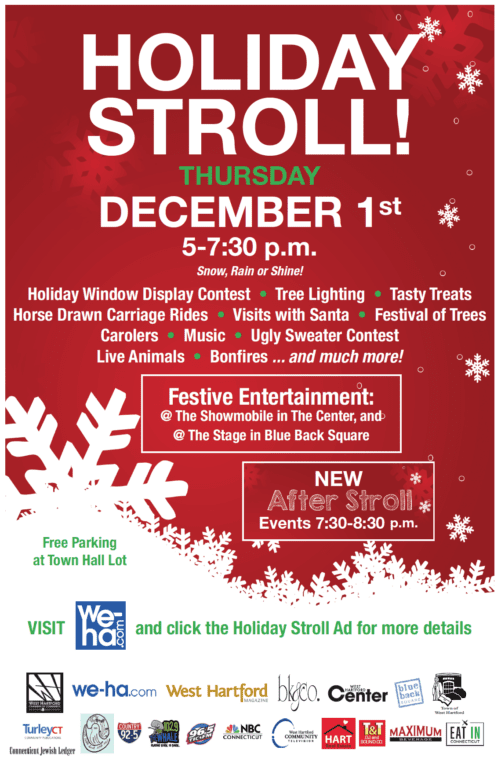 West Hartford's 2016 Holiday Stroll will be held on Thursday, Dec. 1.
Happy Holidays from the Holiday Stroll planning team!
Planning has been taking place for months, and as soon as Thanksgiving is over everything kicks into high gear for West Hartford's Annual Holiday Stroll. All of the the usual events and activities that everyone has come to enjoy – plus some great new additions, will be happening this year.
We hope that residents, their families, friends, co-workers, and everyone else will join us Thursday, Dec. 1 for the Holiday Stroll. The fun begins at 5 p.m. in West Hartford Center and Blue Back Square.
We (Barbara Karsky, Barbara Lerner and Elizabeth Zigmont) have been working on the schedule for months and are so excited that this year's Holiday Stroll flier is full of information. Please click on this link, print it out and plan your schedule for the evening. As always both the Blue Back Square Stage and The Center Showmobile will feature some great talent, and Blue Back's tree lighting will kick off the evening.
For the convenience of all, both Blue Back and The Center will have a "Santa" –  so be certain to tell your little ones that Santa has lots of helpers at this year's Holiday Stroll.
Keating Insurance, AFC Doctors Express, BK&Co, Vineyard Vines We-Ha Apparel, and West Hartford Magazine have joined forces to sponsor the Horse Drawn Carriage which will transport "strollers" around The Center and Blue Back in style.
The Showmobile Stage and sound is being sponsored by Maximum Beverage  – not only for the Stroll but for all of 2017. Thanks to Kevin Cowan for coordinating and Brian Whitney for his support!
New this year is an Ugly Sweater Contest – the brainchild of Kat Ortiz, owner of A little Bird Social Media. Kat found the sponsors for the contest, and is spotlighting local businesses with Holiday Shopping Bloggers who will be utilizing social media all night long.
NBC Connecticut will also be on site, broadcasting at 4 p.m. and 5 p.m. directly from the Showmobile on the corner of LaSalle and Farmington Avenue.
An early Merry Christmas and Happy Chanukah, West Hartford! It's pretty exciting that both holidays are on the same day this year!
Barbara Karsky, BK & CO and President, WH Center Business Association
Barbara Lerner, West Hartford Chamber of Commerce
Elizabeth Zigmont, Blue Back Square
Tom Hickey, West Hartford Magazine and We-Ha.com