Hall will head to the Class LL playoffs after a victory over crosstown rival Conard in the West Hartford Mayor's Cup, which resumed this year after a 2020 hiatus.
By Ted Newton. Photos by Ronni Newton
On a spectacular late fall Saturday afternoon, and in the last game of the regular football season, Conard and Hall squared off in their annual rivalry game for the Mayor's Cup and bragging rights for the next year. After 48 minutes of hard-fought play surrounded by boisterous fans wearing their team's blue or red, Hall hoisted the Cup and celebrated a 21-15 win over their cross-town opponents.
Said Hall coach Frank Robinson, "It was a really well-played football game. I'm very proud of our guys, they persevered through a lot of stuff. They came back after being down. It's a testament to them in never giving up."
Robinson was alluding to the first quarter. Hall took the opening kickoff to the Conard 34 yard line through strong runs by senior running back Leo Perreira. The drive stalled, however, and staring at fourth down and five yards to go, Hall made the decision to go for it. They were rewarded when senior quarterback Eli Salomons found senior receiver Matt Farber all alone crossing the field for a 32-yard pick up.
Perreira ran it in from the 2 yard line on the next play, and senior Cooper Griffin's extra point kick put Hall up 7-0.
However, Conard took the kickoff and marched down the field with an effective mix of run and pass plays, with quarterback Israel Lopez handing off to running back Will Ball and throwing to receivers Griffin O'Connell and Jack Kennedy, all seniors. Lopez plowed into the end zone from the 1 yard line for a touchdown, and then sidestepped in again a few seconds later for the two-point conversion and an 8-7 lead with two minutes left in opening session.
In the second quarter, Hall's defense made their presence known, with juniors Eric Diaz and Hudson Hollander wrapping up Lopez for losses as Conard was threatening to score. Starting at third and 31 from midfield, Ball reeled off a 17 yard run and Lopez scrambled for 13, but it wasn't enough as Hall took over on downs.
The Warriors then engineered their longest play of the day, with a flea flicker that ended with Salomons passing to running back Landon Travers for a 58-yard catch and run deep into Conard territory. After Perriera was stopped short of the end zone after three runs, Salomons scored on a pretty sweep play. Griffin's extra point put Hall up 14-8 to end the scoring in the first half.
The Chieftains opened the third quarter with a strong drive to the red zone, with Lopez handing off to Ball for several long carries and a pair of passes to senior receiver Kevin Kirklin. But on the next play, Hall junior linebacker Sal Bakri recovered a Conard fumble to stop the drive and the Chieftain's chance to take the lead. But Hall couldn't advance, and punted back the ball.
The Chieftains took over at their own 20. But Lopez fumbled as he was hit from behind as he was scrambling on a short yardage play, and Hall recovered the ball at the 30. A series of runs from Perriera found the Warriors at the 11, but on fourth and 5 opted to try a field goal. Griffin's 28-yard attempt sailed wide left, however, and with 2:30 to go in the quarter and the score remaining 14-8, Conard hoped to put more points on the board as they took over on their own 11.
In a déjà vu moment, however, on second and short Hall's defense caused another Lopez fumble and senior Tommy LaSpada recovered the ball on Conard's 25. After a Salomon to Traverse 10-yard pass, Perriera deeked his way into the end zone for Hall's third touchdown of the day. With three ticks of the clock left in the third, Hall was ahead 21-8.
With the onset of the fourth quarter, and shadows extending on the field, the Chieftains needed to be aggressive on offense. After some nifty catch and runs from Kirklin and Kennedy, Conard found itself at the Hall 29, but staring at fourth and 7. With a shirtless and blue-masked Hall fan whipping the home team's fans into a frenzy, the Warriors' defense held as a corner end zone pass was just out of reach for senior receiver Will Tousignant.
Taking over on downs with just over five minutes in the game, Hall's strategy was to deplete the clock. However, Conard used its full complement of timeouts left to keep the clock from winding down, and its defense rose to the occasion with sophomore lineman Quinn Moran dropping Salomon for a loss. With two minutes to go, the Chieftains took over on downs for a last gasp effort.
After quick passes to Kennedy (15 yards) and O'Connell (19 and 10 yards), Lopez escaped a sack attempt and found Kirklin at the 5. After LaSpada knocked down his next pass, Lopez zigzagged into the end zone with 30 seconds to go.
Down 21-15, Conard attempted an onside kick to have one more chance to score. But Hall junior Grant Kanaga pounced on the ball, and the Warrior took a knee to run out the clock.
"All credit goes to Hall. They're a great team with a great coaching staff," said Conard coach Matt Cersosimo. "And there's a reason they're going to the playoffs. But I'm very proud of our team. They never looked down, never looked at the scoreboard. They fought and fought – that's what we've done all year long."
"I think Conard's a really good football team," said Robinson. "They are so dangerous, with so many playmakers. Somehow we held them in check. We were fortunate – we made plays when we had to make plays, and we made good stops when it was really important."
Conard ended the season with four wins and six losses. Hall, 9-1, is heading to the playoffs. The Warriors, currently ranked fourth in Class LL, will play on Nov. 30. They will find out who and where they play after Thanksgiving Day, when other schools in Class LL play their final regular season games.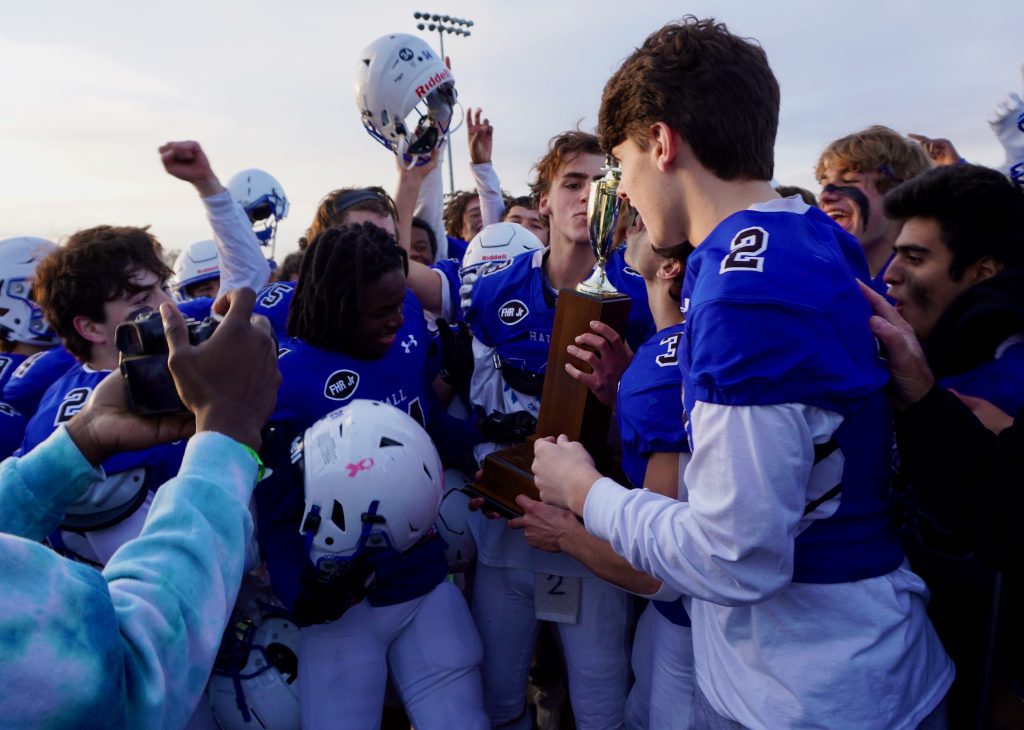 Like what you see here? Click here to subscribe to We-Ha's newsletter so you'll always be in the know about what's happening in West Hartford! Click the blue button below to become a supporter of We-Ha.com and our efforts to continue producing quality journalism.