Police say arrests are likely as they and admininstrators continue to investigate the fight that took place in West Hartford on Monday, Feb. 23, following the Conard vs. Hall boys varsity basketball game.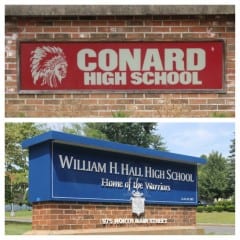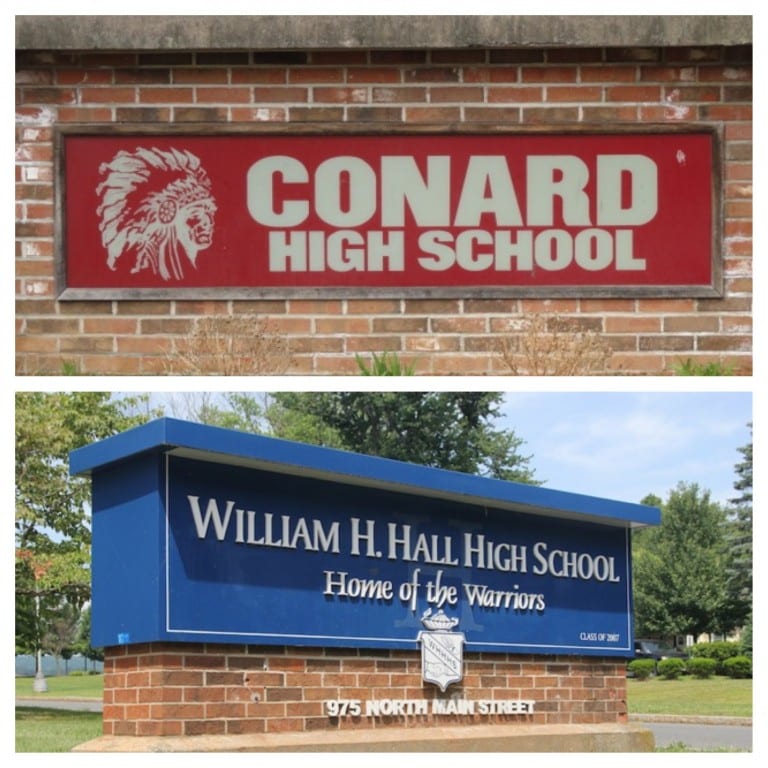 By Ronni Newton
Several days after a fight broke out in the Hall High School gymnasium at the end of a close varsity basketball game between Hall and crosstown rival Conard, West Hartford Police and school administrators are continuing to closely review video and speak with students and others who are determined to have been involved in the incident.
All agree that the incident – which has now been mentioned on several national media outlets, complete with video that had been posted on social media – was inappropriate and extremely embarrassing.
West Hartford Police Lt. Ted Stoneburner said Wednesday evening that although police are still investigating, "After reviewing some of the evidence it appears that there will be several arrests at both schools."
"West Hartford has a hands-off policy and zero-tolerance which we strictly enforce at any school activity," Stoneburner said regarding those who took part in the fight.
Conard Student Council Co-President Brian Wilson, who was not at the basketball game because he was playing in the Conard vs. Hall/Southington hockey game, said that he is very upset that a small number of students have made everyone look bad. As an athlete, Wilson said he knows how exciting the rivalry between West Hartford's high schools can be.
"The rivalry can bring out the best in athletes, but having the fans make it about themselves is a disgrace to our teams, the school, and the town. It gives West Hartford a bad reputation," Wilson said. He and Co-President Mamata Malla spoke together to Conard students and staff over the loudspeaker during Wednesday's morning announcements.
"This rivalry has been with us for 58 years. Coaches have taught our athletes how to respect our opponents, even in the closest games. However, Monday night, a few of our fans chose to break this tradition of respectful competition. Their actions hurt the reputation of our teams, our school, and town. No matter what we say about respect, our actions have spoken louder than our words. This is very disappointing, that this has been our second embarrassing interaction with Hall this year," they said, referencing the interaction between the student cheering sections at a varsity soccer game last fall, which has sparked the discussion about the high schools' names and mascots.
"As the Student Council, we want all of us to exhibit the pride we have in our school when we are here and when we are outside the school. Even if we were not directly involved in the incident on Monday night, we need to challenge ourselves not to be a bystander when students are doing the wrong thing and be a positive role model to represent our school to the larger community. We look forward to seeing respectful fan behavior to support our athletes, rather than put them in danger. As Student Council leaders, we have full faith that Conard students can be appreciative and respectful fans. Now let's let our actions speak louder than our words," Wilson and Malla said.
Although for privacy reasons the schools will not release information about who, or even how many students have been disciplined, rumors have been rampant about the consequences of the fight. "It's like playing telephone," Hall Principal Dan Zittoun said about the rumors, many of which he said are untrue.
"We're continuing our investigation, reviewing footage and talking to witnesses. Any student who acted inappropriately will be held accountable," Zittoun said Wednesday. He said that the consequences could be detention, suspension, suspension from extracurricular activities, or even expulsion depending on the evidence found.
"The goal of all discipline is to eliminate unwanted behavior, not only by those individuals but by others," Zittoun said.
Conard Principal Julio Duarte said that as they continue to review videos of the incident, he and other adminstrators have been talking with students and parents of students who were involved. Like Zittoun, he is unable to provide specific information.
Although several track and wrestling athletes are still competing in New England regional competitions, Zittoun said that most of Hall's winter sports are over for the season, with the exception of the Hall/Southington boys hockey team that has a rematch with Conard on Saturday, Feb. 28 at Veteran's Memorial Rink. Zittoun said that a decision has not yet been made about whether or not students will be allowed to attend.
Several of Conard's teams, including hockey and girls basketball, are eligible for post-season tournaments. As of Thursday afternoon, Duarte said that a decision had not been made about allowing Conard students to attend Saturday's hockey game against the Hall/Southington co-op. He did permit students to attend Wednesday night's game against Northwest Catholic, and said, "It's really important for students to make good decisions today." Accounts from students and parents who attended that game, which Northwest Cathlolic won 3-1, said that there were no problems.
"We need more leaders than bystanders in the fan section," Wilson said. After the incident at the soccer game last fall, he said that fans have been working hard to show that they can behave respectfully. "Mr. Duarte, adults, and teachers have been helping us regain our reputation as respectful kids, and it's really unfortunate that all that has gone out the window in one night," said Wilson.
"Unfortunately the minority have made West Hartford look very bad, but I have full faith that we can still show the town that students are respectful and that we can earn their trust," Wilson said.
Like what you see here? Click here to subscribe to We-Ha's newsletter so you'll always be in the know about what's happening in West Hartford!