Link Crew, the national orientation and mentoring program, is now in its 12th year at West Hartford's Hall High School.
By Ronni Newton
The Class of 2026 had an easier transition to Hall High School this year thanks to the a dedicated group of upperclassmen who applied to be selected and then volunteered as members of Link Crew, a national orientation and mentoring program that is now in its 12th year at Hall.
Conard High School adopted the Link Crew model a few years later, and West Hartford's middle schools use WEB (Where Everybody Belongs), a similar peer group orientation program founded by the same national company, for orientation of rising sixth graders.
After a completely virtual program in 2020, and abbreviated programming for 2021 to avoid large gatherings, this year 330 freshman arrived at Hall for orientation on Monday, Aug. 29, 2022, ready and able to enjoy the full experience.
The two-day program was led by 85 junior and senior volunteer Link Leaders, said Christina Hunter, a math teacher at Hall who is also one of the Link Crew coordinators. Applicants had applied during the spring, and as part of their application had to write an essay and record a video of themselves giving advice to new students.
"Day 1 focuses on making connections and sharing successful habits for high school," Hunter said. "Day 2 focuses on logistics like following student schedules, meeting teachers, and joining clubs," she said. 
"Link leaders choose a theme for their small group of approximately 12 ninth graders, decorating their classroom and dressing up for their school tour," said Hunter.
The Link Leaders all wore matching shirts, with a "Stranger Things" theme. The back of the shirts contained the words "Ask me for help" – written upside down.
In addition to incoming freshman, students in grades 10 through 12 who are new to Hall were also welcomed by Link Leaders on the second day of the orientation. 
In addition to Hunter, science teacher Nora McHugh and math teacher Darcie Hudson-Harriman serve as Link Crew coordinators this year. 
Link Crew doesn't stop with orientation. The program sets the tone for a successful year through email connections as well as follow up through academic and social activities.
"Link Crew also hosts other events during the year like the ninth grade tailgate before a home football game, midterm exam review sessions with hot cocoa, and spirit contests with gift card prizes," Hunter said.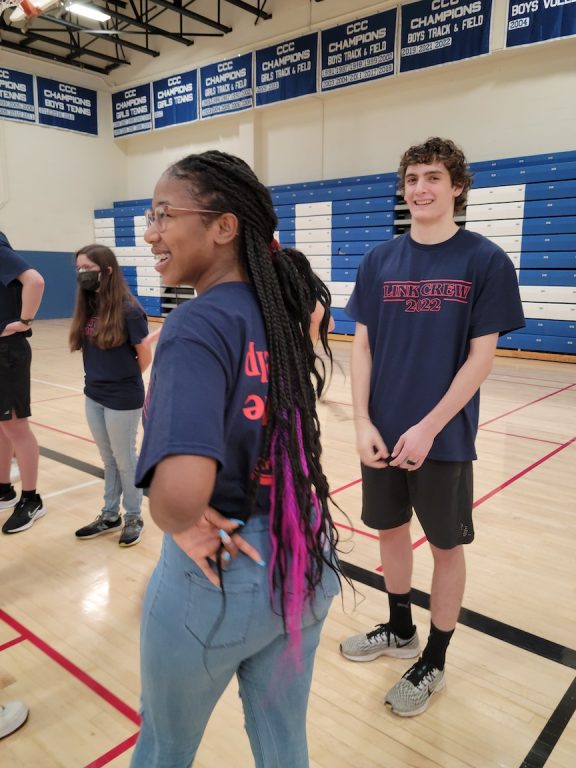 Like what you see here? Click here to subscribe to We-Ha's newsletter so you'll always be in the know about what's happening in West Hartford! Click the blue button below to become a supporter of We-Ha.com and our efforts to continue producing quality journalism.