For the first time in three years, the signature Pops 'N Jazz show at West Hartford's Hall High School will return to the state for live, in-person performances.
By Ronni Newton
Hall High School students will return to the stage this March, with singers, dancers, musicians, and actors appearing live, in-person, in the 64th annual Pops 'N Jazz extravaganza.
In 2020, there were a few Pops 'N Jazz dress rehearsals but the show was ultimately canceled just days before the scheduled March 13 premiere as the state went into lockdown and COVID-19 caused an unprecedented upheaval in daily life. In 2021, with the pandemic still raging, the 63rd annual Pops 'N Jazz was created through a complex and high-tech production process that included as much cohorting of the performers as possible, and the show was recorded for online viewing thanks to new recording equipment purchased through the Ellen Jeanne Goldfarb Memorial Charitable Trust and generous donations from the West Hartford community.
The Greenwich Village-styled set, which was built for the 2020 performance and has been a fixture on Hall's stage for more than two years, is finally getting to be used to its full extent, although it has had a few modifications for this show.
"I'm really excited," said Jenny Brown, a senior who is involved with multiple facets of the performance – as a singer with the Choraliers, an actor, and writer of the script. "I hope the audience and people's parents are, too. I'm really excited that another generation is able to participate and enjoy what is such a large part of the Hall curriculum."
Pops 'N Jazz, which opens March 11, features more than 100 student performers from Hall's Concert Jazz Band, Jazz Band, Jazz Combo, Jazz Dancers, Choraliers (singers), and and the strings group I Giovani Solisti. Each night's program is slightly different, and includes an assortment guest performers including several professional musicians and students from the town's elementary and middle schools.
The varied genres and eclectic blend of music included in Pops 'N Jazz encompasses American jazz classics from several eras, pop music, and Broadway numbers, performed in big band as well as combo settings, choreographed jazz dance, and solo performances.
Although 2021 was an exception, in most recent years the show has had a theme loosely weaving the scenes together, and while that element returns this year for the first time the script is being entirely student-written with a timely and relatable storyline.
"I'm an actor, both plotting and writing the script as well as acting in it," said senior August Kittleson. As the lead character, the over-riding theme is his emergence from COVID quarantine – a focus on revitalization and a new beginning.
Some elements of the script are still being finalized and evolving as the show comes together. "The story is not groundbreaking, nor does it tell a sweeping narrative," Kittleson said. But what it does is tell, through a deep-rooted narrative, is the story of a group of people who experienced the solitude and at the same time the intimacy of living through a global pandemic.
"Audiences will be delighted to be taken on a journey with the main characters as they 'open' a new show and restart their performing arts community after a long time away from each other and performing," said James Antonucci, Hall's director of Bands and Jazz Bands.
While Kittleson said he did perform in a previous Pops 'N Jazz, it was while he was a jazz drummer at Bristow Middle School. This is the first year the show has included individuals who neither sing, dance, nor play a musical instrument, and there were auditions for the actors, who are part of Hall's Black Box theater program, when the musical auditions were held.
The acting is light-hearted, peppered with feel-good jokes, and while not connected directly to the music, provides transitions between the numbers. "The music doesn't advance the plot, but we are trying to have the plot advance the music," Brown said.
Brown, who will attend Tufts University next year, participated in Pops 'N Jazz when she was in middle school at King Philip, but this is her high school premiere. "It's really great, during the second semester of my senior year, for this to come together," she said. It's actually her first full-length performance on the Hall stage.
"It's a triumphant finish to an arc," said Kittleson, who also plans to attend Tufts University next year where he will study theater. "A last hurrah for us. I think it's so important that people see the artistic optimism that we have," he said, especially with what has been happening in the world.
"We hope it brings joy and hope into people's lives," Brown said.
As of Feb. 28 masks became optional in West Hartford Public Schools, and performers now have the freedom to decide whether or not they will be masked on stage, Brown said. "It's a personal decision," and she said many students will not be wearing them while actively singing and dancing.
The show opens March 11, with additional performances on March 12, 17, 18, and 19. Doors open at 7 p.m. each night, and the curtain rises at 7:30 p.m. An abridged, 50-minute family-friendly, Sunday matinee will be performed for the first time this year, on March 13 at 2 p.m.
Featured guest artists include trumpeter Tatum Greenblatt (March 12), who performs regularly with The Jazz at Lincoln Center Orchestra; saxophonist and composer Alexa Tarantino (March 17); acoustic soul singer/songwriter and winner of the inaugural season of NBC's "The Voice" (and West Hartford resident) Javier Colon (March 18); and saxophonist, improviser, and composer Matt Parker (March 19). Participation of guest performers is supported by the Ellen Jeanne Goldfarb Memorial Charitable Trust.
"Hall Junior Artists" from the district's elementary schools will also join the high schoolers on stage for select performances. On March 11, students from Norfeldt, Whiting Lane, Aiken, and Bugbee will perform, and the March 18 show will include students from Charter Oak International Academy, Morley, and Smith STEM. Middle school singers and musicians will also perform, including King Philip Middle School's KP Singers and Bristow Middle School's Big Band on March 12, and the King Philip Middle School Jazz Band on March 17, and KP's Sixth Dimension on March 19. "The involvement of these younger students with exemplary older students is part of the West Hartford Public School District's effort to inspire excellence and commitment to the arts," organizers said.
Pops 'N Jazz is co-produced by Antonucci and Emmett Drake, director of Orchestras at Hall High School and Conard High School. Spencer Bazzano, Hall's Theater program and StageCraft teacher is staging director and shares technical director duties with Christopher Bell. The Choraliers are under the direction of Brett Bowles, Hall's director of Choirs, and the Jazz Dancers are under the direction of choreographer Tessa Grunwald, assisted by Alida Lamagna. Many Hall High School parents, teachers, and staff have spent countless hours bringing the extravaganza to fruition.
Tickets, for assigned seats, are available online here. Tickets are $18 for adults and $15 for students; tickets to the Sunday matinee are $10. Tickets can also be purchased in person at the Hall High School box office. Box office hours are Monday, Tuesday, Thursday, and Friday from noon-2:30 p.m., and Wednesday from 11 a.m.-1 p.m.
To stay up-to-date with Pops 'N Jazz, follow the show on Facebook and Instagram (@popsnjazz). For more information, call the box office at 860- 929-5151 or visit hallhighjazz.com.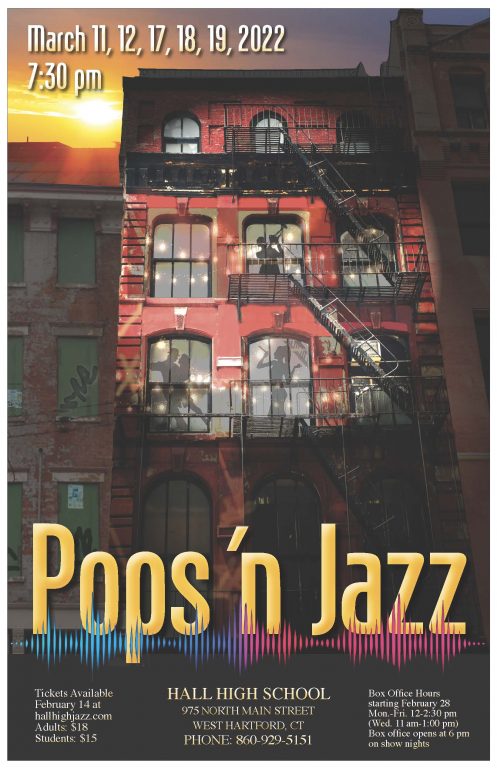 Like what you see here? Click here to subscribe to We-Ha's newsletter so you'll always be in the know about what's happening in West Hartford! Click the blue button below to become a supporter of We-Ha.com and our efforts to continue producing quality journalism.