West Hartford's family-friendly Fall Festival will be held on Friday, Oct. 24, and Saturday, Oct. 25, and will include scarecrow and pumpkin contests, music, trick-or-treating at West Hartford Center merchants, and much more.
By Ronni Newton
Fall festivities naturally lend themselves to family-oriented fun, and this weekend's two-day Fall Festival in West Hartford should provide plenty of entertainment and food, as well as "bonus" opportunities for kids of ages to wear their Halloween costumes and collect some treats.
The weekend kicks off with "Family Night" on the campus of Saint Brigid School on Mayflower Street. Admission is free, and there will be scarecrow judging and pumpkin decorating contests, dancing to Halloween music, games, and food from Elmwood Pizza, Sliders, Edible Arrangements, LaPetite France Crepe Cart, Ben & Jerry's, and more.
"We're very excited to be the host site for West Hartford's Fall Festival Weekend Family Night. We have a beautiful and secure campus with ample parking making us the ideal location to start the weekend's activities," said Saint Brigid School Principal Shevon Hickey.
Family Night is also sponsored by the YMCA and A Better World. The event runs from 5:30 – 7:30 p.m at Saint Brigid School, 100 Mayflower St., West Hartford.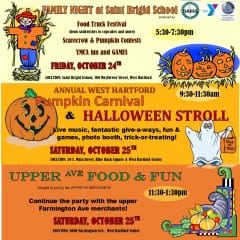 Bright and early the next morning, the fun continues with West Hartford's Annual Pumpkin Carnival and Halloween Stroll in West Hartford Center – and don't forget to wear your costume! Although Halloween was celebrated last year, it was "cancelled" the two previous years due to unprecedented weather events. No one wants to see those Elsa or Spiderman costumes go unworn, so take advantage of this bonus opportunity to get your kids dressed up!
Saturday morning's festivities begin at 9:30 a.m. in the Town Hall parking lot at 50 South Main St. with a "Pumpkin Carnival." Whole Foods will be handing out free snacks and trick-or-treat bags (while supplies last), and there will also be music, inflatables, games, a petting zoo sponsored by the Greater Hartford YMCA, and gymnastics activities led by MyGym of West Hartford.
Local sports team mascots will be on hand with special prizes, and Kathryn Deane Photography will be available to take professional photos of costumed kids and their families.
At 10:30 a.m., the West Hartford Halloween Stroll will begin, and children are invited to go door-to-door throughout Blue Back Square and West Hartford Center. "Trick-or-treaters are encouraged to visit participating merchants who have more exciting fun planned. Strollers can visit the West Hartford Center Farmer's Market, and don't forget to climb aboard the fire truck!" said Jen McDonagh of Moms & More Club of West Hartford.
But wait … there's more.
The party continues from 11:30 a.m. until 1:30 p.m. on "Upper" Farmington Avenue. "Look for some great live music and street performers like a balloon animal maker, free mini massages, as well as many other fun things to do! Tell your friends and family and come on down to see all what the 'Upper Ave.' of West Hartford Center has to offer," said Rob Levine of Hart Real Estate at 1000 Farmington Ave.
The Pumpkin Carnival and Halloween stroll event is co-produced by the Town of West Hartford and Moms & More Club of West Hartford (a parent-based organization dedicated to children and the community) with the help of the West Hartford Chamber of Commerce, West Hartford Magazine, We-Ha.com,  the West Hartford Center Merchants Association, Blue Back Square and Whole Foods Market West Hartford. For more information, email [email protected].