Hartford Baking Company has officially announced plans to open a second bakery/cafe in West Hartford this spring.
By Ronni Newton
West Hartford Center will be home to a new bakery as well as a spot to grab a snack, sandwich, or light meal, with the opening of Hartford Baking Company this spring at 965 Farmington Ave.
"We are expanding to West Hartford Center and look forward to bringing high quality artisanal bakery products, small plates, and an expanded creative savory menu to our new venture," Hartford Baking Company owner Scott Kluger said late Thursday.
Kluger hopes to have the bakery/cafe open by May or June in the 3,750 square foot space most recently occupied by the Hair Color Company.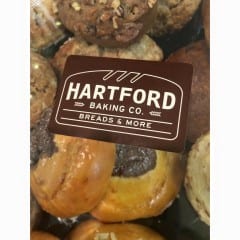 Hartford Baking Company will maintain its 625 New Park Ave. location which is diagonally across the street from the Elmwood CTfastrak Station. This will be Hartford Baking Company's second location.
Since it opened in 2010, Hartford Baking Company has built a reputation in West Hartford and beyond for high quality breads and other baked goods that are now served in restaurants throughout the state as well as in Massachusetts. The breads are hand-shaped, made from unbleached flour and are preservative-free. Other ingredients, including seasonally-available fruits and vegetables, are locally sourced whenever possible.
"The first five years of business have been amazing, and we are so grateful for the support of all our amazing customers who shop local and appreciate what we do as much as we appreciate them," Kluger said.
More information about Hartford Baking Company's menu at the new location will be available soon.
Like what you see here? Click here to subscribe to We-Ha's newsletter so you'll always be in the know about what's happening in West Hartford!