The One World Market free weekend concert series kicks off with a children's program on Saturday, Sept. 24., at the Parkville CTfastrak station.
Submitted
One World Market is an international food court and outdoor entertainment venue at CTfastrak stop in Hartford's Parkville neighborhood, just blocks east of Park Road. Hello! West Hartford, which advances immigrant integration, programs the Market's free weekend concert series.
Saturday Sept. 24, from noon – 4 p.m. will be children's day. There will be entertainment of Lao dancers, Irish dancers, a Nepalese dancer Chinese dancers. There will also be a magic show, face painter and crafts. You can also taste cultural treats from the food trucks representing Brazilian, Honduran, Lao, Thai, West Indian and vegan food. Vendors prepare treats from their native countries.
Kids and adults come take part in some amazing fun at the new Parkville CTfastrak Stage and dance to the music with One World Market!
Come join the world celebration at "One World Market", located at 24 Francis Ave. (corner of Park St. and Francis avenue) Follow at #oneworldmarketcity or visit oneworldmarket.com or call 860-577-2018 for additional information.
Schedule of activities includes (descriptions provided by performers:
Noon – 1 p.m.
We are LACH (Lao American Culture Heritage). We consist of parents who migrated to the United States from Laos. Our goal is to preserve the culture and traditions of our birthplace for the next generation. We can't wait to share our dance with you! See you on September 24th at Parkville CTfastrak Station!
1 – 2 p.m.
The Coogan School of Irish Dance, located in West Hartford, CT, is recognized throughout the New England region and the country for its excellence in dance education. Rooted in a long family tradition, classes incorporate traditional and contemporary Irish Dance. Dancers are encouraged to pursue either a competitive or non-competitive track depending on their individual interests. Coogan dancers have earned first place awards in the New England Irish Dance Championship Traditional Set competition as well as regional, national and international awards to preliminary and championship levels. The Coogan School nurtures a love of music and dance and the enrichment it brings to students in all aspects of their lives. We look forward to sharing our love of the sounds and steps of Irish Dance with all that come to One World Market.
2 – 2:30 p.m.
Nepalese Dancer, Binakshya Gharti Magar, dancing a traditional Napalese Dance that she has performed at many Connecticut venues, including the Noah Webster House. She is a superstar and eager to share her talents with you.
2:30 – 4 p.m.
East Culture Arts Dance Group: We have danced in China, Washington, DC, and all over Connecticut including at Hello! West Hartford's Cultural Celebration each April. We look forward to dancing for you with many traditional dances and song from all over China. Come Join us!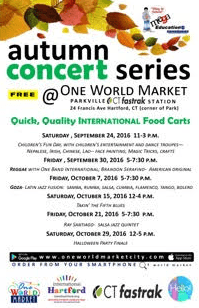 Elena Juan, Paloma Face Painting will also be at the One World Market. More information is available at www.palomafacepainting.webs.com or 860-543-9828.