The West Hartford Symphony Orchestra will present its 2018 Holiday Concert on Dec. 9.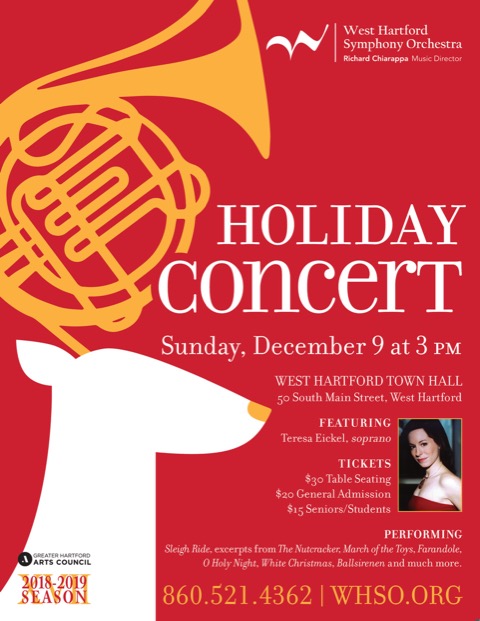 Submitted
The West Hartford Symphony Orchestra (WHSO) is excited to return to the stage for its annual holiday concert. The concert will feature the talented soprano soloist Teresa Eickel in a spectacular performance that is certain to delight audiences young and old.
The orchestra will perform beloved holiday classics including Leroy Anderson's Sleigh Ride, excerpts from Tchaikovsky's Nutcracker Suite, O Holy Night, Festive Sounds of Hanukkah, White Christmas, and many more.
Opening the concert will be Conard High School's award-winning student-run coed a cappella group Be S#arp. This is the second concert this season opening with a performance by a local school choir. The inclusion of local school choir's in WHSO's performance is part of the orchestra's multi-generational approach to music. The orchestra strives to bring together musicians of all ages from school students to retirees. This unique collaboration fosters musical mentorships that benefit all involved.
The Holiday Concert will be held at West Hartford Town Hall, 50 South Main St., West Hartford on Dec. 9 at 3 p.m.
For tickets, please call 860-521-4362 or purchase online at whso.org. General seating is $20, and senior or student tickets are $15. Premium table seating is $30. Tickets will also be sold at the door, which opens at 2:15 p.m.
Like what you see here? Click here to subscribe to We-Ha's newsletter so you'll always be in the know about what's happening in West Hartford!