A musical Christmas special will be shown at the museum's West Hartford planetarium beginning Nov. 22, 2014.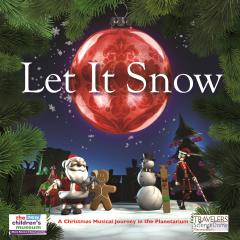 Submitted by Jennifer Toone
Get into the holiday spirit with the very popular holiday planetarium show, Let It Snow: A Christmas Musical Journey in the Planetarium.
This family musical program is presented from Nov. 22, 2014, through New Year's Day 2015 and combines animated holiday images with classic Christmas music under the Travelers Science Dome Planetarium.
Share the holiday spirit by helping local children keep warm. Visitors are encouraged to bring a new clothing donation to place on the Museum Mitten Tree. Acceptable items are new gloves, mittens, scarves, socks and larger clothing items such as coats.
All warm weather clothing will be given to the Covenant to Care for Children in Hartford and as a thank you for sharing, visitors who donate new warm clothing will receive a free ticket to see Let it Snow in the planetarium. The Mitten Tree will be on display and accepting donations from Nov. 22 – Dec. 21, 2014.
For a detailed list of all the holiday season activities at The New Children's Museum and at the Roaring Nature Center, please visit www.TheChildrensMuseumCT.org.
The New Children's Museum, one of Connecticut's top museum attractions, offers over 100 live animals, hands-on science exhibits, out-of-this-world digital planetarium shows, and programs for younger children and families. The New Children's Museum is located at 950 Trout Brook Drive in West Hartford and at Roaring Brook Nature Center in Canton.