The 34th annual West Hartford Holiday Stroll will return Dec. 2, from 5-8 p.m.
By Ronni Newton
The holiday season is upon us and the 34th annual Holiday Stroll in West Hartford Center and Blue Back Square will return Thursday, Dec. 2, bringing that festive magic to town with a classic family-friendly New England-style festival that includes a tree lighting, tasty treats, horse drawn carriage rides, visits with Santa and Mrs. Claus, carolers, and other live music and dance.
The Holiday Stroll will be held from 5-8 p.m., rain, snow, or shine.
Entertainment for people of all ages will be showcased on stages at Webster Walk in Blue Back Square as well as the showmobile at the corner of Farmington Avenue and LaSalle Road.
Performing at Blue Back Square will be West Hartford Ballet, Flashmob, Conard Be S#arp, and School of Rock West Hartford.
Strollers will be entertained in the Center by Playhouse on Park, Hartford Gay Men's Chorus, Hall High Choraliers, and Ballet Hartford.
Mascots from local sports teams will also be strolling, and posing for photos with fans.
The Center and Blue Back Square merchants will be fully decked out in holiday style, with beautiful and creative window displays.
Isham Road in Blue Back Square will be closed off to vehicles, and instead stroll-goers can board a horse drawn wagon for a ride throughout the area.
Also included as part of the Holiday Stroll is a live nativity walk at St. James's Episcopal Church at 1018 Farmington Ave.
The 34th annual Holiday Stroll is appropriate for people of all ages, and is made possible by the West Hartford Chamber of Commerce, Blue Back Square, West Hartford Center Business Association, the Town of West Hartford, and 20/20 Media.
Generous support has also been provided by the following sponsors: TD Bank, People's United Bank, Westfield Bank, PeoplesBank, 20/20 Media, 102.9 The Whale, and Radio 104.1 WMRQ.
For up-to-date information, including an event timeline, visit the West Hartford Chamber's website and click on the "Holiday Stroll" tab.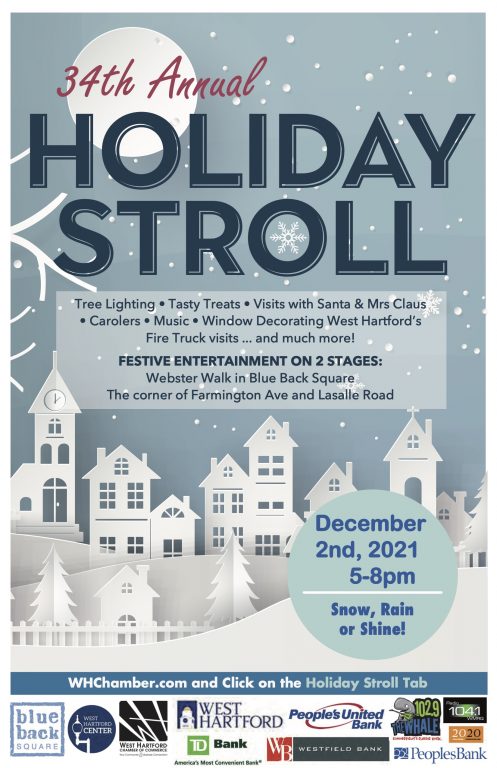 Like what you see here? Click here to subscribe to We-Ha's newsletterso you'll always be in the know about what's happening in West Hartford! Click the blue button below to become a supporter of We-Ha.com and our efforts to continue producing quality journalism.