'Dream … Design … Decorate' is the theme of the West Hartford Home Design District's Home, Garden & Lifestyle Show.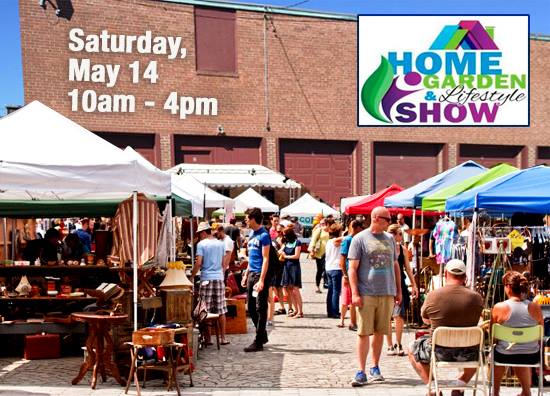 Submitted
Saturday's forecast is for sunshine and lots of amazing finds at the Home, Garden, & Lifestyle Show. Come join us from 10am-4pm at Raymour & Flanigan, 485 New Park Avenue, and 20 Jefferson Avenue.There will be plenty of local businesses, artisans, and craft vendors with unique gifts for everyone, or to pamper yourself. This great event encompasses workshops with the latest trends for homes. For West Hartford residents, Trout Brook Landscaping is hosting a tree give-away to benefit Park Road Playhouse and AID-a-Pet, so bring a $20 donation to get your 6-foot tree. With lots of food trucks, you'll be able to make a day of it. Make sure we're on your list of places to be this Saturday! For more information please visit www.485newpark.com/event
Free workshops and demonstrations led by industry experts on the year's latest trends will be offered at the 2016 Home, Garden & Lifestyle Show. With a block-party feel, the event features over 60 local businesses, including interior and exterior designers, artisans, crafters, and food trucks. There is something for the dreamer, designer, and decorator in everyone!
This year's Home, Garden & Lifestyle Show is on Saturday, May 14, from 10 a.m. to 4 p.m. It is hosted by the West Hartford Home Design District, the Shops @ 485 New Park, and 20 Jefferson Avenue. The show offers free admission and plenty of free parking.
In the Home Design District's 10th anniversary year, you can find everything that you need to build, renovate, decorate, repair, or furnish a home. Sixteen businesses located within one mile make home projects more convenient and enjoyable. From flooring to roofing, from wallcoverings to windows, kitchens and bathrooms, if its for the home, you'll find it here. www.HomeDesignDistrict.com The Home Design District is truly a designer's and decorator's dream.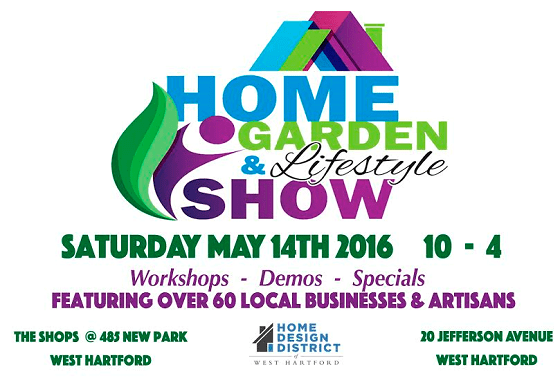 The Show's workshops include "Drapery 101-Styles and Trends," by Budget Blinds; "Designing with the Latest Trends in Tile," by Tile America; "Trends in Stone," by Surfaces in Stone; "The Latest in Kitchen Design," by Holland Kitchens & Baths; "Creating Curb Appeal," by Bartlett Brainard Products;"Tree Planting and Care," by Trout Brook Landscaping; "Water Is Your Home's Worst Enemy," by CloverNine; "Refreshing Your Much Loved Artwork," by Custom Framing Depot; "Cupcake Decorating," by Classic Cakes by Carol Murdock; massages with Therapeutic Bodyworks; and a cycle/barre/yoga workout with LIFER Fitness Studio.
The Shops at 485 New Park has a hip marketplace vibe with boutique shops where you'll find art, clothing, a bakery/cafe, picture framing, hand crafts, wallcoverings and blinds, photography studios, home accessories, gifts, vintage items, furniture, and much more. There you'll find Blaze & Bloom Vintage, featuring a constantly changing inventory of vintage and repurposed furniture, home accessories, and gifts. For your next framing project, you can trust the 45 years of experience and wide selection of frames that Custom Framing Depot offers. Joe Cornfield's Wallpaper & Window Treatments offers high quality yet low-prices: they've got your walls and windows covered! Panache on New Park offers fashion savvy shoppers great deals on unique items for you and your home. For more information on the Shops at 485 New Park, please visit www.485NewPark.com.
Just around the corner at 20 Jefferson Avenue you will find a unique variety of lifestyle services including specialty cakes, exercise, massage, floral arrangements, and dog boarding and daycare. See what sweet kinds of fun Classic Cakes by Carol Murdock in Suite 1 can provide for your next party or event. In Suite 3, explore the benefits of exercise and therapeutic massage at Therapeutic Bodyworks LLC. Enhance your fitness lifestyle in Suite 6 with a unique combination of cycling, barre, and yoga classes at LIFER Fitness Studio. Add beauty and grace to your special occasion with the floral arrangements of A Special Place Floral Design Studio in Suite 9.
The Home, Garden, & Lifestyle Show supports the local arts by donating a portion of show proceeds to The Playhouse on Park, which is supported 50 percent by ticket sales and the remainder through fundraising. The Playhouse on Park is dedicated to providing quality entertainment at affordable costs to as broad an audience as possible, and offers educational and outreach opportunities.
Trout Brook Landscaping is giving away trees as part of the Connecticut Canopies Tree Replanting Campaign.   Please bring contributions of pet food to Trout Brook Landscaping and receive a tree, a mini-seminar, and professional advice about how to care for it. Donations benefit Aid-A-Pet. https://facebook.com/aidapet
Don't miss out on this one-of-a kind event with friends and neighbors enjoying food, fun, and shopping. Join us in supporting local businesses at the Home, Garden, & Lifestyle Show at 485 & 490 New Park and 20 Jefferson Avenue, West Hartford! For the most up-to-date event information, please visit www.485NewPark.com/Event www.HomeDesignDistrict.com   www.485NewPark.com.